Life in the ancient medina, or walled city, of Fes, Morocco is a fascinating contrast to life in the States. The city was built at the close of the 8th century, and its history echos loudly down the streets.  You can hear the chuff of wood curling off furniture and nails pounding pegs into place as you pass carpenters at work. Further along, a potter's wheel spins smoothly, interrupted only by the sound of water slapping against clay. These noises are a reminder that art can happen in the street as easily as it happens in the studio. Donkeys bray and jostle for position with crowds of people who are using the earliest form of transport: their feet. Communal spigots offer cool water, a respite from the heat of the sun-baked streets.
5:30 pm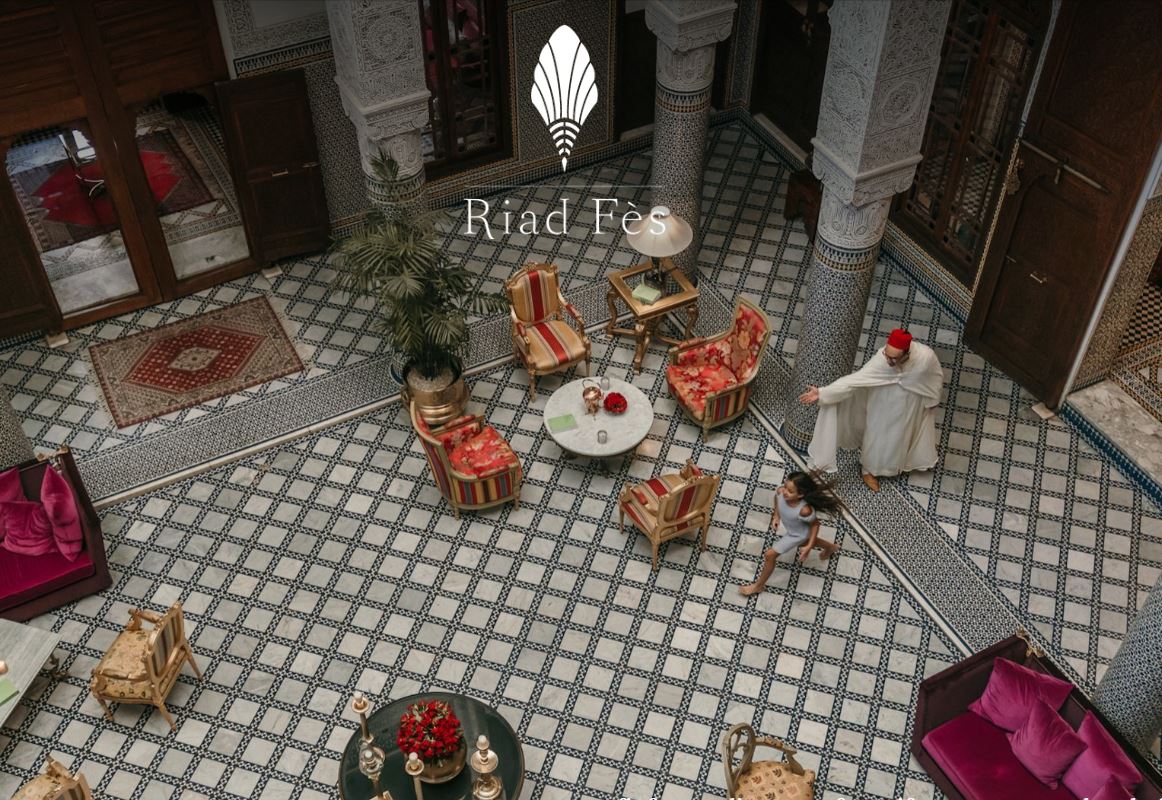 My party arrived at a crowded parking lot where we were greeted by a couple of porters who grabbed our bags and set off at a furious pace. There were so many twists and turns in the tiny alleyways that I completely lost track during our 5 minute trek. Finally, we stopped at a beautifully carved wooden awning which signaled that we'd reached our destination: Riad Fes , a Relais & Chateau property.
A long brick hallway candlelit by Moroccan lamps opened into the lovely interior courtyard stretching up 3 stories. There, we were greeted with hot mint tea—artfully poured from at least a foot above the glassware—complemented by cookies and dates. Following these comestibles, we toured the gorgeous property. Made up of five homes and offering a total of 30 rooms, we explored courtyards strewn with rose petals, and countless bouquets in fountains and vases. This picturesque place provides rooms at about 2500 Moroccan dirhams or $250 per night.
6:30 pm
We met our friends in the bar for a relaxing drink in one of the courtyards. Our group was situated beside a shimmering reflecting pool and were served with spicy olives and smoked almonds. The predominant religion here is Islam which forbids alcohol to its adherents. Cocktails are offered as an exception available to visiting tourists. On average, drinks cost 90-120 dirhams or $9-12.
7:30 pm
Many riads, or houses converted to accommodations, offer dinner gratis with your room. We enjoyed an amazing three-course meal. The meal started with khobz, or bread (pronounced hobs with the 'kh' denoting a glottal sound);  followed by fava bean soup; couscous with chicken; and, finally, flan accompanied by a lovely Moroccan wine.
8:00 am
After a quick workout in the gym, we tucked into the breakfast buffet. And what a buffet! The staff had laid out salads, bread, pastries, yogurts, fruits, and dessert. Hot breakfast was available to order. We also had an amazing selection of freshly squeezed juices: orange, grapefruit, beet, and pomegranate. Breakfast was included with our room rate as is typical overseas.
9:00 am
Our guide, Ali, dressed in a jelaba, or traditional Moroccan robe, led us off for a quick look at the King's Palace which is one of 14 throughout Morocco. And then we entered the medina. Approximately 100,000 of Fes' 1.5 million people live inside the city walls. The ancient streets are a tight fit and allow for only donkey and foot traffic. You can buy basically anything, from TVs to traditional beaded shoes. Aside from the markets, there are multiple mosques to make the 5 daily prayer sessions easier. As non-Muslims, we couldn't enter, but the entryways hinted broadly at the beauty I imagined inside.
Our group was quick to notice the tremendous cat population, almost all of whom are strays. These felines are well fed, as the custom is to leave extra food for the street animals rather than let it go to waste.
Noon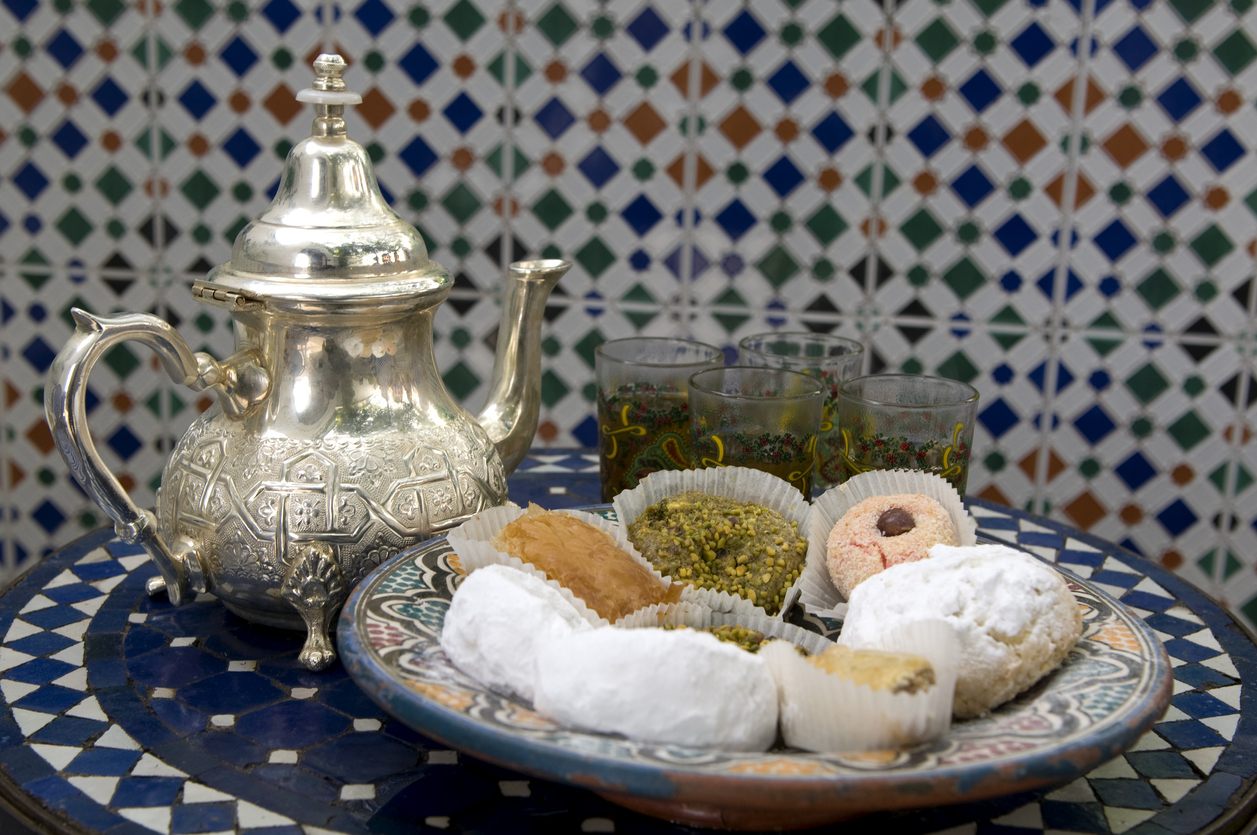 Ali took us to see one of the ancient trades practiced in the medina – rug making. Unlike Persian rugs, these rugs are vibrantly colored in both traditional designs of Morocco and Berber, their native tribe. I loved their subtle sales technique which was to reel us in by asking questions about our color and design preferences. They were persistent without going too far. Of course, we all drank more of the ubiquitous mint tea.
1:30 pm
Lunchtime. Ali took us to his favorite place, the Berrada family restaurant where the hostess showed us through to the tiny kitchen to taste each menu option before choosing. Lamb with an egg broken over the dish to cook it, beef with the same egg, accompanied by khobz, fava beans, kebabs, 3-4 salads, lentils and dessert of orange slices topped with cinnamon. With more mint tea. Lunch costs 800 dirhams or $8.
2:30 pm
We continued our medina tour, admiring the very ornately beaded and bejeweled wedding dresses; scarves; and woodwork. I think we all felt a general air of amusement at the chaos that accompanied everyday shopping.
4:00 pm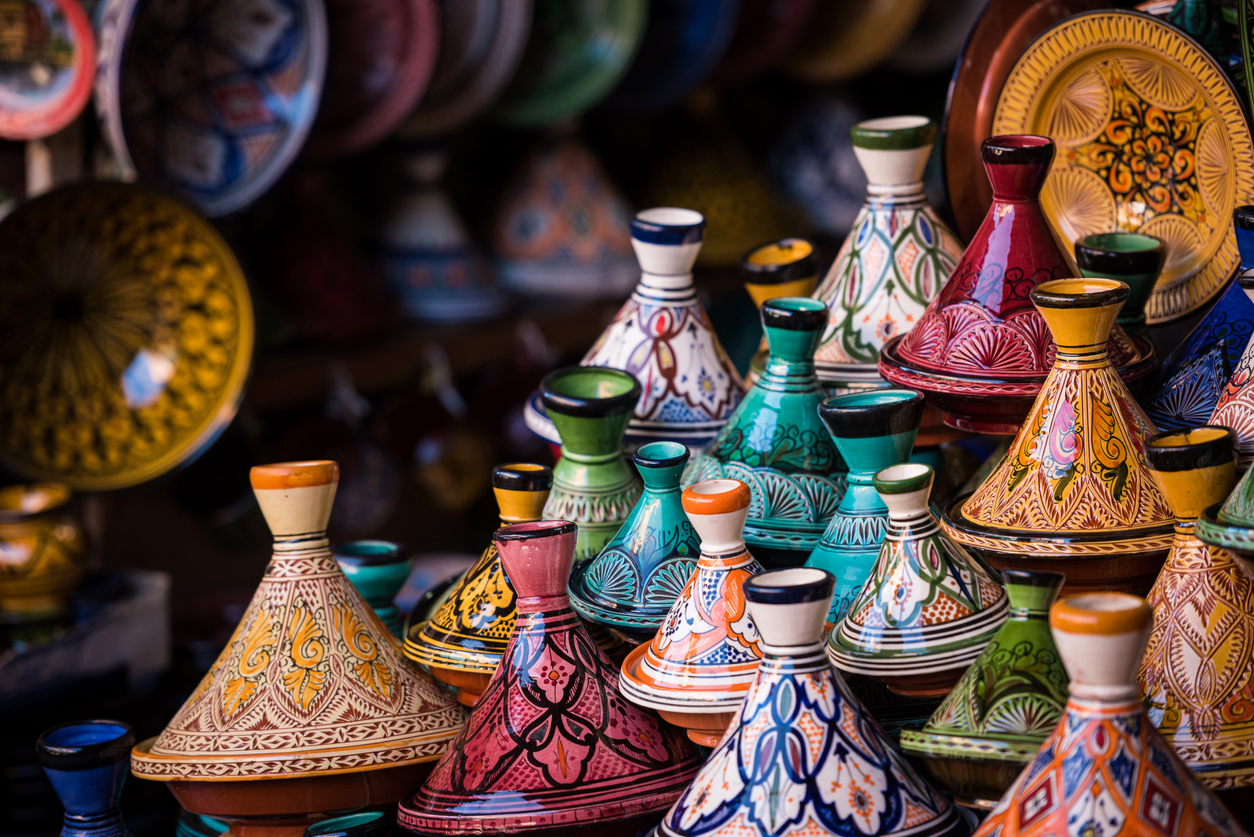 At approximately 12,000 steps into the day, our driver collected us and took us to a city overlook to see another notable trade, pottery. In the pottery cooperative, we saw the potter throwing the various shapes; painting the patterns by hand; firing in the kiln for 7 hours, then glazing, and firing once more; and, finally, chipping out smaller shapes from larger ones. All this to create the finished product:  tajine, or traditional Moroccan cooking pots, dinner dishes of all kinds, teapots, tables, lamps, and fountains. This intricate artwork is the pride of Fes.
6:30 pm
Cocktail hour brought drinks in the rooftop bar overlooking the medina where we had spent a fascinating day.
7:15 pm
Our restaurant's (Dar Hatim) escort met us to take us on a twisty-turning 20 minute adventure through the medina once again to the family-owned restaurant. We worked our way through another three course dinner. Starters of cauliflower, zucchini, tomato, eggplant, lentils, carrots, beets and as if that wasn't enough, fried eggplant and fried zucchini … with ever present khobz. We all had pastillas, like chicken pot pie. Mine was vegetarian with carmelized onion. And this was followed by a four-part almond-themed dessert: ice cream, cookie, pastry, and shortbread.  And guess what? More mint tea! Dinner was 220 dirhams or $22 per person. Next up: the medina's high-energy nightlife.
8:00 am
Another fabulous breakfast buffet, this time I tryed egg tajine. A tajine pot is terracotta with a conical shaped lid, used for making tajine. Typically this would be a  meat-based one-dish meal with vegetables, prevalent in Morocco, and quite delicious. The breakfast egg tajine was served cooked in this pot with beef jerky type strips for an interesting twist.
9:00 am
We truly hated to leave Fes for other parts of Morocco. I found it fascinating to walk the footpaths of an ancient culture so far removed from my life in the U.S.
The post 36 Hours in Fes, Morocco appeared first on Prime Women | An Online Magazine.