This super chic bachelor pad in Port Melbourne has longevity in mind, with the owner asking the designer to renovate with a future wife and children in mind! Smart!
Daniel Hibberd lives here with his dog Chille. Interior designer Penny Del Castillo says: "The brief was to prepare the house for the future Mrs Hibberd and Hibberd juniors while maintaining a hip, masculine entertainer's ambience."
In the shorter term, Penny's goal was to introduce a more contemporary ambience to reflect Daniel's personal style. She suggested a new front door and entry hall floor finishes, a full gut and refurbishment of the kitchen and bathrooms (including an additional robe area for the master bedroom) and reconfiguring the linen and bedroom closet, as stage one.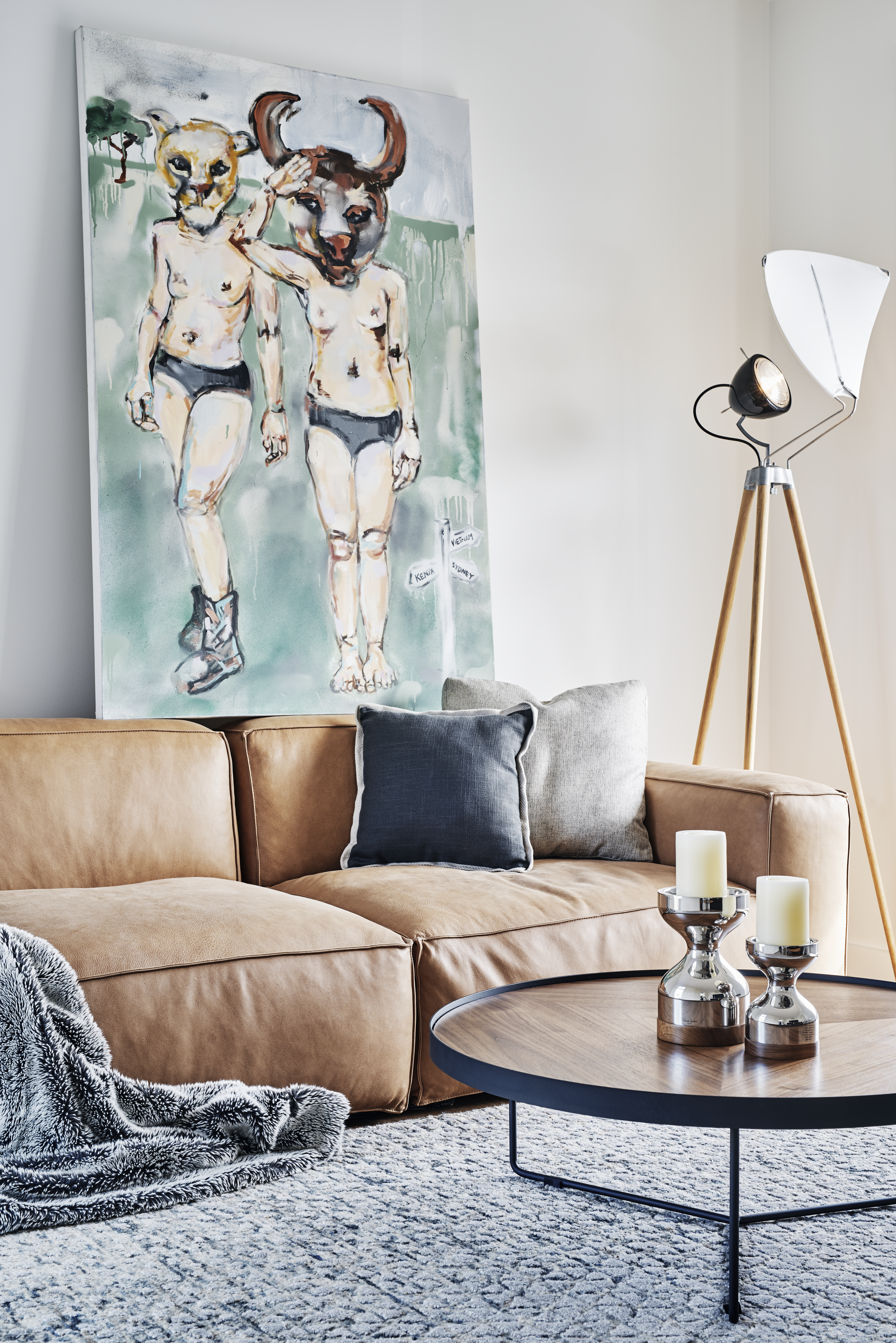 The kitchen is next level with Smeg cook tops, and a combined gas and teppanyaki plate with dual tubular SS Falmec rangehoods. "It's the ultimate gourmet experience," adds Penny, of In Design International.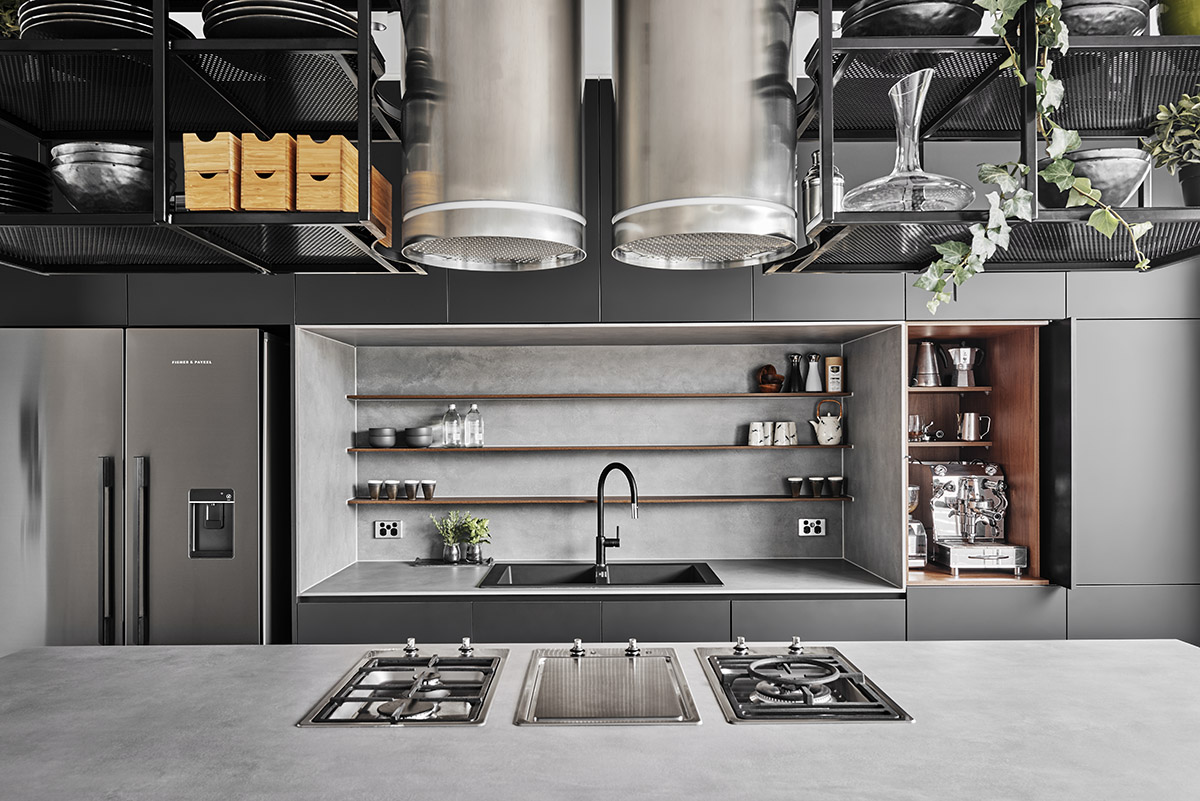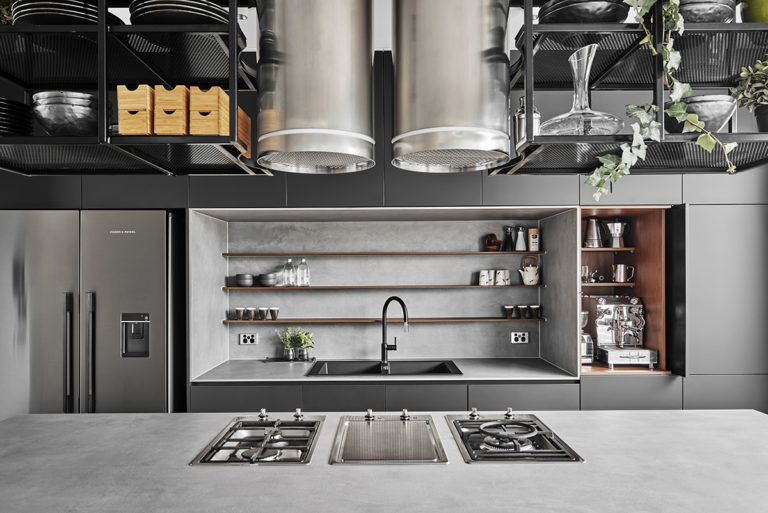 With its overhanging island cupboards, it was was inspired by cafe and hospitality venues. "Our intention was to give Daniel a semi-industrial, almost commercial vibe for his love of cooking and entertaining. This style of kitchen gave him a stage to perform in!"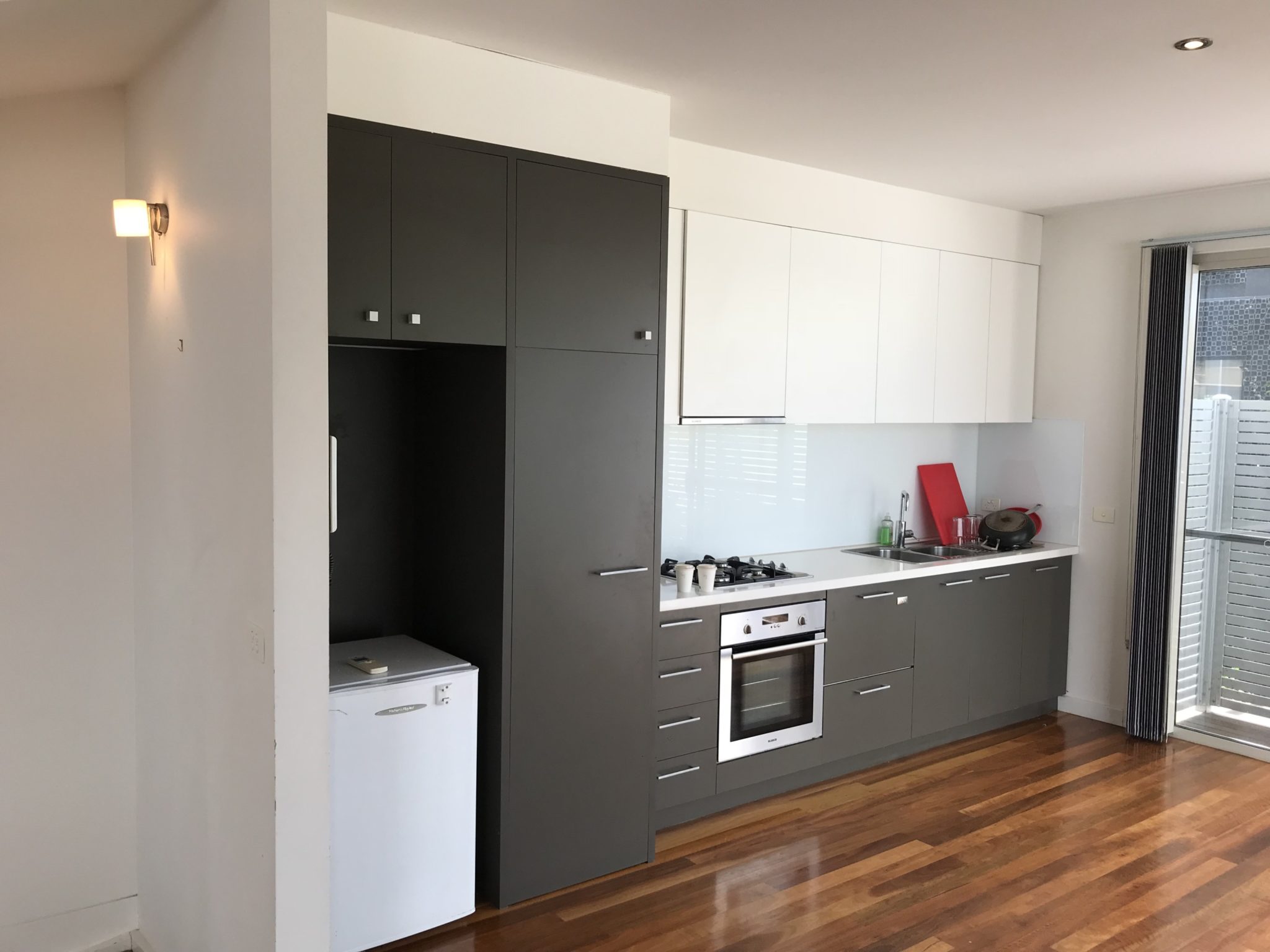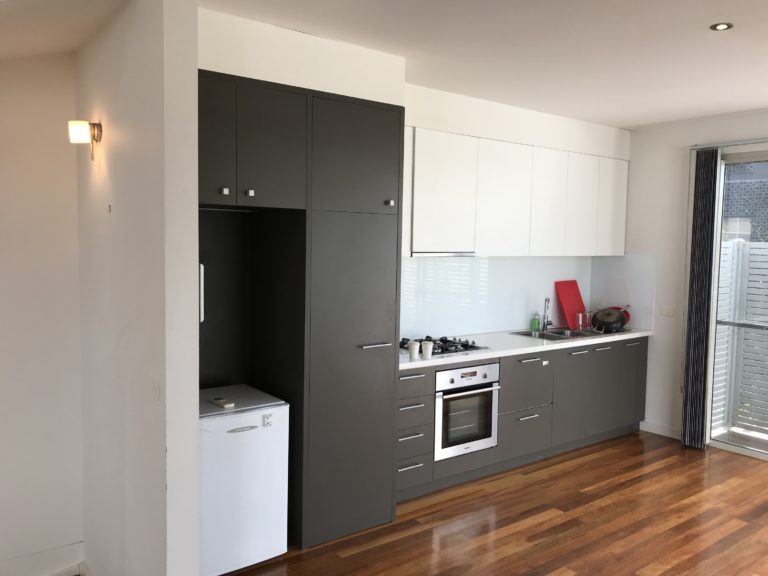 She said this bachelor's life really does revolve around his kitchen, particularly at the moment, as he doesn't own a dining table yet! "The kitchen is his main area for entertaining. It serves as the food storage and prep area along with dining, serving coffee, cocktails and drinks plus for now, it doubles up as the electronic hub station home office when required!
"Selections of materials and finishes were all keenly channeled to reinvent the key areas of concern in this home. Almost monochromatic in our choices, a heavy use of greys, charcoals and blacks, off set with muted metallic and stainless steel, make this kitchen bold, masculine and relaxing."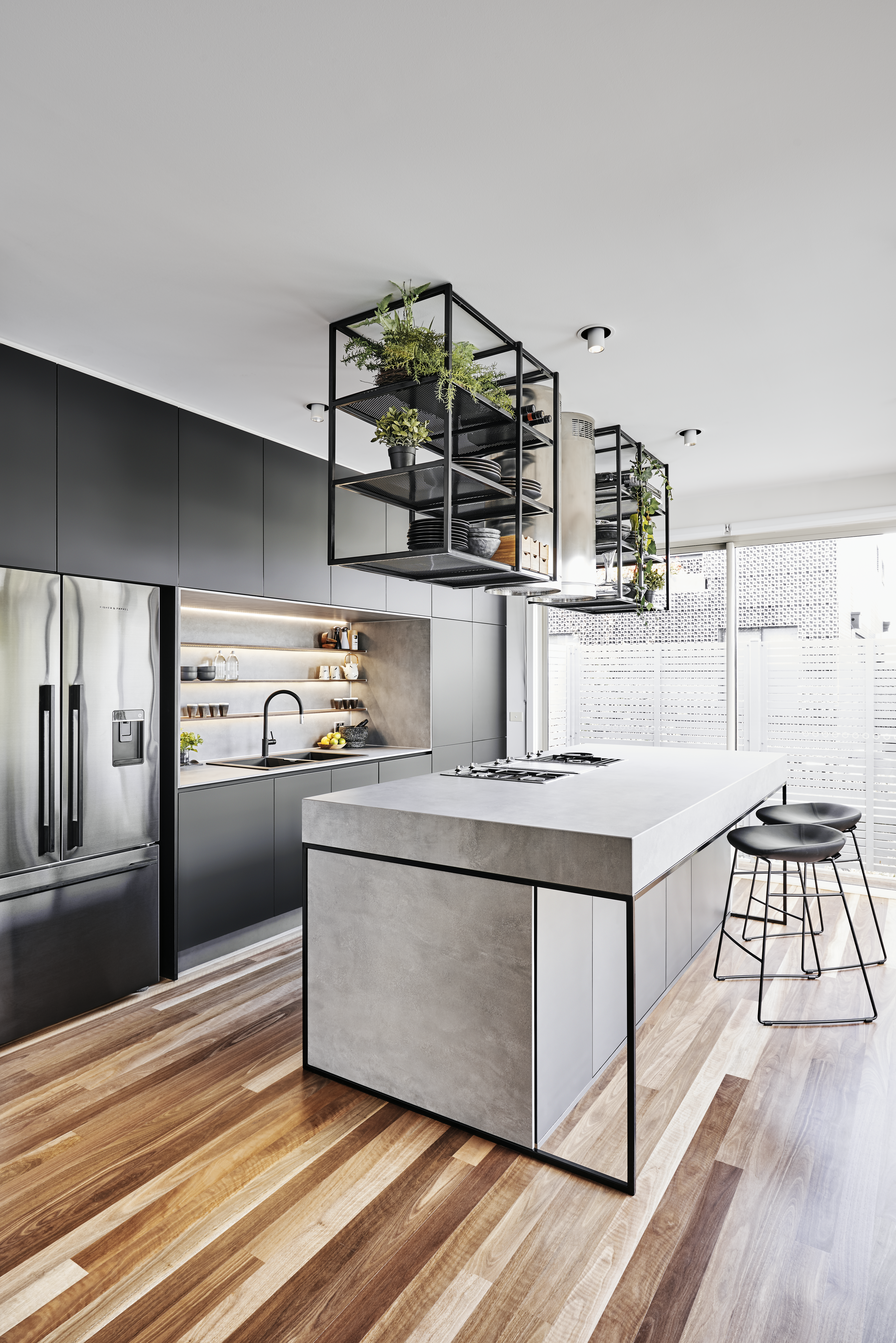 Polytech Venette anti-fingerprint black "pure matte" was used on some of the kitchen cabinet fronts with Polytec Florentine Walnut Woodmatt on the cabinet interiors and ensuite door fronts. The Alternative Surfaces X-Bond surface has the look and texture of solid concrete without the challenges of applying that material in an established home.
It's no surprise the kitchen won 2019 Victorian Small Kitchen of the Year!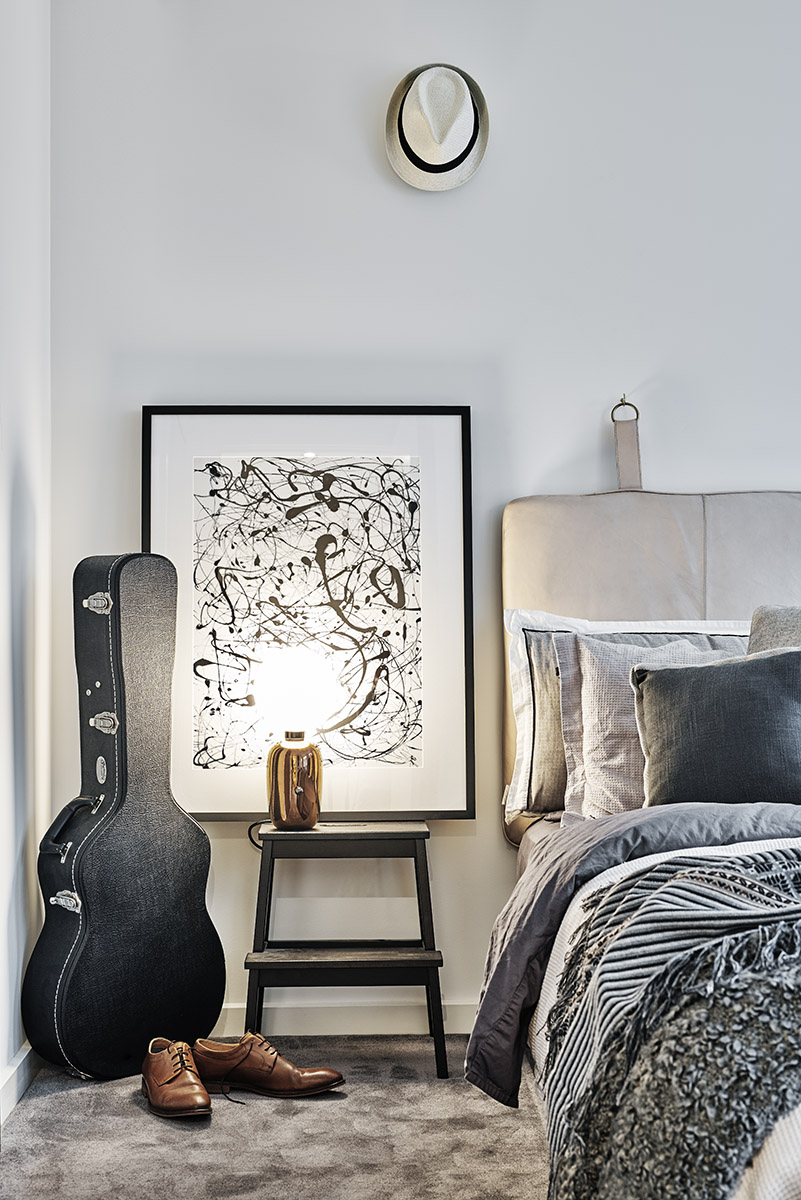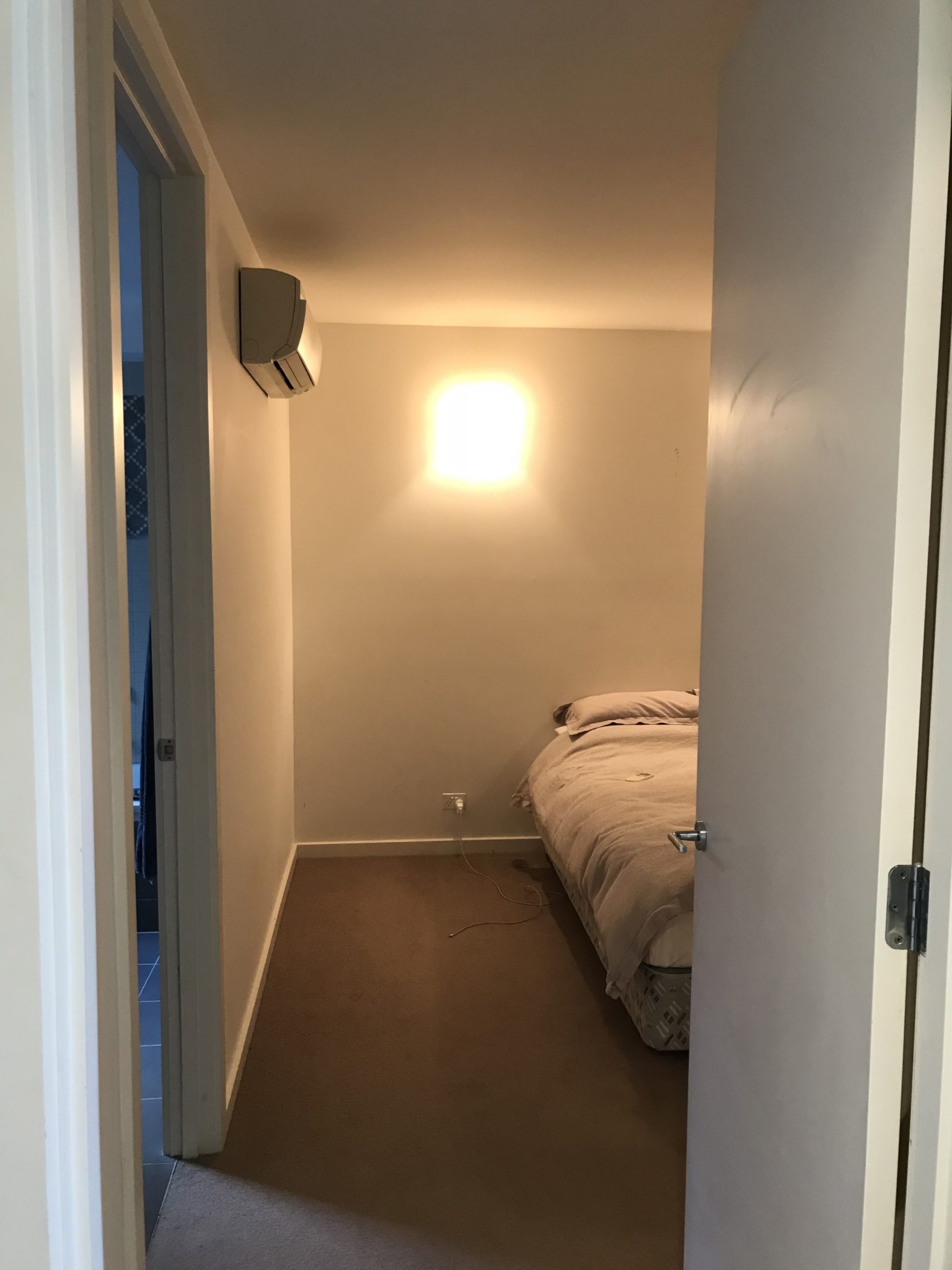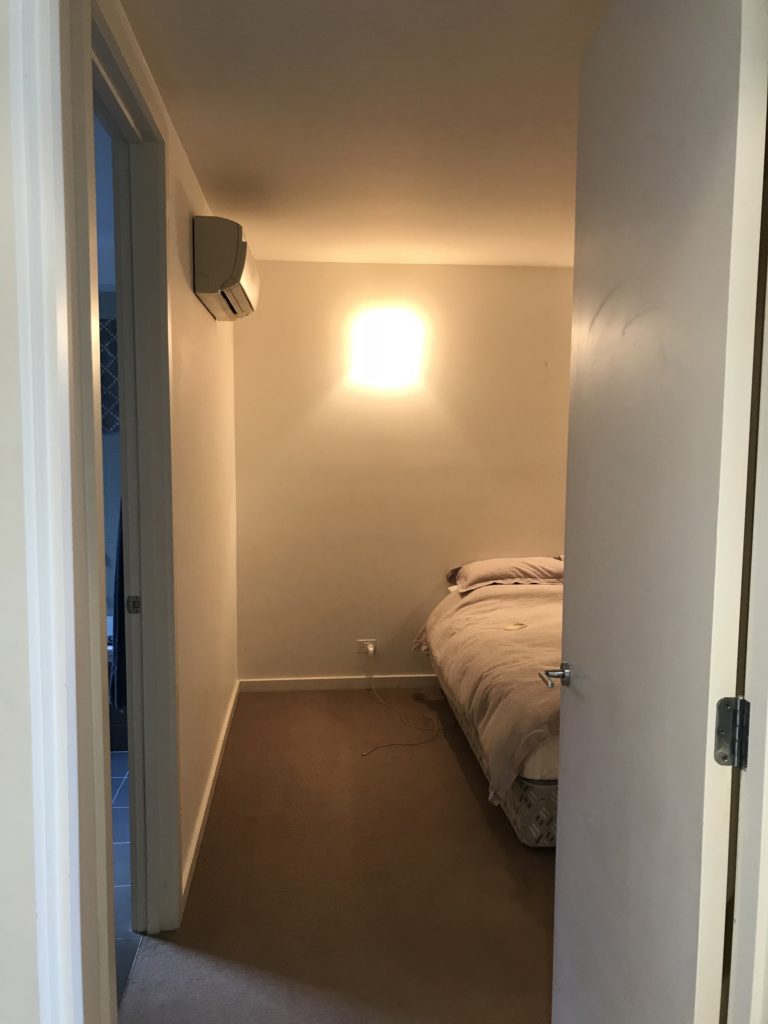 Art also plays a big role in this home, with the bedroom art from decor agency La Grolla and the living room acrylic work  by Melbourne artist Caryn Griffin.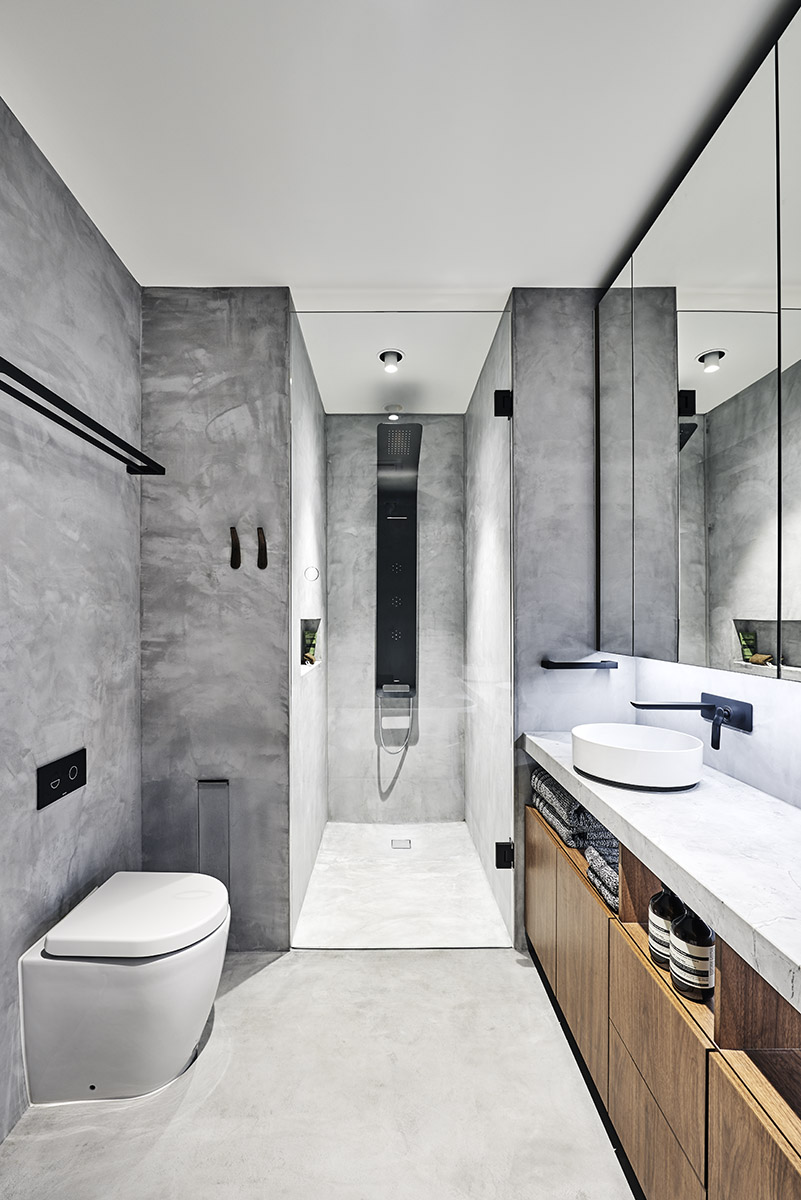 The full body "Synergii" shower panel in the master ensuite is a showstopper. The X-Bond surfaces make another appearance on the wall and floor. Super White Dolomite stone bench tops were used in the other en suites.
"Our design intent was to make the ensuite as uber cool as the homeowner (and of course, ensure we win him a future heart to share it with)!" says Penny. "The solution to his wish list required some non-conventional thinking! Thus, we installed a second matte black metal framed custom mirror suspended in front of a window, which allowed us to maintain natural light and ventilation and worked with a back-to-wall bathtub slightly tucked under a floating vanity bench to achieve the ultimate desired luxury soaking bath."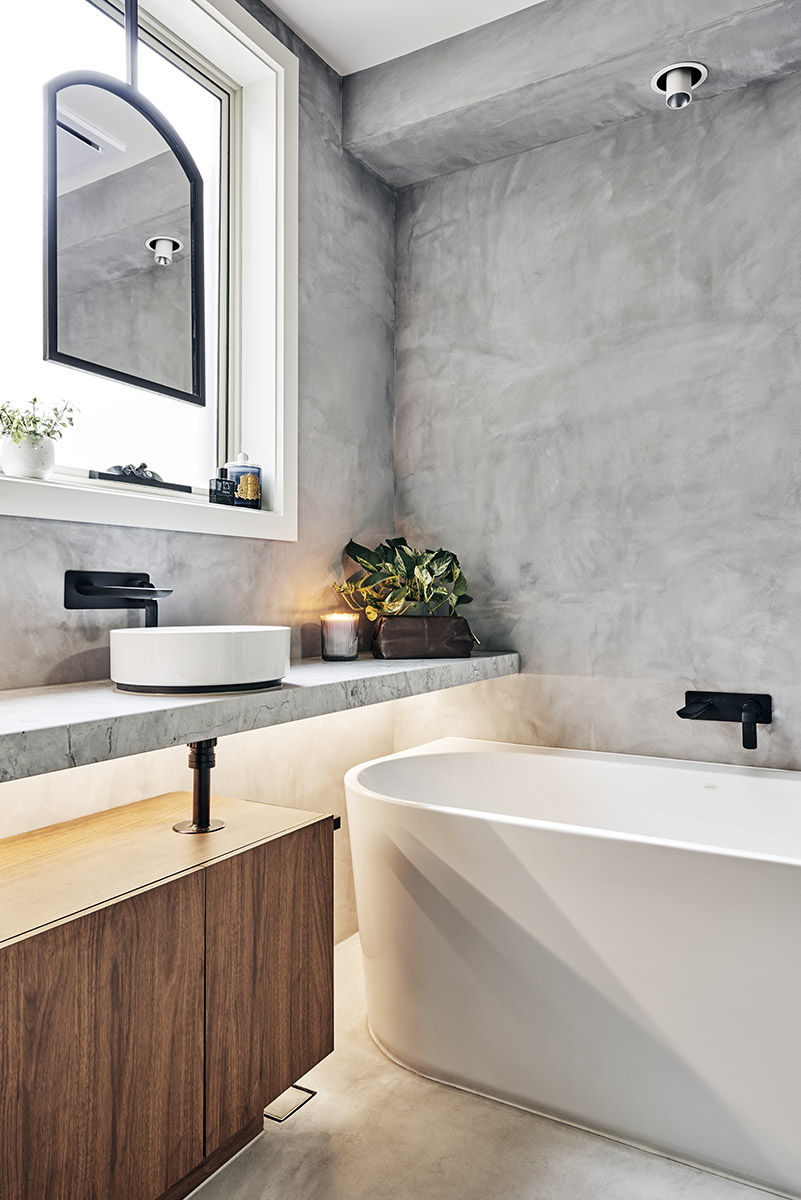 Penny says she is most proud of the clever transformation of the ensuite. "Daniel had a large wish list with a small space! To achieve all his desires required smart spatial planning."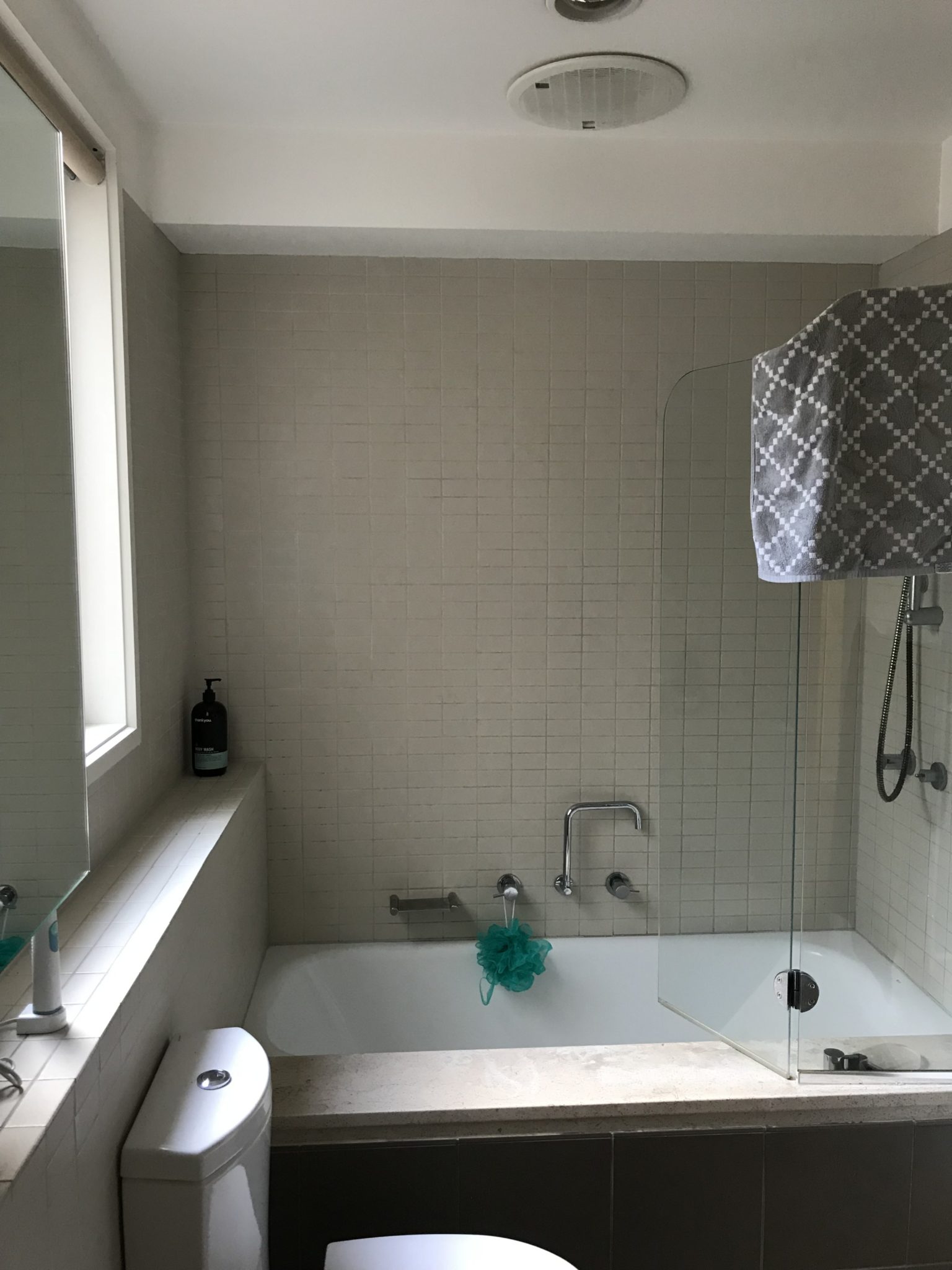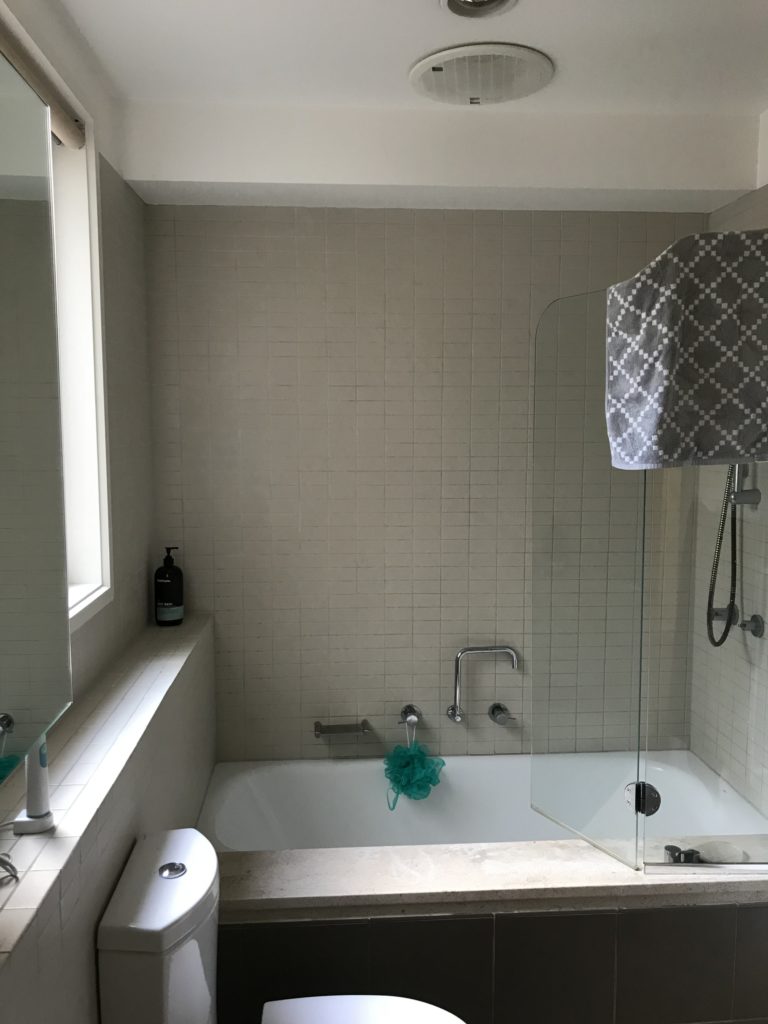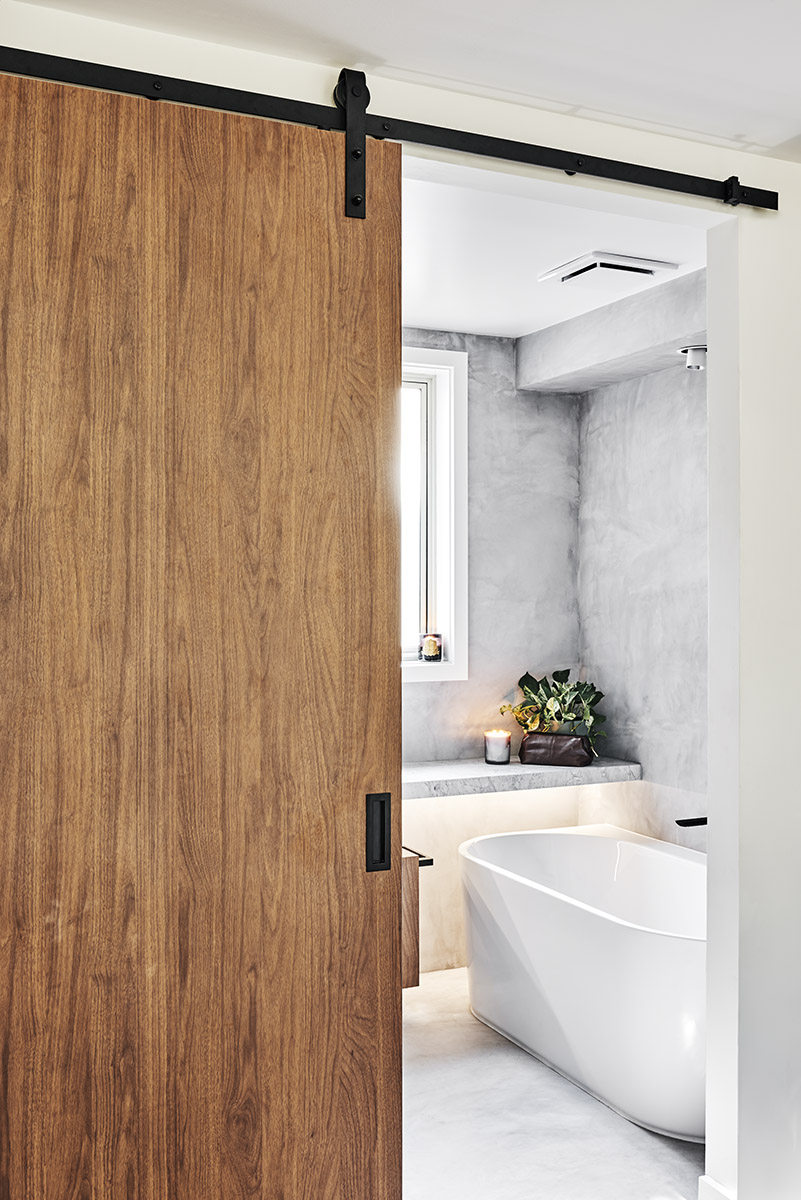 Another of Penny's projects: Old-world charm restored to Melbourne pied-a-terre
For more on Penny and her work
Photography: Isamu Sawa
The post A bachelor pad with a future wife in mind! appeared first on The Interiors Addict.