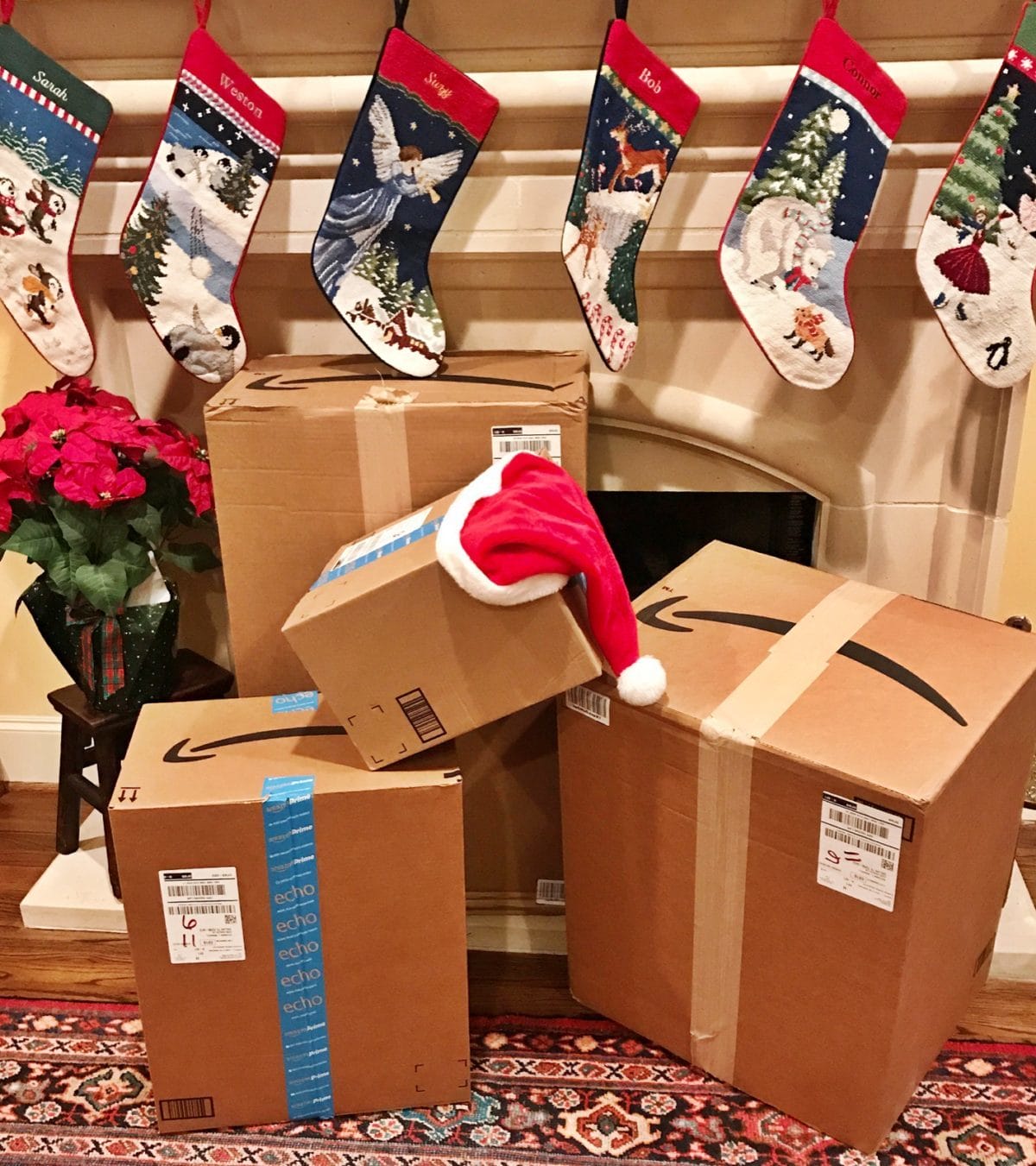 I hope you all had a wonderful Thanksgiving weekend! Were your kids home? I headed home from balmy Florida on Friday, only to be met by brutal cold in Dallas! But I didnt care! I was so happy to see Bob, our oldest son, and our daughter.
Bob and I spent the weekend shopping the incredible Black Friday deals, and putting up the rest of the Christmas decor! Bob is the best shopper of the Empty Nest Blessed Holiday Gift Guide. (Hes been known to shop the Fathers Day Gift Guide and even the Graduation Gift Guide too!

)
As you can see from the (poor quality) photo above, the Cyber Week purchases are already rolling in at our house! Also, in the photo are thebeautiful needlepointstockingsIve told you about multiple times! When our daughter-in-law joined the family two years ago, I decided it was time to replace the old, beat-up stockings and add one for her at the same time. These were so affordable, and I just love them. Theyre from Lands End, and there aremultiple designsavailable at an incredible price right now. Bob and I had such fun picking out just the right one for each person!
Did you shop on Black Friday? Hopefully, you didnt get all crazy at the mall, and stayed home and shopped online with my links instead. We did. Bob had his laptop set up at the kitchen table, and I was in the Empty Nest Blessed International Headquarters (which I am not kidding you is a tiny 39x66 room under the stairs!) and we were both shopping at once. We got so many great deals, yall!
Several of my friends said they didnt want to shop over the weekend because they just wanted to focus on family. I get that!If you didnt shop over the weekend, dont worry! There are epic Cyber Monday deals out there! In many cases, theyre even better than the Black Friday deals. Ive got a comprehensive, organized list for you below, and thepinklinks will take you right to the sites you love. Be sure to use the extra discount codes Im sharing to get the best deal possible! Please note that most of these deals are online only!

(Um, since its actually called Cyber Monday and all)

One particular sale you will want to note! Nordstrom is having a HUGE Cyber Monday sale! Items are up to 50% off!!! (Plus free shipping & returns or buy online and pick up in store.) Also, Target is having an amazing sale. (See below for some examples!) Finally, in a first-ever, in like, EVER, Lilly Pullitzer is taking $20 off a $100 purchase. (Thats 20% off, Lilly-lovers!!!)
Finally, I want to thank you from the bottom of my heart for shopping with me this week! Im so grateful! Also, I want to be brutally honest with you and tell you that I am good and sick of writing about sales. (And Im pretty sure youre good and sick of hearing about them.) I know were all shopping this time of year, and I want to help you with that, but there is SO MUCH MORE to this season than purchasing. While Ill continue to bring you gift ideas for all of the special people in your lives, Im looking forward to sharing some other, meatier content with you too in the upcoming days.

Cyber Monday Deals
ACCESSORY CONCIERGE| 40% off sitewide with codeCYBERMONDAY2018. (Some of my favorite jewelry is from this retailer!)
AMAZON| Deals are fantastic and theyre updating and changing fast! Click here to see them all.
ANN TAYLOR| 50% off sitewide + free shipping with code CYBER.
ANTHROPOLOGIE| 30% off sitewide + free shipping $100+. Im positivelyswooningoverthisholiday skirt!
BANANA REPUBLIC | 50% off sitewide (no exclusions!) + free shipping with code BRSHIP. Extra 10% off for BR cardholders with code BRCARD.
BARRINGTON GIFTS| Spend $150, save 10%; spend $250, save 15%; spend $350+, save 20% with codeTHANKFUL. (All orders ship free.) I ordered a garment bag for myself this weekend for Bob to give me because this brand NEVER has sales!
BAUBLEBAR | 35% off sitewide + 15% offpersonalized gifts.Free shipping & returns! Stuff those stockings!
BED, BATH & BEYOND | Tons of great deals! Receive $100 in My Fund rewards (to be used in the next 30 days) when you spend $300. Up to $70 off Ring Doorbell & other Ring products, 37% off Dyson cordless stick vacuum (I love mine!), 35% off KitchenAid mixers, and so much more! ClickHEREto see all the deals!
BLOOMINGDALES | 25% off select items marked. See them all HERE.
BOMBAS SOCKS| People love these socks for men, women, and kids, where a pair is donated for every one purchased! Take 20% off sitewide with codeHOLIDAY20.
BONOBOS | Bobs favorite chinos! 35% off sitewide with code MONDAY.
BOSTON PROPER| Some of my recent looks are from this brand! Check outthis,this, andthislook from myInstagram! Five big deals (see them HERE) + 50% off clearance with code CYBERWOW. Check out this Pearl & Jewel Trim Sweater and this Relaxed Camo Long Sleeve Top for a steal!
CABANA LIFE| My fave colorful UPF 50+ clothing! Extra 40% off with codeSHOPFAST.
CHICOS| Did you catch Mondays post aboutChicos amazing selection of gifts (and adorable ornaments)? 50% off sitewide + free shipping with code 32016. I am not kidding you! I have NEVER seen them do a discount this big! Shop now!!!
CITY BEAUTY | 35% off sitewide! For more info, check outTHIS post. Ends 12/3.
COACH| Up to 50% off select styles. Free shipping & returns.
CONTAINER STORE| Selectstocking stuffers50% off! (They havethe best stocking stuffers!) 30% off gift wrap, 25% off any single item, plus more!
DERMSTORE| Up to 30% off sitewide with code CYBER. Shop the best of the best in skincare, makeup, hair care and more!
DICKS SPORTING GOODS | 25% off sitewide. This is a great spot for gifts for men! We just bought our son a kayak for Christmas! (Especially if theyre sporty!)
DISNEY | Got a Disney lover in your family? Take 30% off sitewide with code CYBER.
DRAPER JAMES| (Reese Witherspoons clothing & accessories line.) 25% off entire purchase with codeGATHERROUND. (This linealmost neverhas sales!) Im crazy about thisplaid cape, but wouldnt have paid full price. Now I just might get it! Whatdya think? Also, thesemittensmake great gifts, and they always sell out, so grab them now if you want em!
DSW| 25% off sitewide with codeITSWILD.
EBAY| Up to 70% off on everything from Dyson to Samsonite.
ETSY| 10-60% off at various shops. Check to see if yourEtsyfavorite shop is having a sale!
GAP | 50% off sitewide with code GAPCYBER + extra 10% off everything with codeGOBIG.
HAYNEEDLE | Up to 80% off. (Includes Christmas decor.)
HAPPY SOCKS| Up to 40% off + free shipping. These make great stocking stuffers, and these prices areawesome!
JCPENNEY | Extra 30% off $100+ or extra 25% off under $100 with code JINGLE19.
J.CREW | 50% off entire purchase with code MONDAY.
J.CREW FACTORY| 60% off sitewide + up to 80% off clearance with codeADD2CART. (Some exclusions.)
J. JILL | 40% off sitewide + free shipping$100+ with code JOY40.
JOY CREATIVE SHOP | 20% off sitewide with code CYBER20 at one of my very favorite Etsy Shops! (Read more inthispost.)
KATE SPADE| 50% off select handbags & wallets with codeGOBBLE50. Ends 12/10.
KELLY WYNNE | 25% off sitewide with code HOLIDAY. (This uber-classy stadium bag made the Empty Nest Blessed Gift Guide for Her. This is the bag you carry when you get invited to watch the game from someones box! I DID!)
KENDRA SCOTT| 25% off everything and 30% off $300+. Ends 12/2.
KOHLS| Get $15 Kohls cash for ever $50 spent + take an extra 15% off any purchase with codeGIVETHANKS.
LOCCITANE | 20% off sitewide with code CYBERat my fave source for high-end body products. Im obsessed with theiralmond line! (Its on my Christmas list!)
LANDS END | with codeMONDAYand pin3264. Our familysbeautiful needlepoint stockings are a deal at under $20 each.
LAST CALL | Extra 40 80% off sitewide.
LIFE IS GOOD | 30% off sitewide.
LILLY PULITZER | They have NEVER done this before!!!$20 off every $100 spent. (Thats 20% off sitewide, folks!)
LL BEAN| 20% off with codeTHANKS20. Ends 12/3.
LOFT| 50% off sitewide + free shipping with codeCYBER.
MACYS | Tons of Cyber Monday specials! Click HERE to see them all! Extra 20% off with code CYBER. (Some exclusions.)
MADEWELL | 30% off sitewide + free shipping with codeSHOPALLDAY.
MARK & GRAHAM| 25% off sitewide + free shipping and monogramming + free gift wrapping with codeFRIENDS. (This is my fave site for classy personalized gifts. They almost never have sales!)
MARLEY LILLY| Up to 70% offsitewide + free gift with $50+ purchase at my fave online store for affordable monogrammed gifts!
MINTED| 25% off sitewide + free shipping with codeCM2018.
NEIMAN MARCUS| $50 $750 gift card with regular-priced purchase with code GC4YOU. (Gift card amount depends on the amount spent.)
NORDSTROM | Up to 50% off! Unbelievable deals in womens, mens, kids, home, and beauty! Check out this Sam Edelman Hooded Puffer for $99.90! Great on-sale gift ideas include this Wubby pullover,Spanx Faux Leather Leggings, these unbelievably cozyBarefoot Dreams cardis.Tory Burchboots, handbags, accessories and more, andUGGs. Free shipping & returns.
NORDSTROM RACK | Spend $100, get $20; spend $150, get $30; spend $250, get $75 to spend later. Extra 30% off clearance. Free shipping sitewide.
OLD NAVY | 50% off sitewide + free shipping.
PIER 1| 25% off sitewide with codeBLACKFRIDAY. Ends 12/2.
POTTERY BARN| 25% off sitewide + free shipping with codeCYBER. (Includes holiday decor!)
RALPH LAUREN| 40% off $125+ purchase and extra 10% off sweaters with code CYBER.
SAM EDELMAN | 30% off (almost) everything with code SAM2019. Ends 12/2.They have some of the most comfortable & stylish shoes for feet over 50! (I love em!)
SEPHORA | Spend $85 and get a 6 free trial size items. Tons of $15 and under deals on beauty sets and more!
SHOPBOP| (Designer styles at up to 40% off + free shipping with Amazon Prime.) Up to 25% off full-price items & 75% off sale items with codeMORE19. Ends 12/2.
SOMA INTIMATES| 30% off sitewide with code26092. Ends 12/3.
SHUTTERFLY| Up to 50% off sitewide + extra 25% off with code CYBERMONDAY. If you havent ordered your holiday cards, nows the time! Also, create some one-of-a-kind photo gifts like thispersonalized iPhone case!
SPANX | 20% off sitewide + free shipping. I own this darling Fry-Day shirt now its only $37.59!
SUPERGOOP| 25% off sitewide + free shipping with codeHOLIDAY. I love their nontoxicSPF50 Defense Refresh Setting Mist. Its the last thing I spray on before I head out the door!
TALBOTS| 50% one regular-priced item and 40% off sitewide + free shipping. I adore thistartan plaid vest! Its perfect for holiday get-togethers!
TARGET | Tons of Cyber Monday deals! Includes the popular 23andMe Personal Ancestry + Health Genetic Service Kit (Lab fees included) for only $99.99, Apple Watch Series 4 for only $449.99, Roomba 690 for only $209.99, Fitbit Charge 3 only $119.95 + so much more! Click HERE for all the deals!
THE REAL REAL | Earn up to $250 in site credit with purchase. (This is the designer consignment site where I get all of my designer handbags and accessories!) Lots on sale!
TORY BURCH| 30% off $250 purchase sitewide with codeTHANKS. Also, this Cyber Monday limited edition crossbody is only $180! It WILL sell out, so hurry if you want it!
TUCKERNUCK | American Classic clothing! 20% off sitewide; 25% off $500+; 30% off $1K + free shipping/returns with codeBRIGHT.
ULTA| $10 off $50+ with code CYBERMON19. + $5 off $15 purchase. Get the coupons HERE. Also, up to 50% off select items. Free 26 piece beauty bag with $80+ purchase. Luxury robe or plush throw with $50+ fragrance purchase. Lots more deals. Click here to see them all!
VINEYARD VINES| 40% off sale and 25% off sitewide + free shipping with codeHOLIDAY18. (Shop theirsale sectionfor deals!!!)
WALMART| The Cyber Monday deals are incredible! For the full list clickhere.
WAYFAIR| Up to 80% off Cyber Monday Blowout!
WHBM | 40% off sitewide + free shipping with code 55332.
WILLIAMS SONOMA | Buy more, save more 10% off $50; 15% off $100; 20% off $200; 25% off $500 + free shipping on all orders! Check out these Star Wars Instapots!
XTREME LASHES| Remember my post What I Learned When I Took a Professional Makeup Lesson? In that post, I talked about the Xtreme Lasheseye shadow sticks,eye pencils, andeyelinerthat my makeup artist recommended? You can use more than one promo code on this site! Stack discounts by taking 20% off sitewide with codeTHANKFUL19and an additional 15% off with codeSUZY15.
ZAPPOS | Incredible deals in their Cyber Monday sale! Best prices of the year! Free shipping & returns.
Dont forget that many of the items on theEmpty Nest Blessed Amazon Pageand in theEmpty Nest Blessed Holiday Gift Guideare on sale this weekend too!
Now that thekids have headed home,you can get all of your shopping done TODAY! Im so thankful I shopped ahead this year. With the deals I found, I was able to spend less, and purchase more. Hooray!My heart is more peaceful than I can remember at this point in past years, and Im looking so forward to the holidays now.
Id love to know what content youd like to see now that the big sales weekend is coming to a close! Leave me a comment below and share, okay?
Blessings,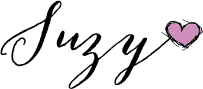 SHOP THE POST

The post Empty Nester Weekend Wrap-Up + Cyber Monday Deals appeared first on Empty Nest Blessed.