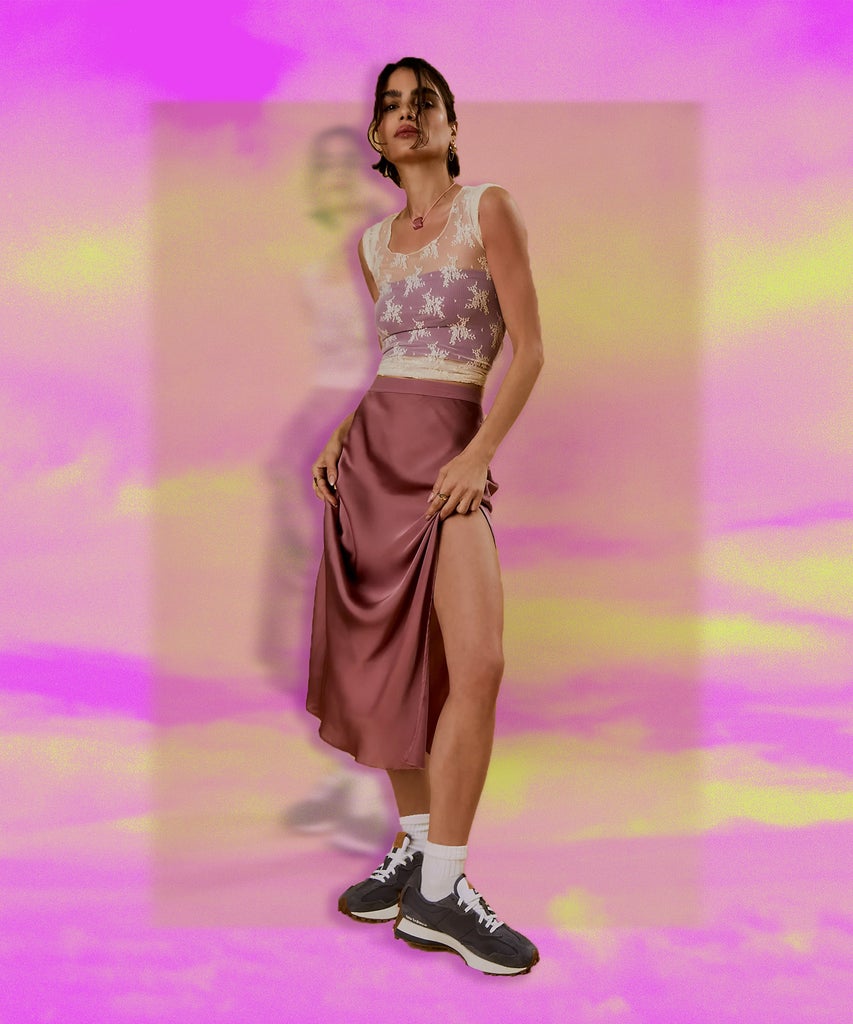 Yawn! Welcome to Sleep Week, a seven-day stretch where we source you the best buys in the Zzz-catching business—from editor-vetted bedtime rituals to exclusive mattress deals and more of the internet's most slumber-worthy scores. Go ahead, hit snooze with us.
Even though many of us have reverted to "real clothes" again, it's undeniable that pandemic wear has significantly influenced how we now construct our day-to-day outfits. For instance, I would have never been the kind of person to wear elastic-band comfy pants in public prior to lockdown — but, suffice to say, I've since embraced the idea of wearing indoor clothes for the outside world. I know I'm not alone in this. Here on the R29 shopping team, we're hyper-aware that our readers (still) cannot get enough sleepwear, loungewear, and matching sweatsuits. Talk about softness — we also see you scooping up cashmere sweaters, cotton undies, and washable silk PJs. When it comes to any kind of apparel that reminds you of catching zzz's or getting cozy on the couch, we got you — and we wanna ensure that you snuggle up in style the whole time.
That's why we're about to let you in on a secret that's hiding in plain sight. A style hack, really. If you exclusively want to be wearing the softest, most sensual pieces, you ought to shop Free People's delectable in-house label, Intimately. A quick perusal will reveal some of the chicest styles that are ideal for building upon a comfort-forward look — whether you're staying in or heading out. There are body-contouring base layers made from buttery nylon-spandex blends, second-skin sheer tops you can pair with your lived-in jeans, and silky slip dresses that seamlessly transition from your bed to the streets with a cardigan and loafers. Intimately, as it turns out, is a treasure trove of the brand's sexiest stunners that are designed to be seen.
Ahead, we guide you through some of our favorite Intimately picks along with the style tips for bringing these dreamy looks into reality.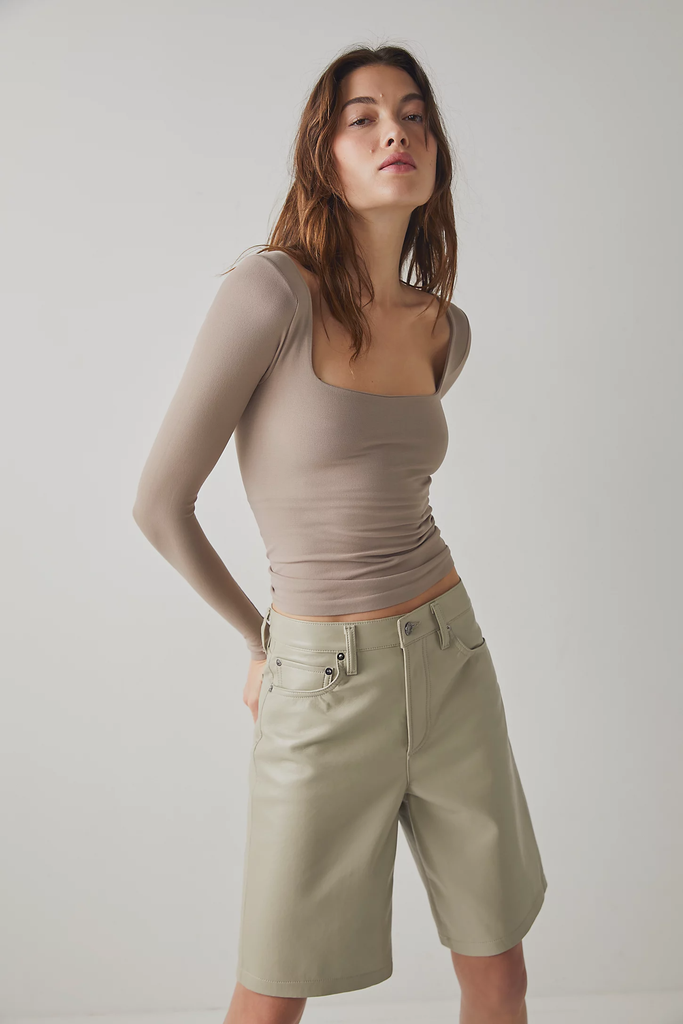 Shop Free People
This second-skin top makes for a comfy layer under a cardigan or on its own. We would pair it with low-rise pants or a skirt, or tucked into a high-waisted bottom, for an off-duty ballerina look.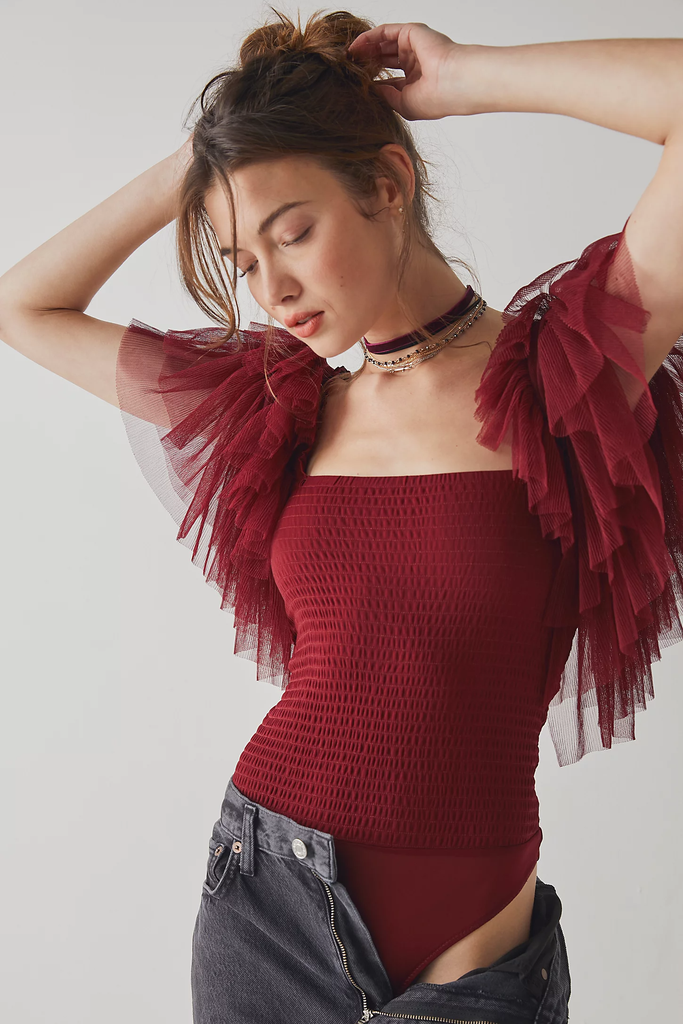 Shop Free People
We love a smocked bodysuit with large, flouncy, dramatic sleeves! This one-and-done piece is divine with whatever denim is your go-to, or a midi pencil skirt. Add a pair of ballet flats and you're good to go.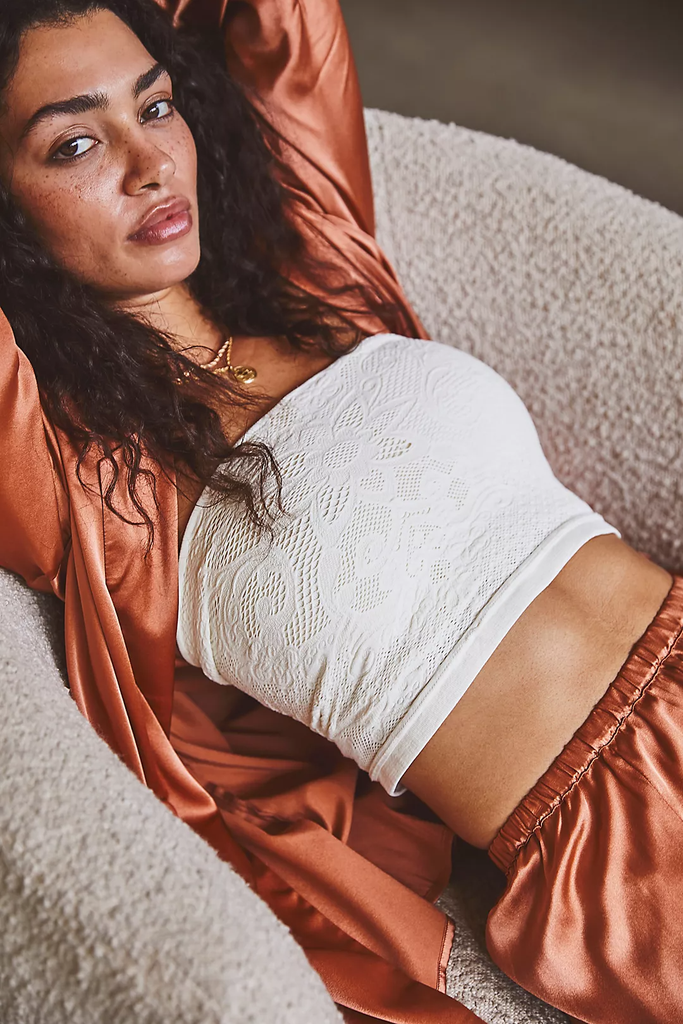 Shop Free People
This super stretchy lace tube top is sultry on its own as a nighttime bra, but the soft, floral design would also contrast well with utilitarian cargo pants or with a flannel shacket.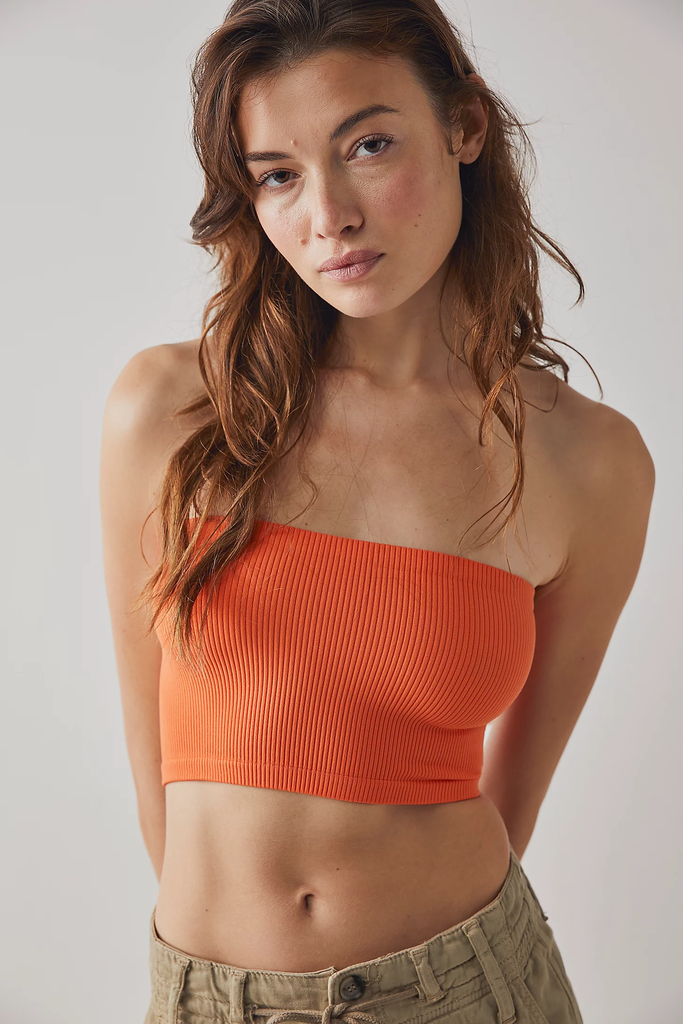 Shop Free People
This ribbed bandeau, similar to the top above, is a versatile base layer that could be worn with an unbuttoned light spring jacket. Or, wear this tube under a sheer top for a fun way to dress up your underthings.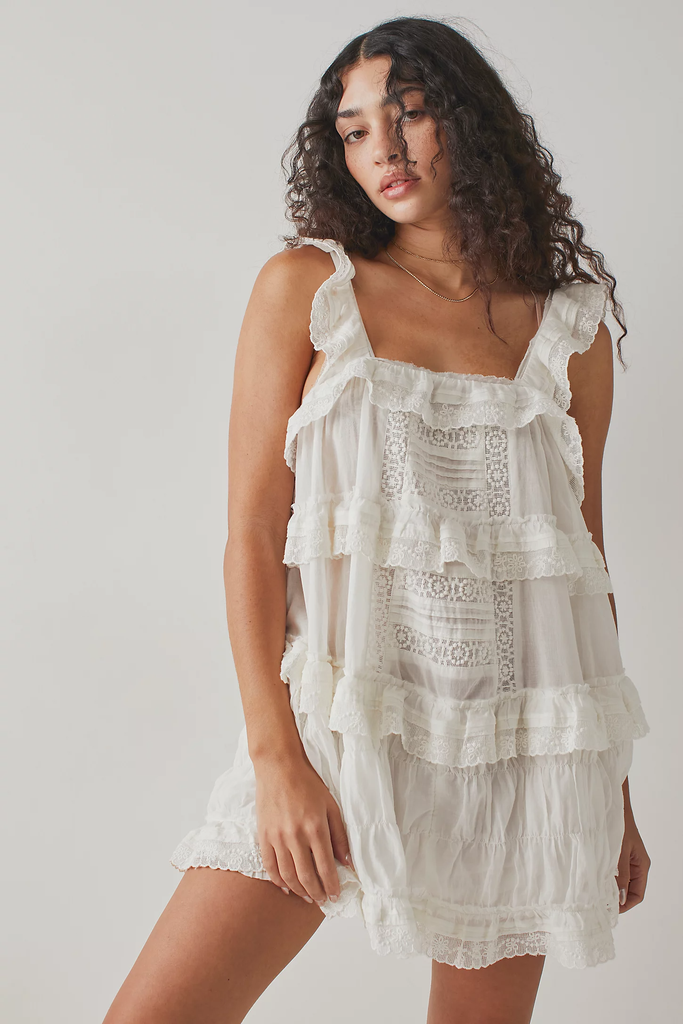 Shop Free People
At first glance, this romantic romper looks much like a ruffled mini dress! It could absolutely work for the outside with a pair of cowboy boots or a trench jacket. If it's still a little too cold, a bodysuit underneath should do the trick.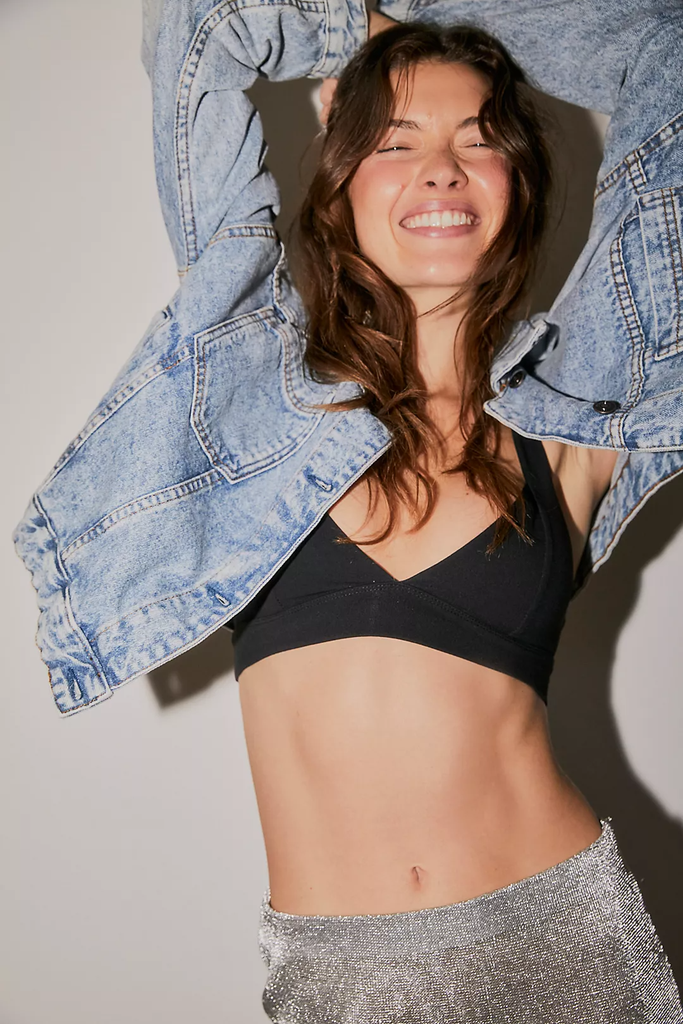 Shop Free People
Don't ever deny yourself a super comfortable, flexible bralette!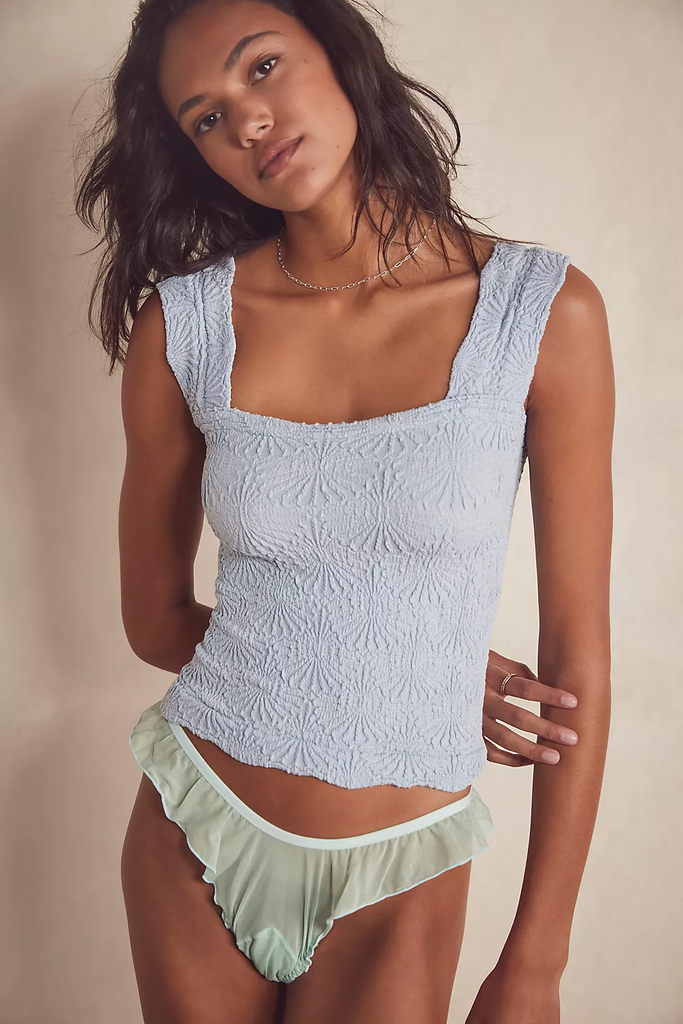 Shop Free People
This longline cami top hits just above the hips, which makes it ideal for low-rise bottoms. A pair of heeled Chelseas is perfect for the winter — then swap in strappy sandals for the summer.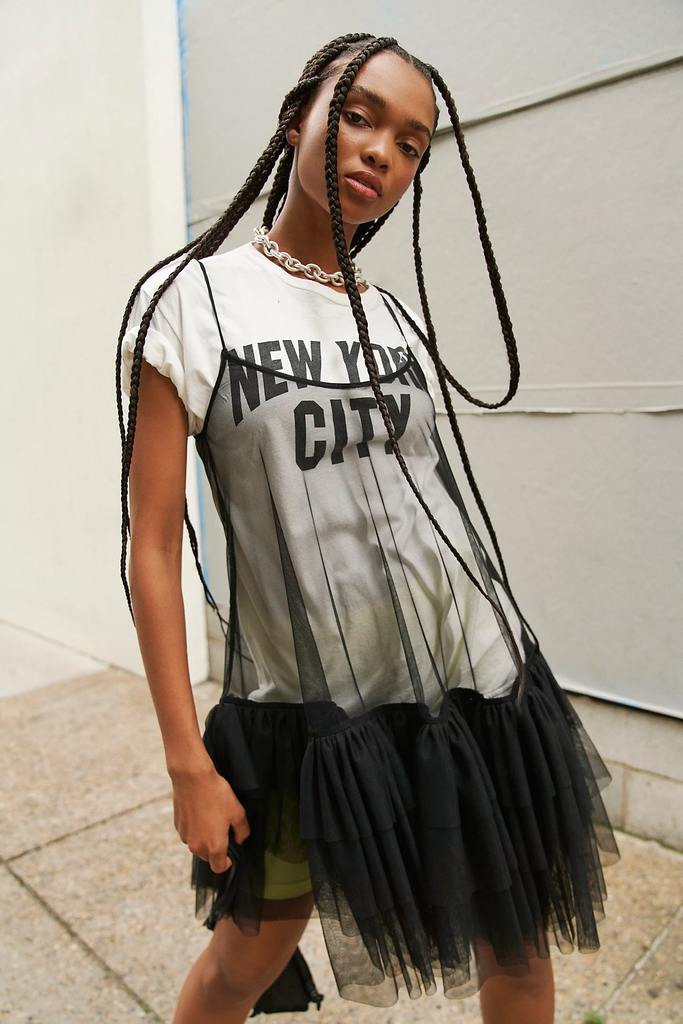 Shop Free People
This sheer slip dress is top-rated at Free People for a reason — its versatility and instant, endorphin-boosting tiered skirt can amplify any outfit. "I have worn this with leggings underneath and slim-profile heeled boots — either with an oversized T under, and blazer over, OR with an oversized hoodie over. Can't wait create more ways to wear it!" writes a reviewer.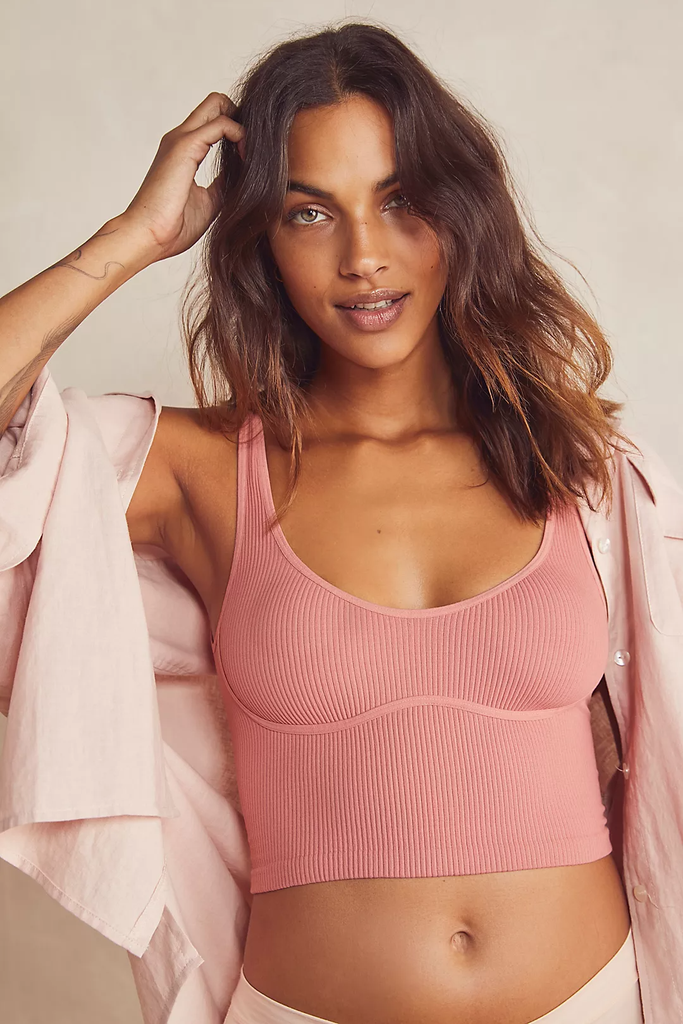 Shop Free People
Come for the ribbed fabrication but stay for the underbust support! This deliciously soft crop camisole can replace your bra when lounging at home.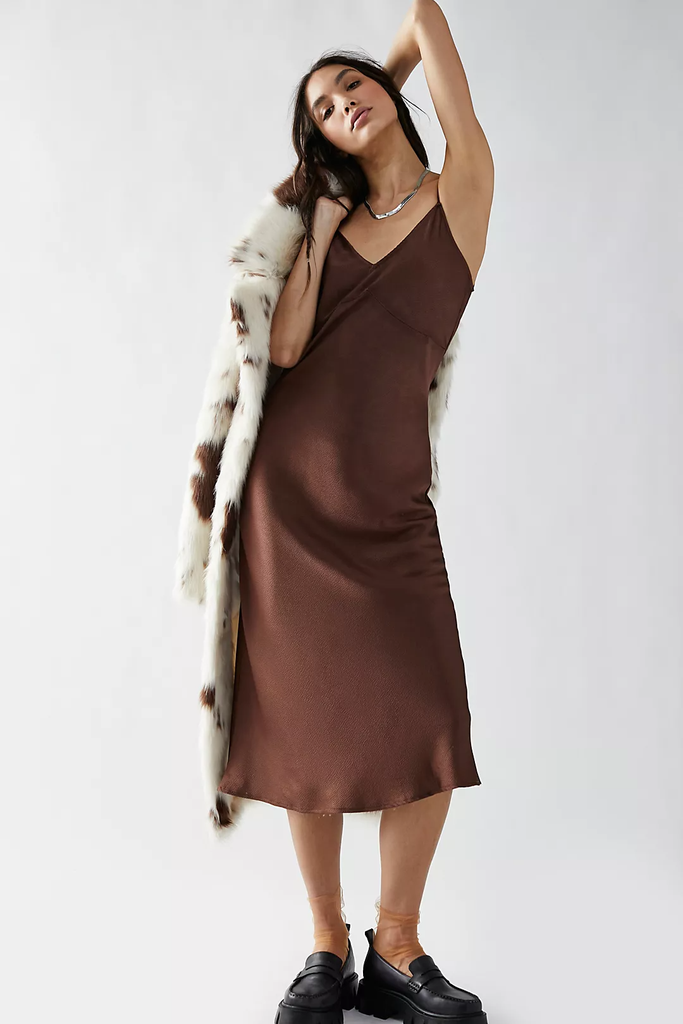 Shop Free People
We always love a satin-finish slip dress — and this one can be worn over a T-shirt for extra warmth, or worn solo for the extra-hot months. (There's also a sexy scoop back for additional ventilation.)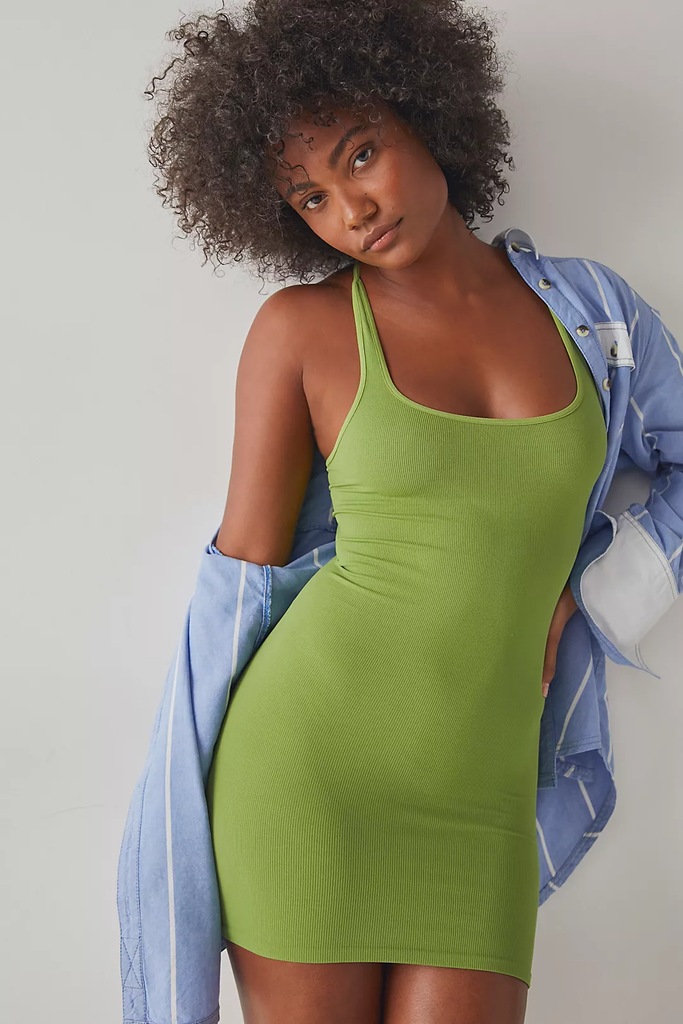 Shop Free People
Available in an assortment of colors, this bodycon mini dress is sporty enough to wear with sneakers and a jean jacket, but also soft enough to peel away all other layers for when you want to take a siesta.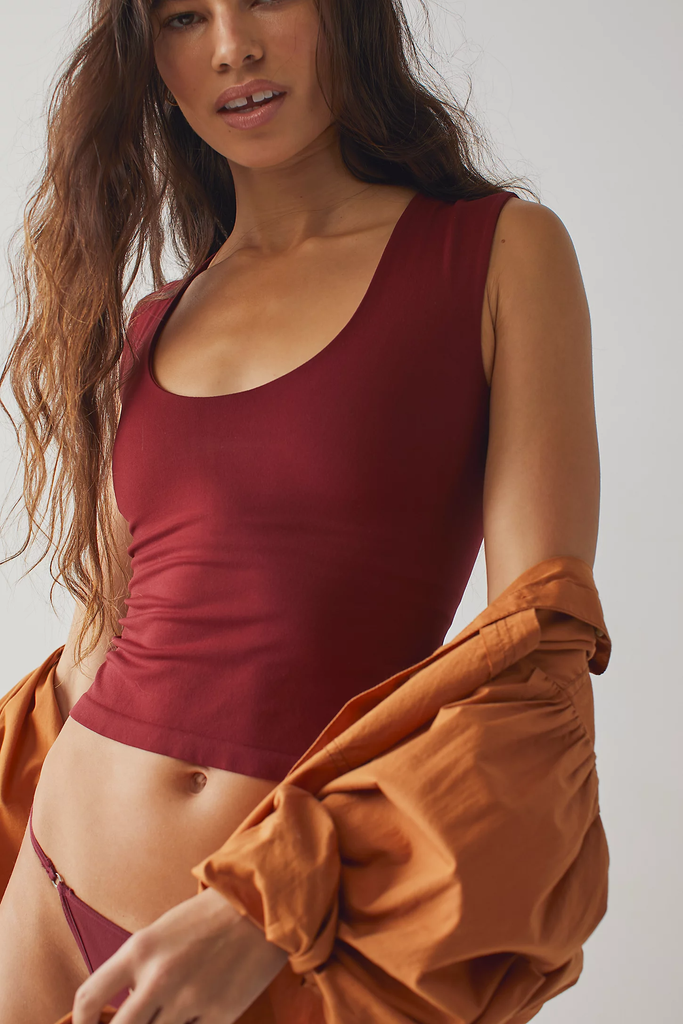 Shop Free People
Intimately's "Clean Lines" pieces refer to the seamless, form-fit fabrication that hugs your curves like a second skin. Essentially, these are the easy-to-build-upon base layers you'd want touching your body.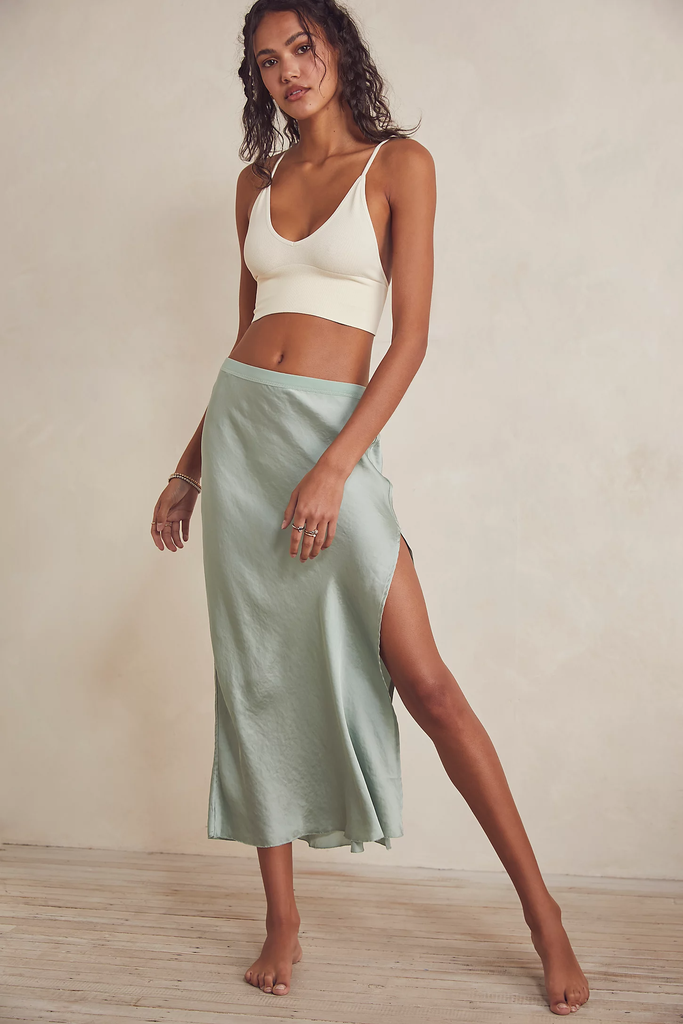 Shop Free People
Slip skirts are always a great staple to keep in your closet — and this one also has a dramatic slit up the side leg that also makes it easier to walk in. Wear it with a bandeau for bed, or with a cropped blouse for when you need to head outside.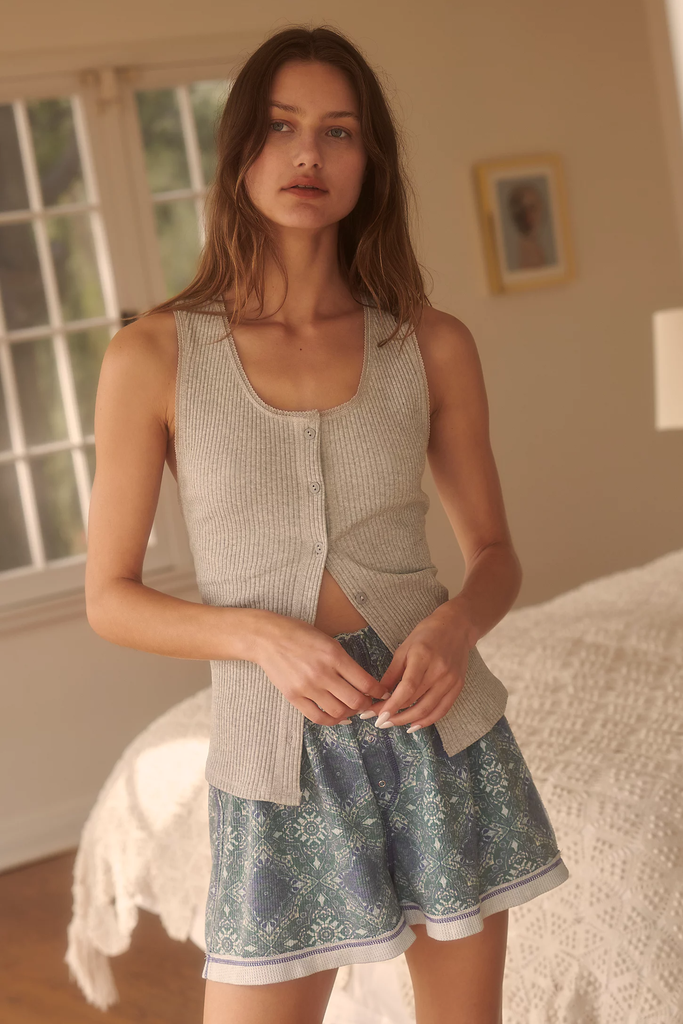 Shop Free People
What makes this racerback ribbed tank so unique are the buttons down the front and the slightly longer hemline. It means that there are myriad ways to style this top — you can button halfway (like the model pictured), wear it open like a vest over another tank or T-shirt, or fasten just the middle buttons like a Y2K-era babe.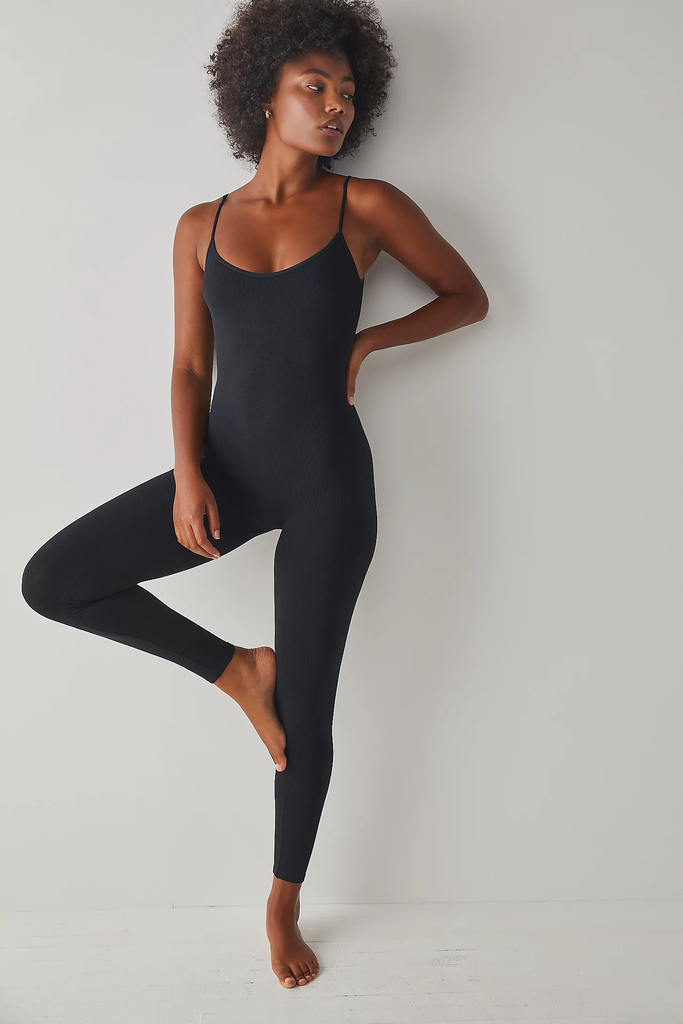 Shop Free People
Make no mistake — this super soft catsuit is made specifically for lounging in (often, the catsuits we cover do veer into activewear). This melt-worthy base layer is perfect for wearing with a sheer maxi dress or under a robe.
At Refinery29, we're here to help you navigate this overwhelming world of stuff. All of our market picks are independently selected and curated by the editorial team. All product details reflect the price and availability at the time of publication. If you buy or click on something we link to on our site, Refinery29 may earn commission.
Like what you see? How about some more R29 goodness, right here?
24 Free People Style Gems On Sale Right Now
Is This Free People Fleece Jacket Worth It?