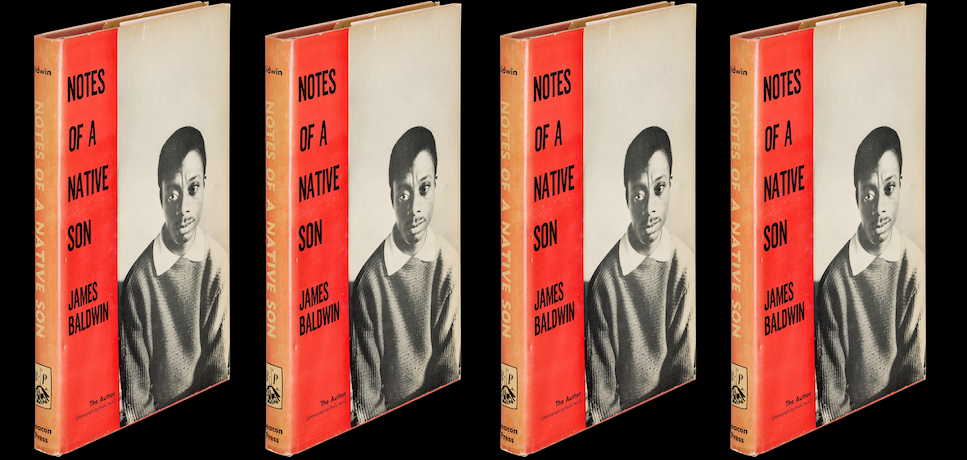 TODAY: In 1955, James Baldwin's Notes of a Native Son is published by Beacon Press.
Also on Lit Hub:
Talking to Phillip Lopate about what makes a great American essay • Brianna Zimmerman on protest, the post office, and the politics of joy • The Center for Fiction First Novel prize finalists on the books that won their young hearts • Betsy Bonner talks to Jeannie Vanasco about the infinite aftershocks of family tragedy • Dinty Moore on the rise of flash nonfiction • Peter Frampton talks fame, David Bowie, and The Simpsons, with Dan Sheehan • On the lost digital poems (and erotica) of William H. Dickey • How Woody Guthrie's mother shaped his music of the downtrodden • On the mysterious celebrity miracle worker of postwar Germany • Michael Rabagliati draws the rise and fall of a 30-year relationship, one panel at a time • Government security clearance isn't always great for your writing career • "Who wants to be the guy who paralyzes Michael J. Fox?" Who indeed • Alex Lockwood on his syllabus from non-white and non-cis writers • Dubravka Ugrešić wonders if "democracy" has lost all meaning • Jorge Carrion's ode to bookstores couldn't come at a better time • Why Harry Houdini did not like Arthur Conan Doyle • Timothy Denevi, among American brown shirts in the capital • Jehad al-Saftawi documents the dangers of working as a journalist in Gaza • The Guerilla Girls: "It's an outrage that museums in a wealthy country like the US must rely on billionaires to exist" • On the suppression of Rotwelsch, the lost language of Central Europe • Bill T. Jones on the uneasy liaison between storyteller and listener • Alyssa Pelish on "The Final Girl, the lone female character in a slasher movie who manages to survive" • Doon Arbus talks to Francine Prose about the question that eventually confronts all writers
Best of Book Marks:
New on CrimeReads:
C.J. Box on Big Sky, big twists, and bringing his beloved Montana characters to the screen • The CrimeReads staff recommends November's best international crime fiction • Abby Endler of Crime by the Book talks love and murder with Jo Nesbø • Why odd couples and opposites make for great mystery fiction, from S.M. Goodwin • Crime and the City heads to Mexico City, a sprawling city with a rich tradition in mystery and crime fiction • 40 years after Jonestown, Courtney Summers reflects on the difficulty of writing about cults and the people who join them • Otto Penzler traces the evolution of espionage fiction • Erin Lindsay would like to remind you that Teddy Roosevelt hung with the wildest lawmen of the Old West • Les Standiford explores the history of crime writing in Miami • Matthew Deandra mourns his mother, Orania Papazoglou, who wrote as Jane Haddam
The post Lit Hub Weekly: November 16 - 20, 2020 first appeared on Literary Hub.