Stumped about what to get your mom? Or, as a mom yourself, wondering what ideas to give your family? We've got you covered with these 14 Mother's Day gift ideas that we think you'll love.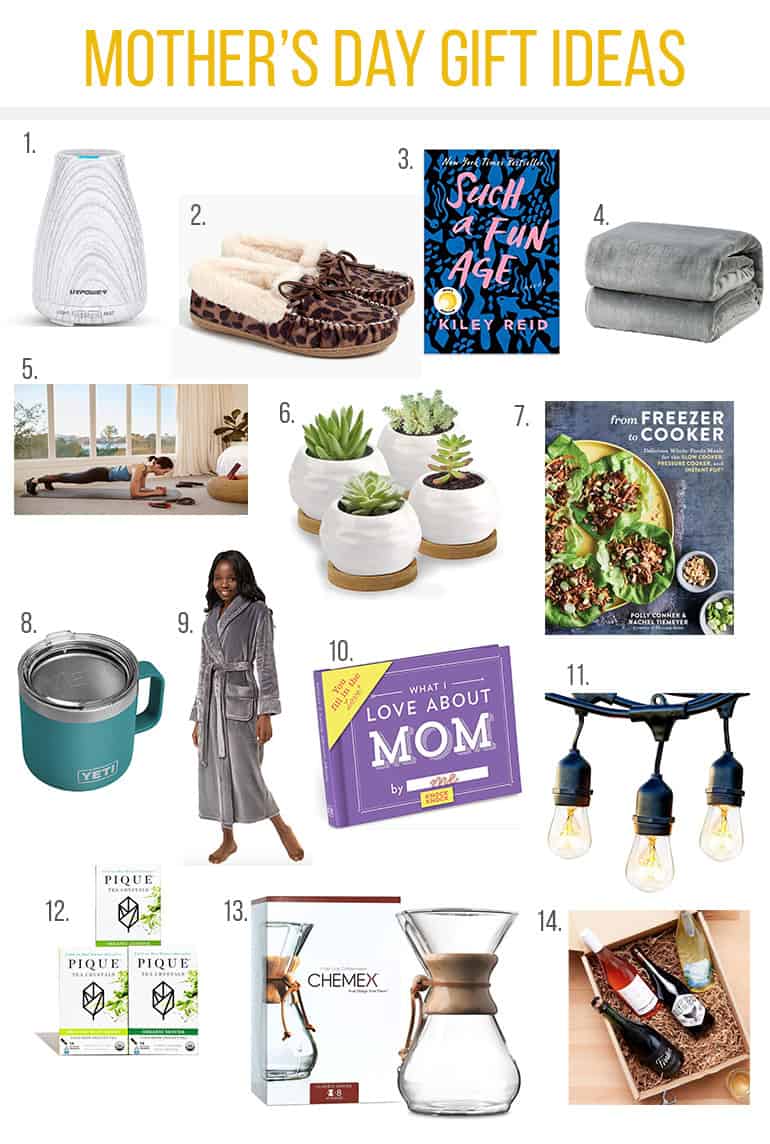 Note: We are a participant in the Amazon Services LLC Associates Program, an affiliate advertising program designed to provide a means for us to earn fees by linking to Amazon.com and affiliated sites. Read our full disclosure policy here.
1. Essential Oils Diffuser with a few essentials oils
After learning more about the mood-enhancing effects that essential oils can have, I figure it can't hurt to have some Lavender Essential Oils (calming and relaxing) or Lemon Essential Oils (energizing and uplifting) diffusing in my house at all times. Ahhhh….
2. J.Crew Cheetah Print Slippers
I'm wearing these as I draft this post! Not only are they cute and comfortable but they have held up super well. I LOVE them!
3. Such a Fun Age by Kiley Reid
I (Polly) just finished this book and it was such a great read while stuck in quarantine! I wanted a novel to get lost in but that wouldn't stress me out. This fit the bill. Here is a short description of it from Amazon: 
"A striking and surprising debut novel from an exhilarating new voice, Such a Fun Age is a page-turning and big-hearted story about race and privilege, set around a young black babysitter, her well-intentioned employer, and a surprising connection that threatens to undo them both."
Every mama needs a cozy blanket to snuggle up in while reading a great book or Netflixing it. My daughter has this exact blanket and I find myself stealing it often.
5. Les Mills On Demand Membership
Forget an expensive gym membership. Polly and I use Les Mills On Demand at home! For only $12.99/month you have access to 800+ of the world's best workouts anywhere, anytime. Highly recommend!
There are few objects in my house that bring me more joy than my succulent plants. Let me tell you, I CANNOT kill these suckers even though I've forgotten to water them for long stretches. Any mom will love these low maintenance, cute little house plants.
7. From Freezer to Cooker by Polly Conner and Rachel Tiemeyer
Written by moms, for moms. This cookbook will give the gift of family meals AND saved time by learning how to utilize your freezer more. Every recipe works in both the slow cooker AND the Instant Pot. (Your mom may also like From Freezer to Table.)
I use this coffee mug DAILY. It keeps my coffee warm much much much longer than the average mug which is much needed on busy mornings! 
9. Plush Robe
I know, I know. This is the most cliché Mother's Day gift ever. But, it's on my personal list and I think other moms would appreciate a comfortable robe to throw on in the mornings. 
10. What I Love About Mom Book
I personally love little gifts like this from my kids. Younger kids answer short questions about their moms, capturing their thoughts and perspective about you. It's something to keep and cherish now and later on.
It's the perfect time of year to sit on the porch and enjoy the weather. I am asking for these trendy Edison bulb lights this year, because I want to turn our deck into a fun evening space.
We have both been Pique Tea drinkers for a while. A great gift for a mom, grandmother, teacher, or someone who enjoys creature comforts. The ease of use and packaging are top notch. Plus, it's hard to find a healthier/cleaner brand of tea than this one.
13. Chemex 8-Cup Coffee Glass Coffee Maker
Oh man, this makes good coffee. Simply pour boiling water over ground coffee and you have some delicious brew on your hands.
Once a month, three bottles of wine are curated to your taste and delivered to your doorstep. This is a fun gift that keeps on giving through the year!
The post Mother's Day Gift Guide (2020) appeared first on Thriving Home.