In 2015, a Twitter user by the name of @_zolarmoon logged on to the platform and, in 148 tweets, told a tale as old as time: stripper meets stripper, strippers go down to Florida for some quick cash, and all hell breaks loose. The story went viral. The world clamored for a movie.
And so it was: the upcoming A24 film Zola, starring Taylour Paige as the titular character and directed by Janicza Bravo, is poised to become our new favorite flick. Need proof? Rounding out the cast are Riley Keough and Nicholas Braun (a.k.a. Succession's Cousin Greg), and the script was co-written by Bravo and Jeremy O. Harris. But you want to know how we know that it's going to be fire? A'ziah King, a.k.a. the real Zola, is credited as a writer and producer. For our spring issue, we flew to Los Angeles to photograph Paige in our favorite Gucci looks, and we quickly fell in love with her. Here, she answers the GARAGE Questionnaire. You ready?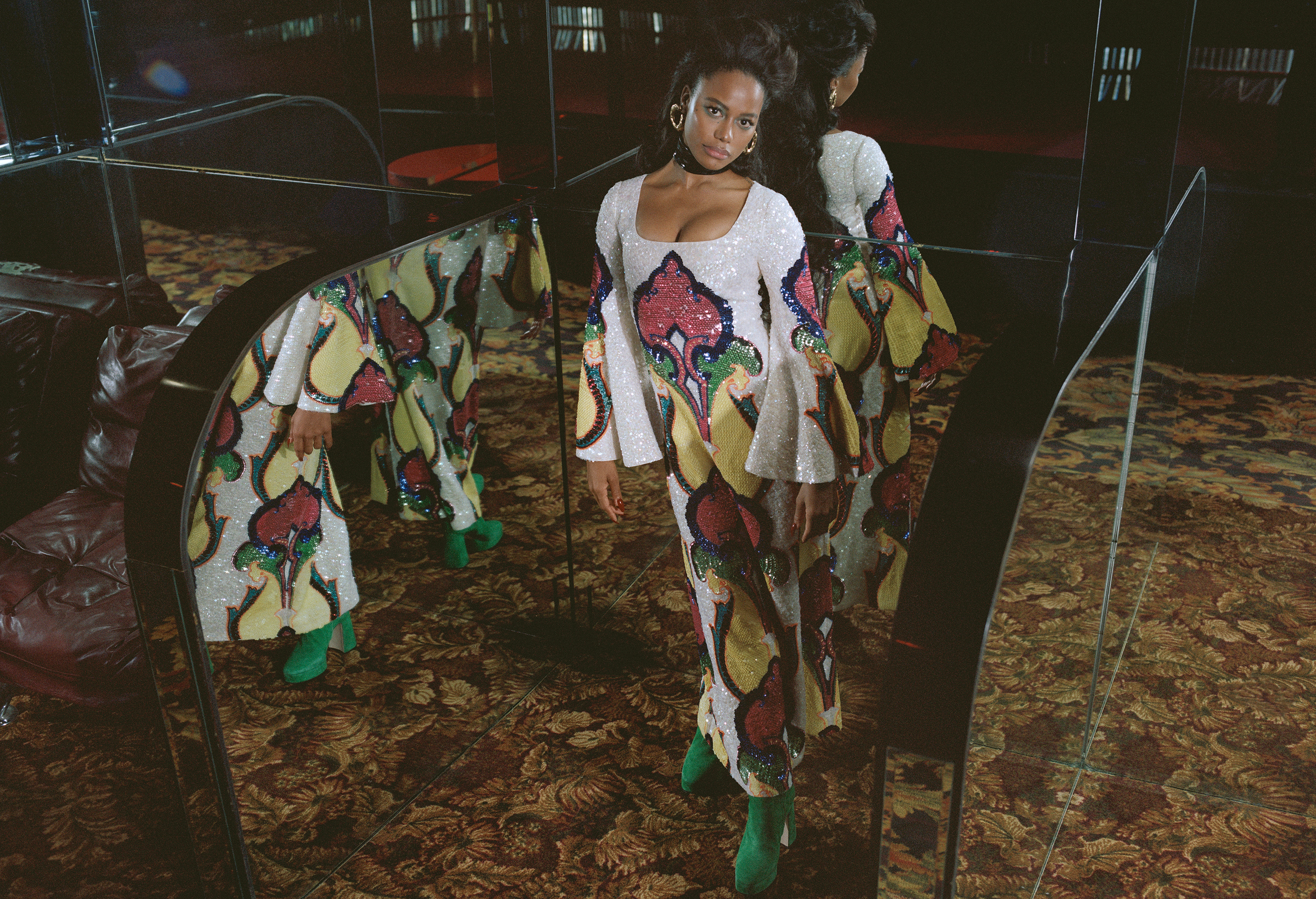 GUCCI worn throughout.
What's the thing you unexpectedly miss the most right now?
I really miss hugs. I really miss doing nothing with loved ones.
What's something you've discovered about yourself in quarantine?
That I fuck with myself even more than I thought. That my mind is so overactive I need naps. That I'm always trying to make my life art. Even just chopping something up. I need some inspiration. That I people please a lot and I'm done with it. My spirituality is being tested, but that doubt is actually a really good vehicle to enlightenment. It's people who have never doubted who have lead us to war. Certainty is actually not what I'm looking for anymore. Certainty isn't part of this human experiment/experience.
What's the best thing you've cooked during quarantine?
Best thing I've cooked during quarantine was this lemon-Worcestershire salmon and brussels sprouts with honey and figs. I was able to get them crispy and soft at the same time. The salmon I marinate with a bunch of pepper and garlic and tomatoes and lemon and even throw some oranges in there, parsley, etc. and wrap in foil and it's soooo good. Can't say it's something I've learned in quarantine, but I've definitely perfected it.
What's your quarantine uniform?
Quarantine uniform hasn't changed much in my home. It's panties and T-shirts, boyfriend's T-shirts, swim suits, and I have this beautiful brown silk robe my auntie gave me which I call my "what y'all want for breakfast" robe.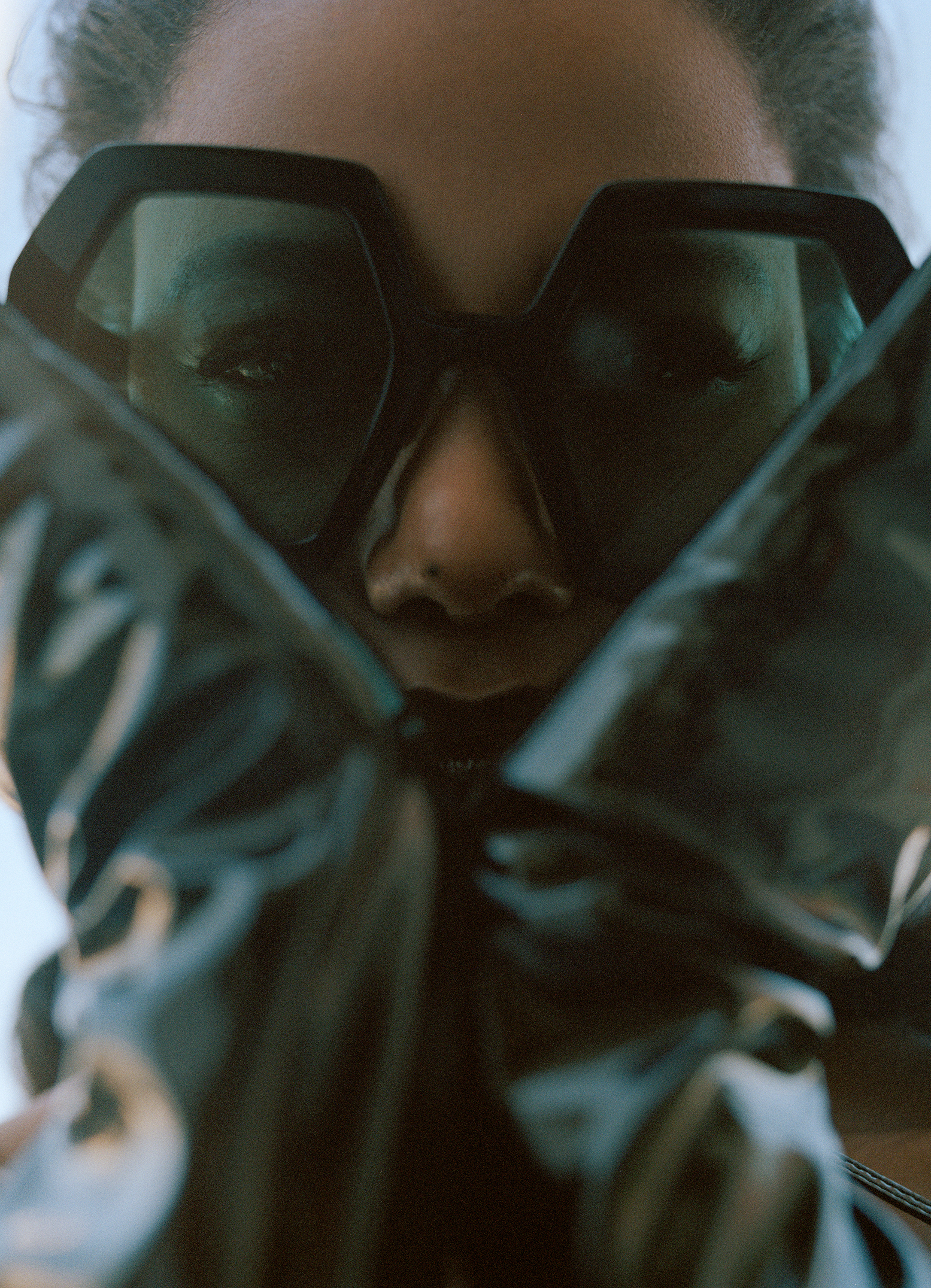 What's the best thing you've read or watched in quarantine?
I throughly enjoy Insecure. I just started binging the seasons when quarantine began. It's really amazing what Issa [Rae] has been able to do, in that it's black people not having to be extraordinary or trash or oversimplified which is the pressure that has been perpetuated by those who run the business based on the complicated hurtful history in this country. People don't think we can just exist and be normal. Not to make it about race but when you really think about it?? I recently have just been thinking like, "How have black people somehow been able to create when everything is stacked against us?" Like slavery. To separate but never equal. To no real resources, to no real nutrition. To all kinds of self hatred conditioning bullshit. To this country just never ever even saying sorry? Everything about this country just being against us and dividing us. Hurting us. Killing us. Burning our shit down. lol. Insecure is so beautiful and real because these people get to just be themselves. People. Black women. You get to see black people live ordinarily, connected, disconnected, frustrated, ebbing and flowing. Seeing ourselves as these more than capable nuanced blank canvases in television and film we can be. The fact that I even wanted to share this, though, is because it is still the exception to the actual world we live in. It's a real feat that Issa creates a show that's just unapologetically her vantage point but universal, relatable. Black people date multiple people, too. Come from good homes, too. Have annoying and confusing jobs, too—like all of that can exist and everybody else can relate to it. We're not monoliths but the industry and media sure try to make it out to be. I recently had a Zoom call with a director for a film. We hit it off for 55 minutes. A week later, he said that he thought it would complicate the role by having the character be black. And so they went with a beautiful white actress. Without giving a lot of detail, the plot could happen and has happened to anyone black, white, Indian. lol. So anyway, Issa and her collaborators, writers, directors etc. did that. Sorry for that ramble.
I ABSOLUTELY LOVED THIS FILM CALLED SWALLOW. IF YOU HAVEN'T SEEN IT YET, SEE IT. It's about this girl who starts swallowing inedible objects. its a masterclass in directing. Photography. Acting. Stillness. Symbolically reminded me of all the things women swallow. This sort of quiet rage and rebellion and hopelessness but keeping it together and war and beauty and inward outward infinitely complicated eternal internal fight. Haley Bennett is utterly perfect in it. As are the other actors.
Oh, and Normal People on Hulu is fantastic.
Just started Mrs. America which is fantastic thus far.
Dave on FX was fantastic.
Splendor In the Grass, such an amazing movie.
Do the Right Thing, such an incredible classic. Spike Lee joint.
School Daze, another good Spike Lee joint.
Mad Dog and Glory.
A Little Princess.
The Last Dance.
Poetic Justice.
Random Ram Dass doc on Netflix called Going Home.
Best thing I've read during quarantine has so far been White Teeth by Zadie Smith, which I just started. I started this book Conversations with God which I was immensely enjoying, then started having a little bit of an existential crisis because I noticed that in every spiritual book there is some resonating unifying way to make sense of the most horrific things that have ever happened to humanity, including viruses, but no one ever tackles race and slavery. So I found myself recently frustrated where I literally put the book down. Have been kind of reflecting and figuring out where I'm at with it ever since. As you can see, quarantine has me really thinking.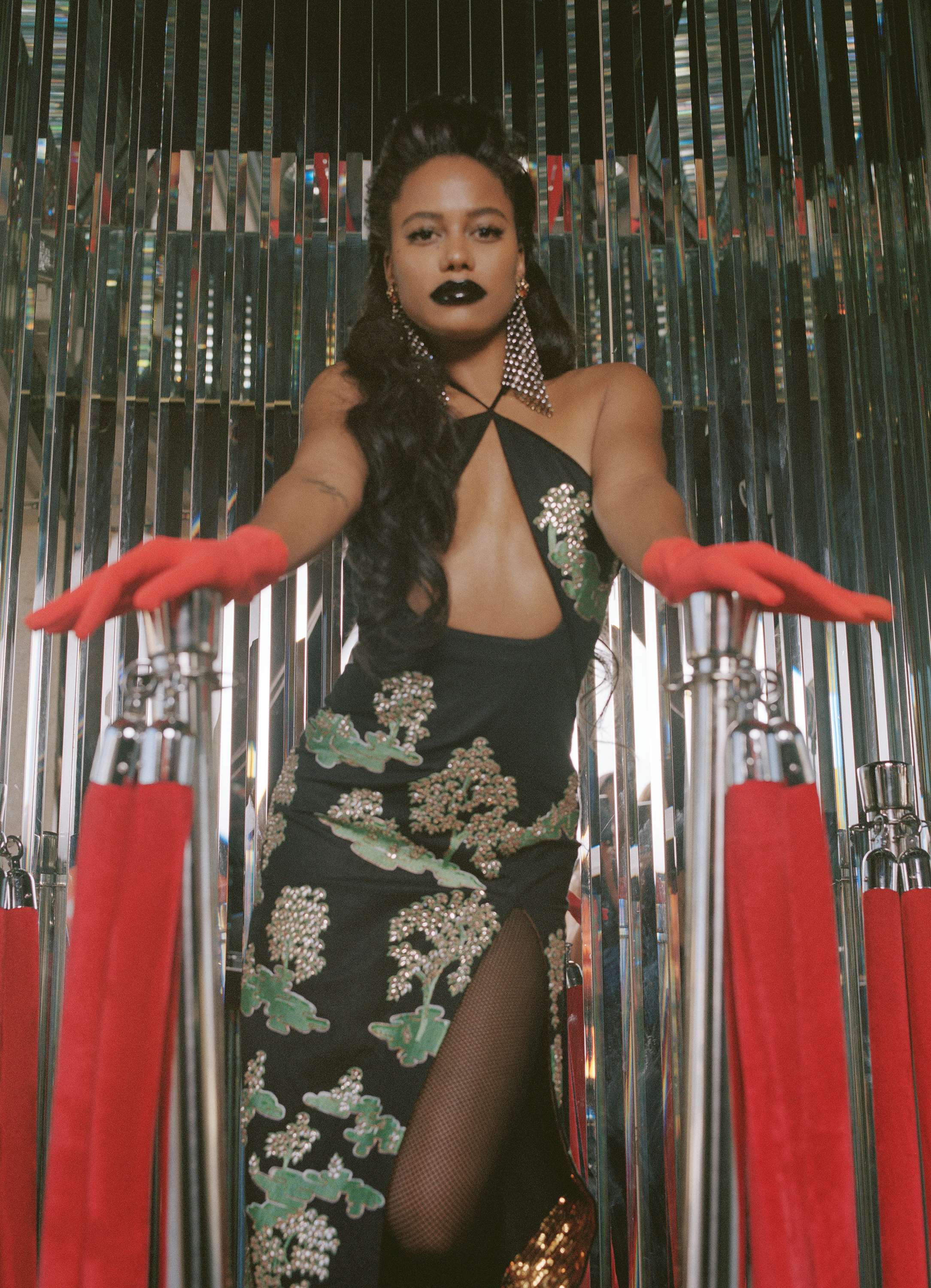 Favorite problematic person?
I still love Kanye. Wouldn't call him problematic, we just need to have a conversation or many.
Favorite red iconic red carpet moment?
I think that Rihanna when she did the Swarovski with her gorgeous titties was a different level of ATE THAT that we have known. I also loved when Gaga came out in meat because WHAT but also go ahead, queen. Express yourself. I loved when Gaga said on Howard Stern, "I don't care what people think about me, I care what they think of themselves." And Salma Hayek when she did the butterflies all over. I recently watched something of hers on Vogue where she breaks down her past looks and how she improvised because no one would dress her. I value risk taking and self accepting and sharing that when you're ready to, so that others find it it themselves to do that, too.
What is a book you wish you'd written, or artwork you wish you made, or song you wish you'd written?
I wish wrote many songs Andre 3000 wrote. His brain is an oasis. Wish I designed Mugler or Versace or Dolce & Gabbana or Dior in the late '90s. Wish I could paint any of Amy Sherald, but I also don't wish that at all because I'm so thankful I have them as muses to be inspired by.
When and where are you happiest?
Happiest in [boyfriend] Jesse [Williams]'s arms after I've cried or been disappointed and I know I have this constant that's rooting for me and I'm rooting for him. Or when we just got done laughing about the dumbest shit. Happiest with my dogs. Happiest with good friends laying under the sun or stars or on the couch after a sleepover.
What is your idea of misery?
Misery is hating yourself and comparing to other peoples journeys and wondering why you aren't there yet. Misery are those relationships where you don't even like the you that is showing up and you're so used to that you, that you don't even realize you're this miserable—'til you're finally out and realize how miserable you were. Miserable is judging other people and finding fault in their humanness when your side of the street is just as dirty. Miserable is always find something wrong. Miserable is ego. Non-presence. Not letting go gently.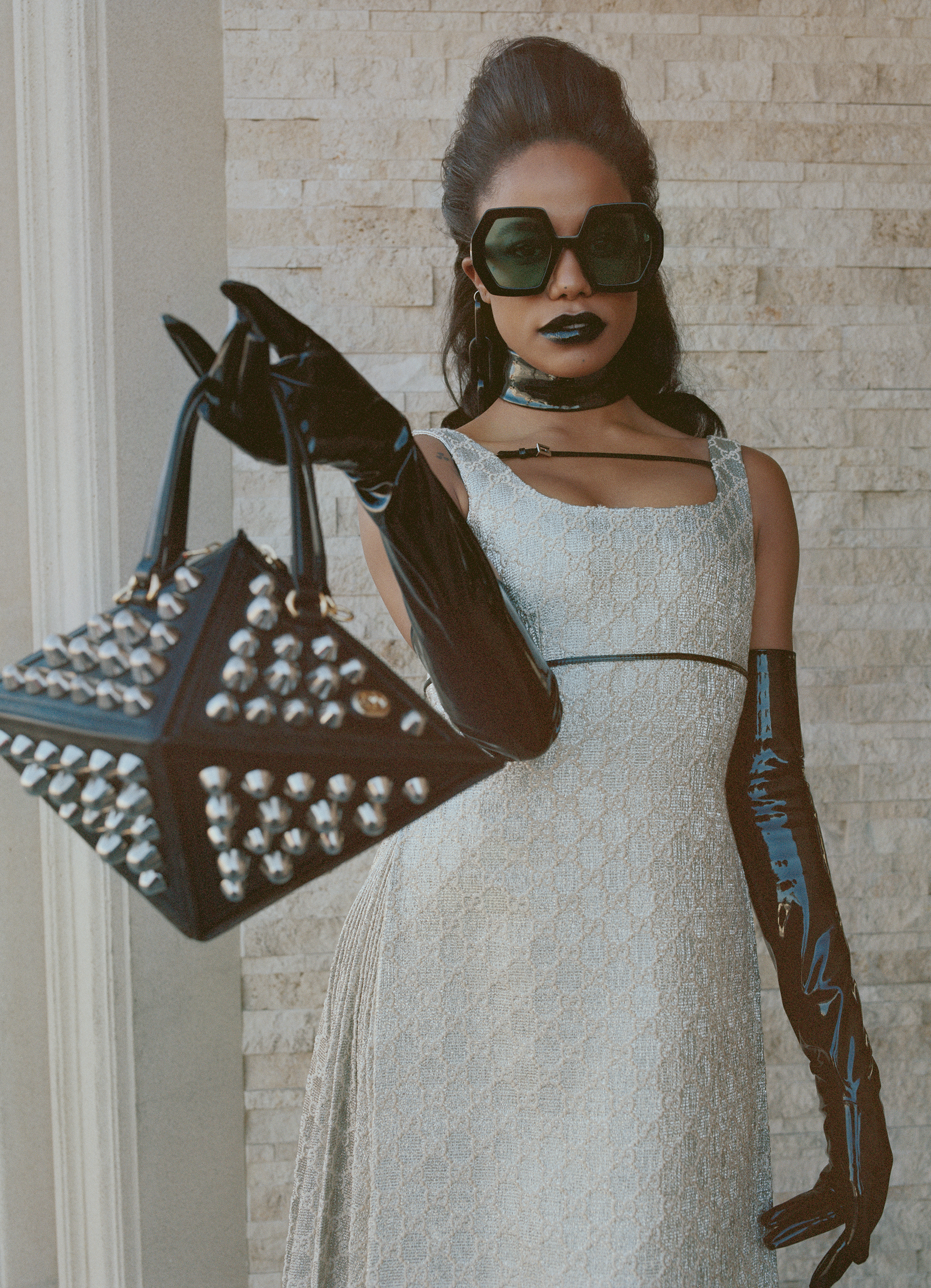 What is the most overrated virtue?
Maybe temperance or generosity in that I think we always look at moderation as something when were doing too much of it, but I wish we were allowing for more of the things that make us happy and we didn't have this inclination to feel wrong or guilty for when we are actually aligned with what makes us feel really good. Like I wish we did more of that everyday. Meaning more love. And more joy. And more spontaneity. And connecting. Whenever I'm really happy I think I'm going to die because it doesn't feel right. I struggled with that a lot on my last job Ma Rainey, and when I first started dating Jesse. It's like you're so used to being let down we don't let in the abundance of goodness that has finally arrived. The things and people that bring out the very best in us. I think generosity in that again, a lot of black people and people of color are held to this crazy expectation to bow and be gracious and when we are enraged people find it so shocking. Yet generosity can cause people to repress themselves or their feelings or pain. Generosity feels like obligation. Also sometimes you recognize how non generous you are when you are "trying to be generous" and someone doesn't reciprocate so you respond at their level. That's a bit impure. Hard not to do but generosity more layered to me. Whereas kindness feels like more active and intentional? Like coming from one's soul. I want to know who people would be when they are not pushed to be who we think they should be. Anyway, it's all hard, because being a human is hard.
If your style was cooked, what would it taste like?
If my style were cooked, it would taste like it needs to cool down because I always add a lot of spice to everything I eat hahaha but ah I don't know you can eat it anytime of the day? With a tiny bit of drama.
What would you wear to your funeral?
Omg to my own funeral! If everyone wears white and bright colors so that it's a fun celebration, celebrate it as my graduation and return home. Not sure what I'd wear. Something happy, iconic.
If you could only text one person for the rest of your life who would it be?
If I could only text someone for the rest of my life, I wouldn't text anymore because that sounds insane.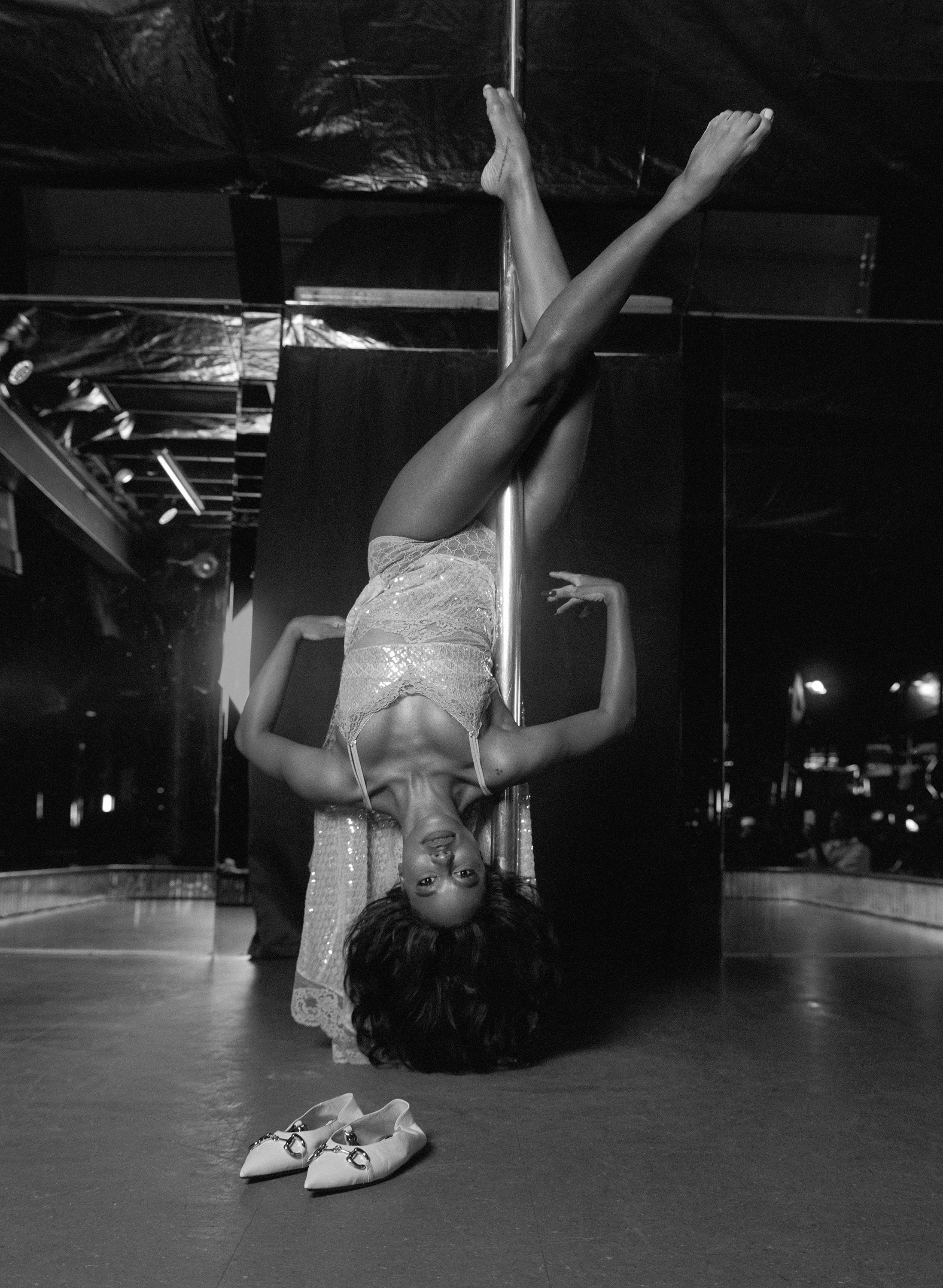 Do you think the ocean is haunted?
I do think the ocean is haunted. I think there is a whole universe down there.
Favorite movie as a child
A Little Princess, Funny Girl, Sound of Music.
Bread with butter or bread with olive oil? (Assume all components are "the good kind.")
Bread with both don't make me choose.
Would you give up all other swear words to keep the word fuck?
Fuck yes.
Are memes art?
Memes are art, yes.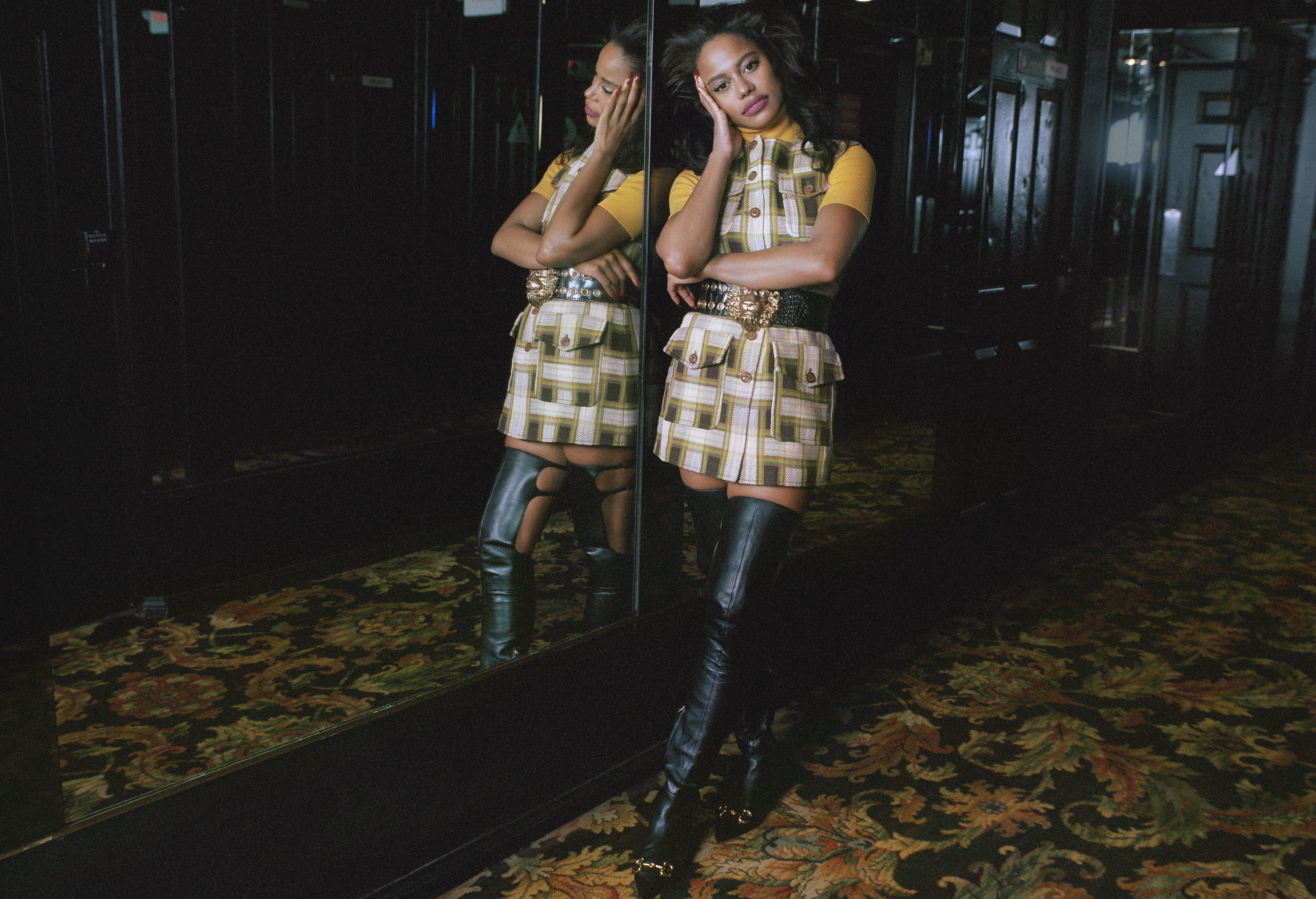 What would you do with your stolen day?
Stolen day—I'd make love, eat really good food, have a big celebration with all my great loves my friends, and make everyone rescue an animal of some kind.
What was your mom right about all along?
My mom was right about telling people how much you love them while they're here.
What was the last thing you Googled?
Cy Twombly lol.
Most frequently used emoji?
The crying face.
Most useful thing you own?
My laptop for writing? Socks. G strings.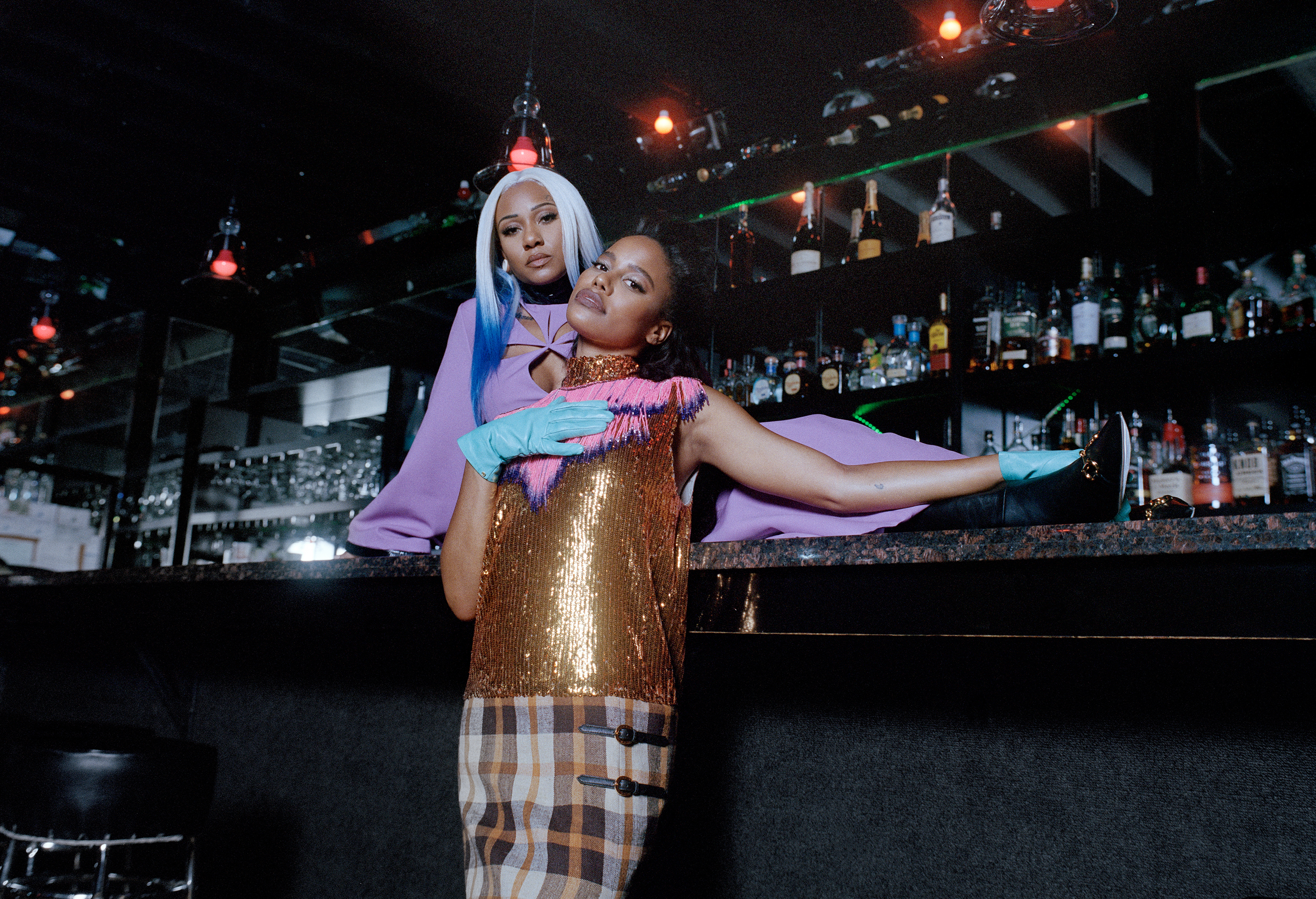 A'ziah King, a.k.a. the real-life Zola, and Taylour Paige photographed in Los Angeles.
When was the last time you lied to someones face?
Last time lied to someones face was today, my own, in the mirror, when I started this day promising I wasn't going to go dark with obsessive thoughts but I did.
How old are you at heart?
I think I'm about 12 years old at heart.
A deli is going to name a sandwich after you. What's in it?
Honestly it's all about the bread. Needs to be realllllly good bread. The bread. Beats. A good cheese. Trying not to eat cheese anymore, though.
Would you rather maintain a young mind or or a young body?
I'd rather maintain a young body. I want my mind to grow old because of perspective and wisdom. Also the body is borrowed anyway, so since it is I'd love for it to function well as long as I'm here. Would love while on Earth [to maintain] the ability to keep moving. To be able to grow and expand and do.
What would God say if you arrived in heaven?
God would say, YASSSSSSSSSS chile it was rough it was ghetto but I'm proud of you and I love you.
What would the devil say if you arrived in hell?
The devil would say, Oh shit you too? Who invited you girl. Omg Make hell great again.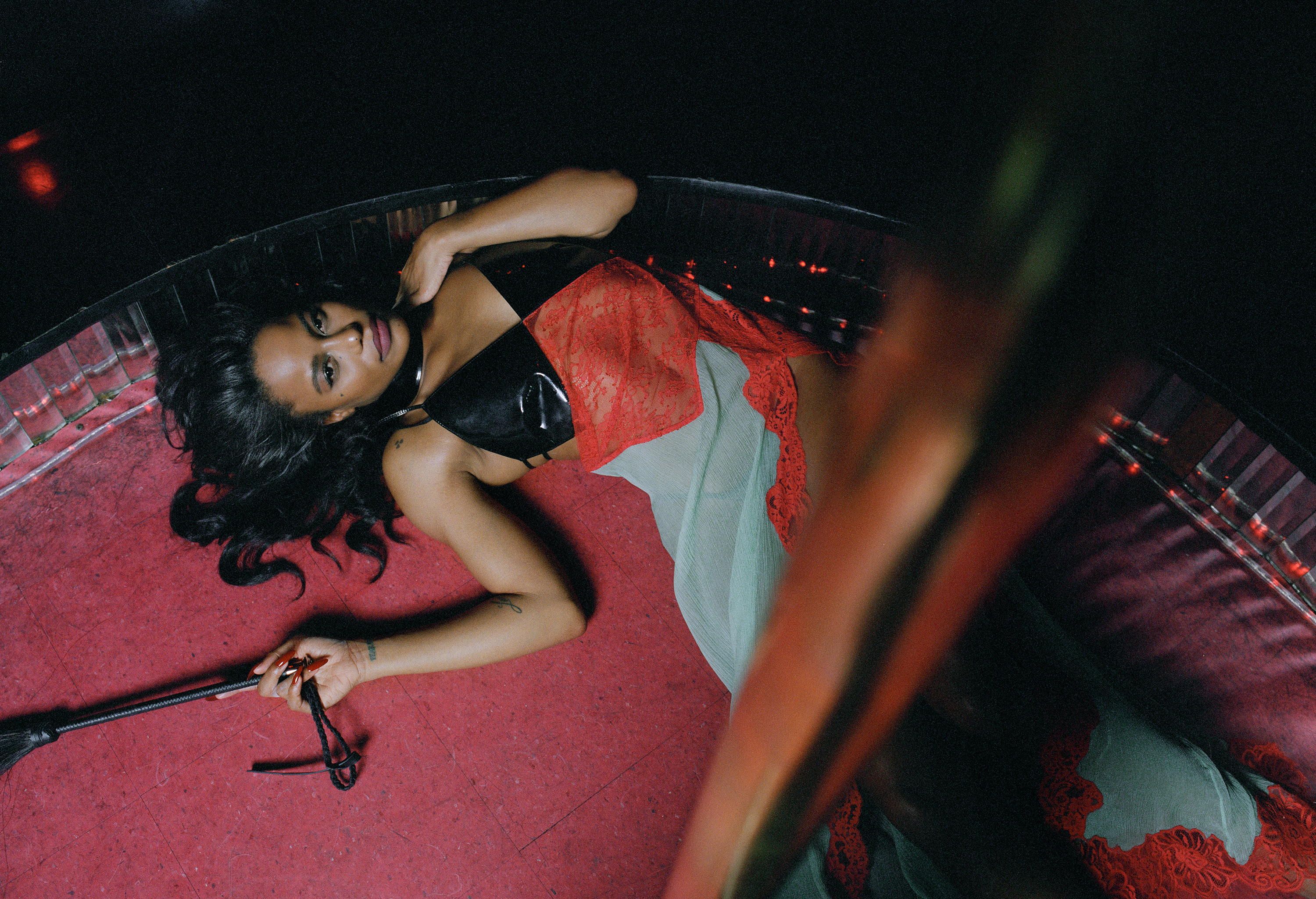 What is something you would absolutely never wear?
A "Make America Great Again" hat. I'd like to know when America was ever great FOR EVERYONE. I thought the term "great" qualified as all encompassing. Harmony. Love. Equality. Growth. But go off.
What superpower would you like to have?
Superpower would be going back in time and reversing some things.
What is a place in time you'd like to visit?
I'd love to visit the Harlem Renaissance, though I think I was already there.
What do you consider to be the best invention of all time?
Best invention of all time? Idk FaceTime? Electricity? Gumbo? French fries? Showers?
Once and for all, are we living in the Matrix?
I think this is a part of a simulation, so yes. It has to be a big fat joke or game that a lot of people ain't winning cuz they ain't right within.
Hair Johnnie Sapong at The Wall Group using Leonor Greyl, Makeup Joanna Simkin at The Wall Group, Manicurist Tracy Clements, Photographer's assistants Brian Lipps and Sean O'Neill, Photographers assistant & video assistant Robbie Corral, Stylist assistant Alex Assil, Hair assistant Doug Mengert, Makeup assistant Jeanne Sabatino, Retouching Post Apollo, Production Jill Roy and Liz Komroy at 3Star Productions, Production assistants Griff Snyder, Eric Peterson, Madeline Cash, Location Los Angeles, California