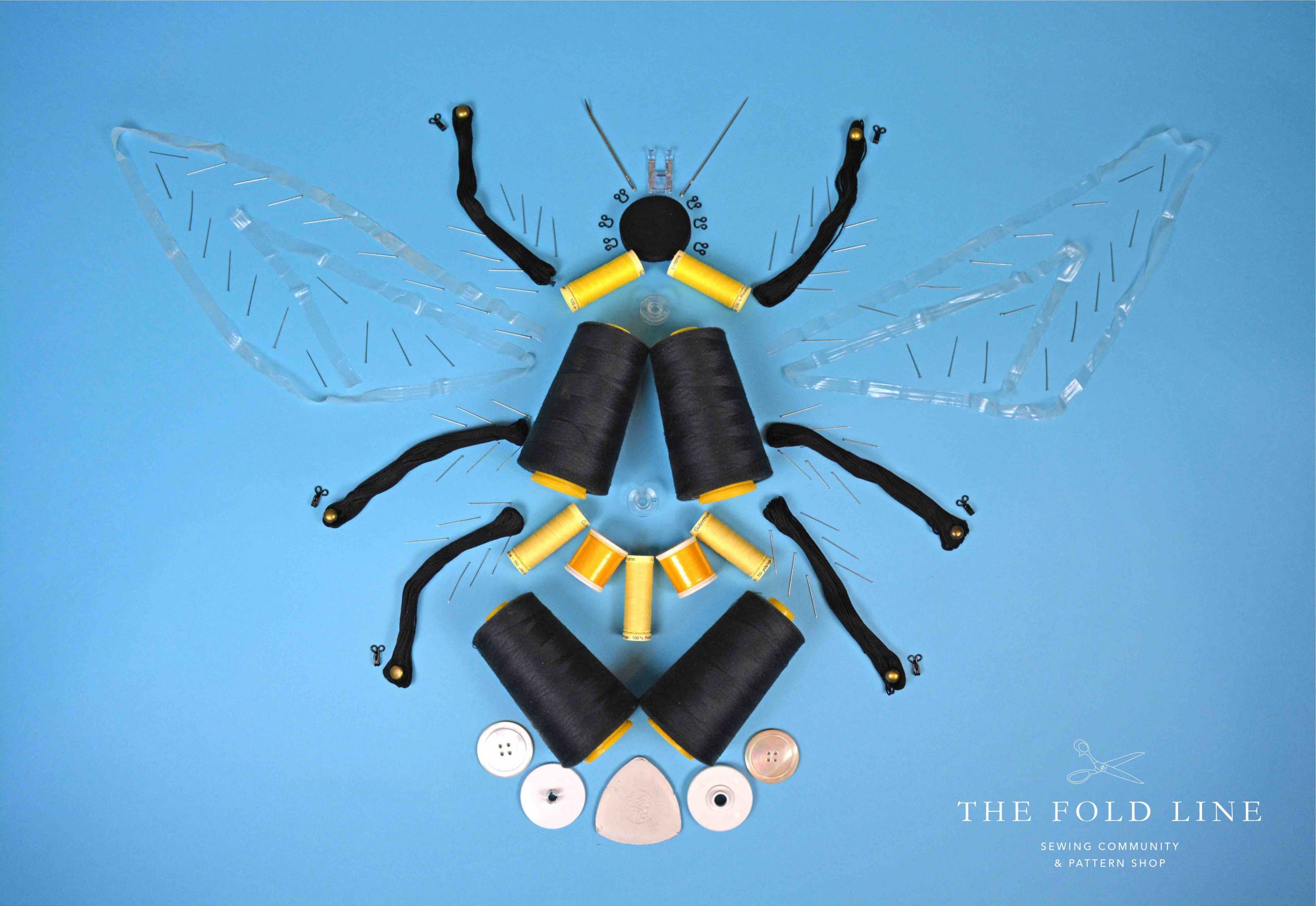 Here we go, it's week five of the Sewing Bee!
We are so excited to have the Sewing Bee to look forward to each week on BBC 1, just what we all need right now. We have searched high and low to bring you the best selection of sewing patterns from independent designers and commercial pattern houses. These are all inspired by the the fifth episode of the Great British Sewing bee series 6. If you haven't already seen our ultimate guide to the Sewing Bee page do take a look, we've got loads of exciting Sewing Bee goodness including a review of the book that accompanies the series!
In this fifth episode there are eight contestants remaining, after we sadly said goodbye to Hazel in week four. The sewing bee theme for week five is lingerie and sleepwear! The challenges included making a boned basque, transforming pyjamas and nightwear into summer dresses and making a made-to-measure two-piece female sleep set. Take a look at our sewing pattern suggestions below, we've tried to find the exact patterns used but where we haven't been able to figure it out we have plenty of suggestions so that you can recreate these looks at home for your handmade wardrobe. Kate also talks through her favourite pattern options from the episode on YouTube in our special mid-week sewing bee vlog.
We've also included some sewing tips and tricks from bloggers and pattern designers in the sewing community to help you with any of the techniques used by the contestants in the TV show. If you want to chat about the episode and the challenges then do join us each week in our Facebook group event.
If you are looking for pyjamas and sleepwear not featured in the sewing bee episode this week you can search our shop for sewing patterns for women's nightwear, men's sleepwear and children's options here. We also recently put together our top 15 lingerie and nightwear sewing patterns for all sewing abilities.
Sewing Bee: Pattern Picks
Challenge 1: Boned Basque
The first challenge of the sewing bee week five is to sew a boned basque. This was a tricky task for the contestants because it involved sewing together 13 small pattern pieces for a precise fit with a hook and eye fastening. Unlike a corset the basque can't be adjusted on the body. Originally the term basque was used to refer to a type of bodice or jacket with long tails but now we use the word basque to describe a long close fitting corset, finishing below the hips. The primary difference between a basque and a corset is that a corset is more structured and designed to give your body shape at the waist whereas a basque is more relaxed in it's fit. The basque was first popularised in the 1840s, it usually has a front placket that extends below the waist and is designed to emulate a man's waistcoat with varying lengths. Here we have some suggestions of basque and corset style sewing patterns you could sew for yourself or family and friends from this BBC1 sewing bee episode.
Simplicity – S1183
Get a great fit in this Amazing Fit corset in two styles, both with lace up backs. Pattern includes separate pattern pieces for B,C,D, and DD cup sizes for both miss and plus sizes.
Sizing: 10 – 18, 20W – 28W. Available in the shop: No, directly from the designer at Sew Direct.
Named Clothing – Grace Top
This cropped, semi-fitted top has an interesting corset-inspired cut with flat felled seams. It features wide tie-up shoulder straps, a sweetheart neckline and a button closure at the front. Make in light to medium-weight, non-stretch fabrics such as cotton or linen shirting.
Sizing: EU 32 – 50 (approx. UK 4/6 – 22). Available in the shop: Yes, PDF and we can also print the copy shop version for you.
Butterick – B6338
Close-fitting, underlined, interfaced, boned, lined corset has bra with underwire, seam detail, shaped hemline, self bias binding finish, back extension, lacing, and topstitching. Options to make without the ruffles!
Sizing: 6 – 14, 14 – 22. Available in the shop: No, available directly from the designer at Sew Direct.
Butterick – B5935
Close-fitting, lined, boned corset has bias binding finish, seam detail, extension, shaped hemline, and front or back lacing.
Sizing: 4 – 12 and 12 -20. Available in the shop: No, available directly from the designer at Sew Direct.
Simplicity – S8598
Mix and match your special occasion look with these top and corset sewing patterns sized for miss 8 – 16 and women 18W-26W. Silhouettes includes crop top with sheer or open back options, corsets with front slit, spaghetti strap or peplum all with boning and an off the shoulder ruffle to be worn as an overlay.  This is ideal for an advanced beginner maker who is looking to try out a fitted bodice without the boning.
Sizing: 8 – 16, 18W – 26W. Available in the shop: No, available directly from the designer at Sew Direct.
---
Challenge 2: Transforming pyjamas and nightwear into summer dresses
In the upcycling challenge contestants had to use pyjamas and nightwear and transform them into a summer dress. Specific patterns weren't used for these tasks as contestants had to create a garment from an existing one in a fixed time so it's a bit tricky for us to make sewing pattern suggestions based on these design ideas.
---
Challenge 3: Made-to-measure two-piece female sleep set
In the final challenge of week five, all the contestants had to make a two-piece female sleep set. Chemises and camisoles refer to shirt type undergarments that hung from the shoulders, which evolved from the term 'Camisia'. These garments were originally easy to sew at home, lacking shape and details. In the Victorian era this type of nightwear became much more elaborate with detailing such as smocking, lace, ruffles and embroidery. Pyjamas originated from the Indian subcontinent and were then designed as lightweight trousers with a drawstring waist. In Victorian times they were introduced as mogul's breeches and styled as 'lounge attire'. In more modern times pjs are formed of a shirt and trouser or shorts set made of softer fabric and worn for both sleeping and casual wear at home by all the family. Some of the contestants in this episode cut their fabric on the bias, which was pioneered by Parisian designer Madeliene Vionnet. This method of using woven fabric flatters body shapes as the fabric skims over curves with plenty of drape. For each contestant we have tried to find the pattern they used in the BBC1 TV show and also have some other suggestions of similar patterns you could use to make your own version.
Matt's 'Silky and Sensual' sleep set
Features: Charmeuse with lace bust pieces and matching French style knickers with lace trim.
Pattern: Vogue® Patterns V8888. The loose-fitting wrap robe has shawl collar, bias inside ties, back tucks with tie ends, side pockets and bias loops. The close-fitting bias camisole or slip has shoulder straps, seamed (lined C, D) bodice, front yokes and elasticated upper back. All have bias binding around the armhole and in version E this extends into shoulder straps. The semi-fitted bias panties (below waist) have an elastic waist.
Sizing: UK 6 – 14 and 14 – 20. Available in the shop: Yes, paper pattern.
Nicole's 'Babydoll' sleep set
Features: The top features a square neckline with ruffle capped sleeves and flounce with matching ruffle trim shorts.
Pattern: There are several similar options you can use to make Nicole's babydoll sleep set including Vogue® Patterns 9255, which is in print or vintage Butterick 3313.
An original 1960 design, it's perfect for an advanced beginner dressmaker. The close-fitting lined bra has a front tie, pleats, darts, and a back button closure. Version A has shoulder straps and version B has halter shoulder straps and band at bottom. The fitted lined shorts have darts, facings and a back zipper. The very loose-fitting, pullover cover-up has front and back faced yokes, patch pockets and roll up sleeves.
Sizing: 6 – 14 or 14 – 22. Available in the shop: Yes, paper pattern.
Butterick 3313
Misses nightgown and shorts: Very loose-fitting, pullover, slightly flared nightgown, has raised waist, sleeve variations, purchased trim. Versions A and C have are above-ankle with long sleeves and elastic. Version B is below mid-knee and sleeveless. Version D is below mid-calf with long sleeves. Version E is above-elbow sleeves with elastic. Shorts have elastic waist.
Sizing: 6 – 14 or 14 – 22. Available in the shop: No, try third party reselling sites such as Ebay and Etsy.
Ali's 'Leopard Print' sleep set
Features: Bias cut silk camisole top with contrasting leopard print satin crepe and matching French style knickers.
Pattern: Vogue® Patterns 9218 is a very similar option. The loose-fitting robe has a self-belt and sleeve finishing variations. The close-fitting bias camisole/nightgown has contrast bra and sides. The nightgown has side cutouts and open back. The straight-leg pants have back elastic waist and flat front waistband. Make with charmeuse, crepe de chine or chiffon. The contrast fabric used for versions C and D should be a stretch lace with double-edge scallop.
Sizing: 26 – 14 or 14 – 22. Available in the shop: Yes, paper pattern.
Clare's '1940s Peekaboo' sleep set
Features: Pale blue chemise and retro style loose fitting knickers. Clare hacked the pattern to include lace trim detailing in the bust cups.
Therese's 'Floral Cotton' sleep set
Features: Bias binding around the arm holes forming the shoulder straps and lace trim bust detailing with matching white lace trimmed sleep shorts.
Pattern: Tilly and the Buttons Fifi Pyjamas. Make your own delicate camisole and shorts set – lovely for lounging in at home or wearing to bed. The camisole is cut on the bias to create a flowing shape, with soft pleated cups, a gently shaped princess seam back and bias binding straps. The shorts have a narrow stitched-in elastic waistband and cheeky curved hems. Fifi includes jargon-busting instructions, handy sewing tips, and colour photos showing you each step – helping you to create gorgeous clothes you can be proud to say you made yourself. Make in lightweight drapey fabrics that feel nice against the skin, such as cotton lawn, voile, viscose (rayon) or silk satin. Best to avoid directional prints as the camisole is cut on the bias and the shorts on the straight grain.
Sizing: 1 – 8 (approx. UK 6 – 20). Available in the shop: Yes, paper pattern.
Mark's 'Winceyette' sleep set
Features: Top with lace trim, pleats and gathered drawstring waist with matching pantaloons.
Pattern: Style 3767. 1980s pullover nightgown and pantaloon pyjama set vintage sewing pattern.
Sizing: Single sizing. Available in the shop: Out of print, try third party selling sites such as Ebay and Etsy.
Peter's 'Abstract Cotton' sleep set
Features: Crossover neckline with wide scalloped lace and matching knickers.
Pattern: Burda Style 7186 lingerie set. Make a chemise or slip dress with bust parts, either plain and elegant from satin or nicely ornamented with lace. Add perfectly matching French knickers to complete the ensemble.
Sizing: 10 – 30. Available in the shop: No, available directly from the designer at Sew Direct.
Liz's 'Comfy Goth' sleep set
Features: Stretch laced trimmed top made of viscose jersey with matching shorts.
Pattern: Butterick B6031. All versions (cut on crosswise grain) are close-fitting, elasticised and have purchased trim and ribbon bows. Version C has a side front slit. Versions A,B and C have shoulder straps and bra front. Version D has a crotch. Note: separate pattern pieces are included for cup sizes A/B, C, D. Make with two-way stretch knits only. A pattern designed in collaboration with Gertie.
Sizing: 6 – 14, 14 – 22. Available in the shop: No, available directly from the designer.
---
Sewing Bee: Tutorials and top tips
Here are tutorials from indie designers and bloggers to help you get to grips with the techniques used to make the patterns in the show. Each week there are some tricky skills that the sewing bee contestants have to tackle, so it's a great opportunity to give these a go for yourself and build on your sewing knowledge.
Inserting boning
Sarah of Ohhh Lulu shares a tutorial on adding boning to her Jasmine Bra sewing pattern.
Adding lace to lingerie garments
The team at Colette shares 12 lovely lace lingerie details and tutorials on how to achieve them.
The post The Great British Sewing Bee 2020 – Series 6 Episode 5 – Sewing Patterns appeared first on The Foldline.