Christmas weekend is here!!! For those celebrating any one of the myriad of special holidays in December, I hope the rest of your 2022 is filled with love, family, special holiday memories, limited stress and multiple moments to unplug and relax. We had to cancel our plans to head to Florida after Christmas (see more on that below!) but are so grateful my parents were flexible with their plans and will be coming to see us on Christmas day after opening presents with my sister and her family in the morning. (We actually drove to Florida on Christmas last year and the drive was phenomenal — so smooth and easy so that is our hope for them, too!) Their trip is a dual-purpose trip — celebrate Christmas together (yay!) and help us with the boys while we're all hands on deck with our big move. Ah!
This week has been all kinds of crazy but all kinds of great, too. Last weekend, amid moving craziness, Chase and I were able to escape for some special one-on-one time to see a Nutcracker-inspired Christmas show in the city. One-on-one time with Chase is the trickiest to come by because he's in school the longest and is also involved in the most activities so three hours of quality time with my biggest kid was so special!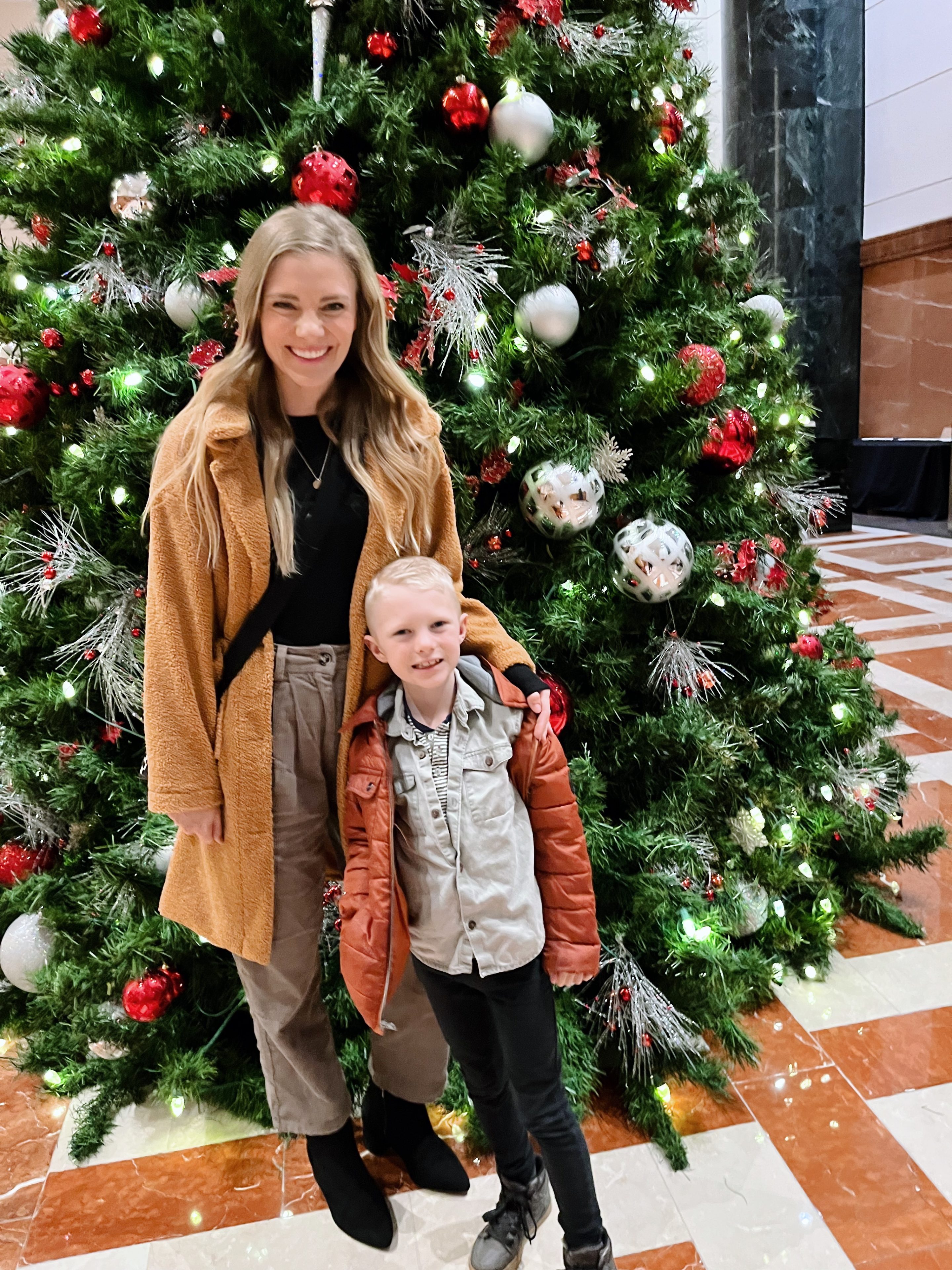 (Jacket: Amazon / Top: Talulah / Corduroy pants: Amazon / Block-Heel Booties: Amazon / Necklace: LuluCherry) 
We also filled our days with play dates, a holiday mug exchange with friends, present-wrapping and lots of at-home holiday-related activities — cookie-making, Christmas clay creations (thank you Target dollar spot), the works!
The holiday season, the anticipation of finally living in our new house and family and friends is what I'm loving most this week but keep on scrolling for a peek into a few additional things that made me smile! I hope you all have a wonderful weekend and a very, very Merry Christmas! Sending so much love to all of you and so much gratitude for making PBF a part of your life, however often you opt to stop by my blog. I appreciate you so much!
Things I'm Loving Friday
The Beginning of Our Big Move!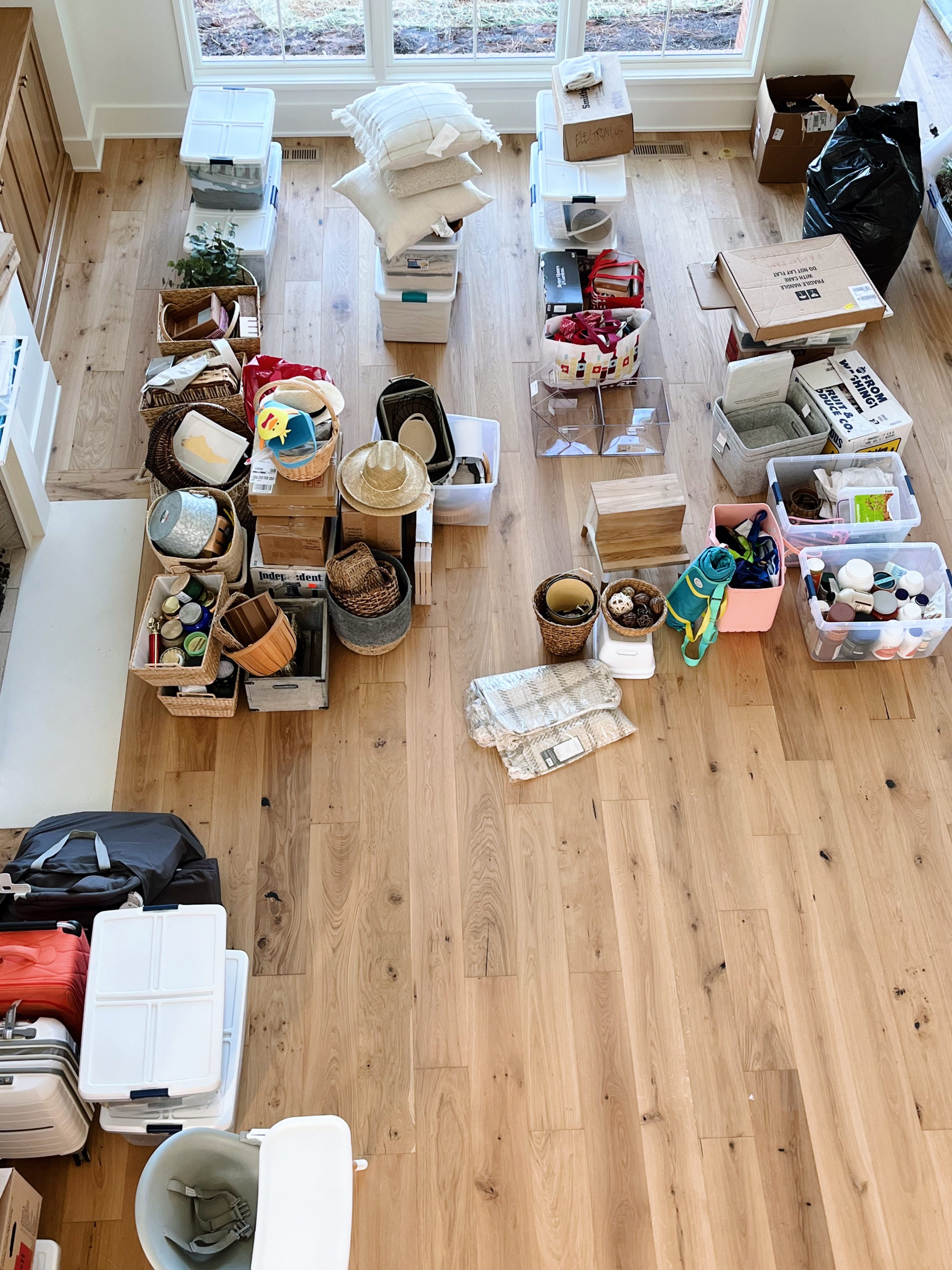 As you may have gathered from what I shared above, we officially have our certificate of occupancy for our new house! HOORAY! This sounds wonderful and while, in theory, we can officially begin living in our new house, there's still a "punch list" of things to complete (wallpapering, electric issues, paint and trim touchup, some cabinet fixes, alllll the landscaping, some exterior painting, etc.) so we're trying to resist the temptation to immediately move in and be practical since we don't want to be living in a home overflowing with people still working with three kids and a dog in the mix.
The great news is that we've been able to begin moving some items into the house and we spent almost all of last weekend as well as any free moments this week moving a bazillion boxes over to the new house and unpacking some things as well. We'll move our beds and ourselves the week between Christmas and New Years' and knowing we're *this close* to living in the home we've been building for more than two years has me so unbelievably excited… and stressed because moving with kids in the mix is no joke, but we're still feeling mostly excited.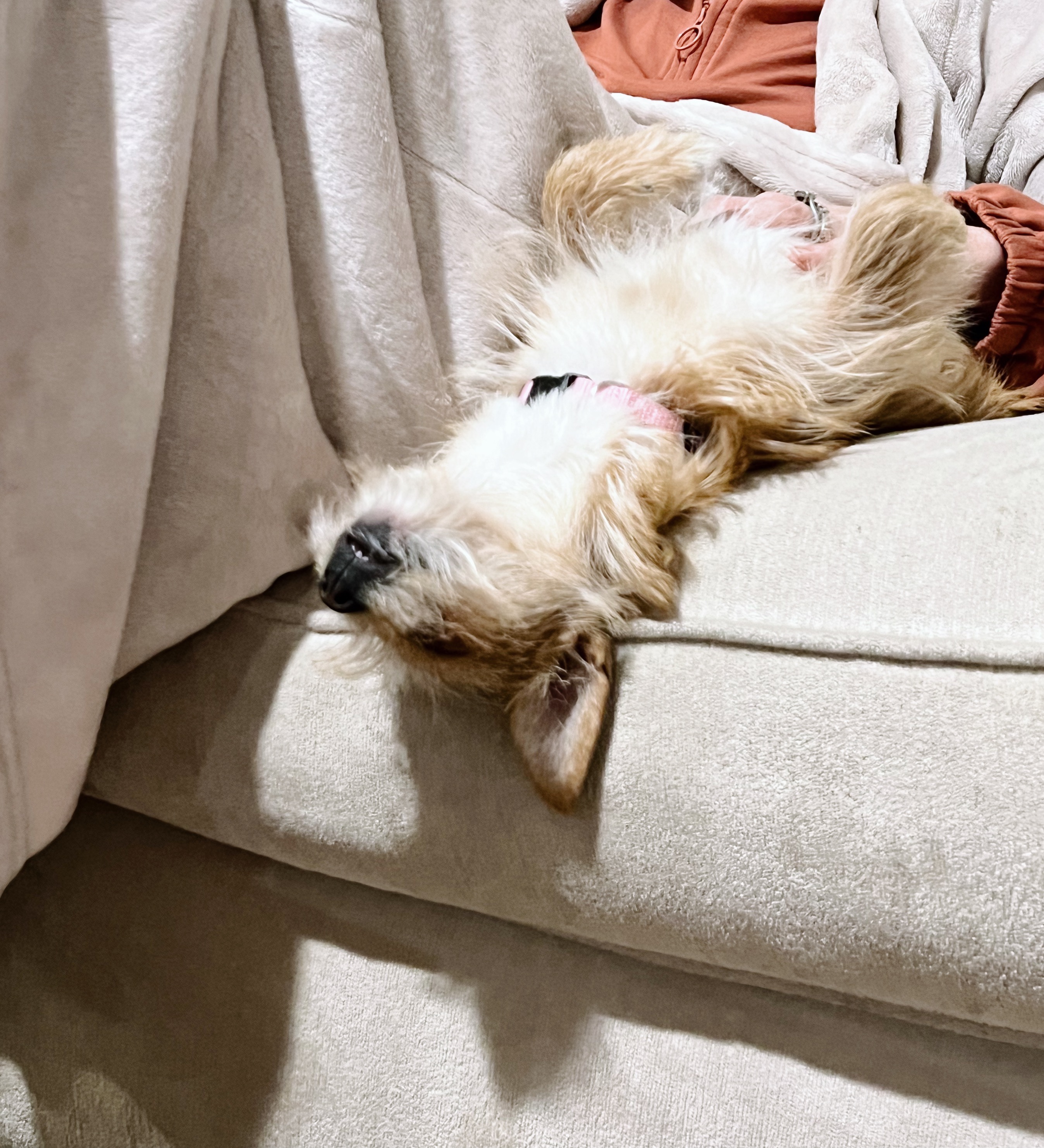 We missed having a dog in our house over the course of the past year and a half so, so much. Pepper is just the sweetest, funniest little ferret and we love her tons. She makes us laugh every single day, especially now that we've seen her warm up to us and begin to really trust us. She loves hunting our feet underneath our blankets and grabbing onto the ties of my floor-length robe with her tiny teeth and growling her ferocious growl as she swings herself back and forth. One her her favorite past times is falling asleep all over us in the cutest little positions. The picture above makes me so happy because she looks so content but part of me also looks at the picture a little deeper and sees a dog who is completely relaxed and not afraid to be vulnerable/on her back with her new family.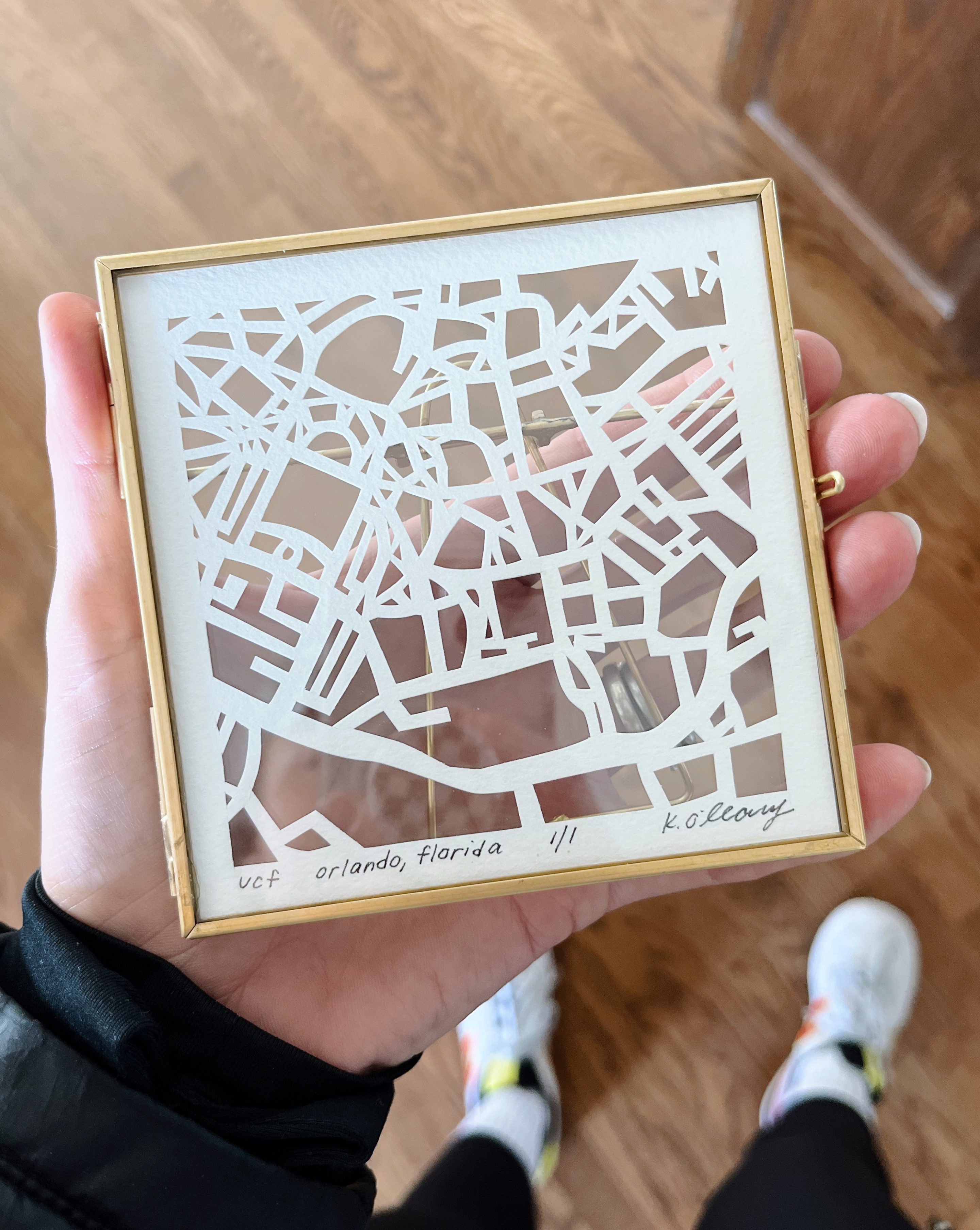 Ryan is not allowed to check my blog until after Christmas because I couldn't resist giving you guys an early peek into one of his Christmas gifts. I ordered his beautiful custom hand cut map of UCF (specifically the area of campus where Ryan and I met) from this Etsy shop and I love the way it turned out! I am such a sucker for gifts with meaning and love that this is something he will be able to display and enjoy in our new home that will serve as a small reminder of the beginning of our relationship in college. Etsy is where it's at for gifts like this, I'm telling you!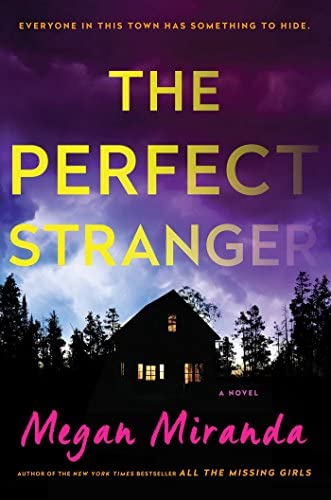 My rating: A- / Genre: Thriller 
I cruised through another thriller audiobook amidst all of the boxing and unboxing moving mayhem last weekend and it was another winner. Megan Miranda's thrillers are some of my favorites because they're fast-paced, suspenseful without being scary and twisty throughout the entire novel. The Perfect Stranger was no different and I thoroughly enjoyed listening to this one.
The book begins with a fresh start for Leah Stevens. After reuniting with her old friend and former roommate, Emmy Grey, Leah jumps at Emmy's idea of moving to a small town in Pennsylvania. It seems like the perfect way to escape the scandal surrounding Leah's journalism career and Leah quickly accepts a teaching job where she can begin anew.
When a fellow teacher is arrested and Emmy disappears, Leah finds herself wrapped up in scandal once again. After reporting her roommate missing, Leah answers questions from the local police, questions that quickly reveal just how little Leah knows about the woman she shared a home with for years. Leah begins to question everything — her fellow teachers, Emmy, her past and how everything might be connected, amid the growing suspicion that Leah herself might have been involved in the crimes in this small town in some way.
Peppermint Oreo Ice Cream Dessert (So incredibly simple but still festively delicious!)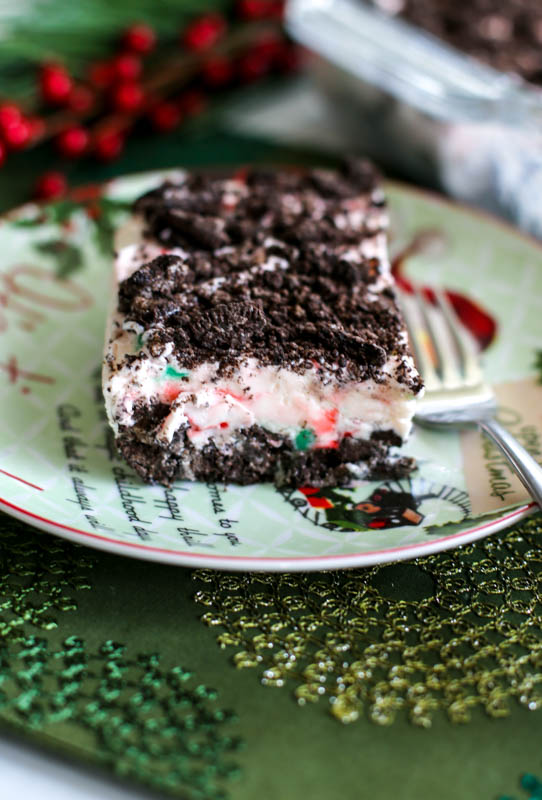 Slow Cooker Holiday Mulled Wine (A big-time crowd pleaser!)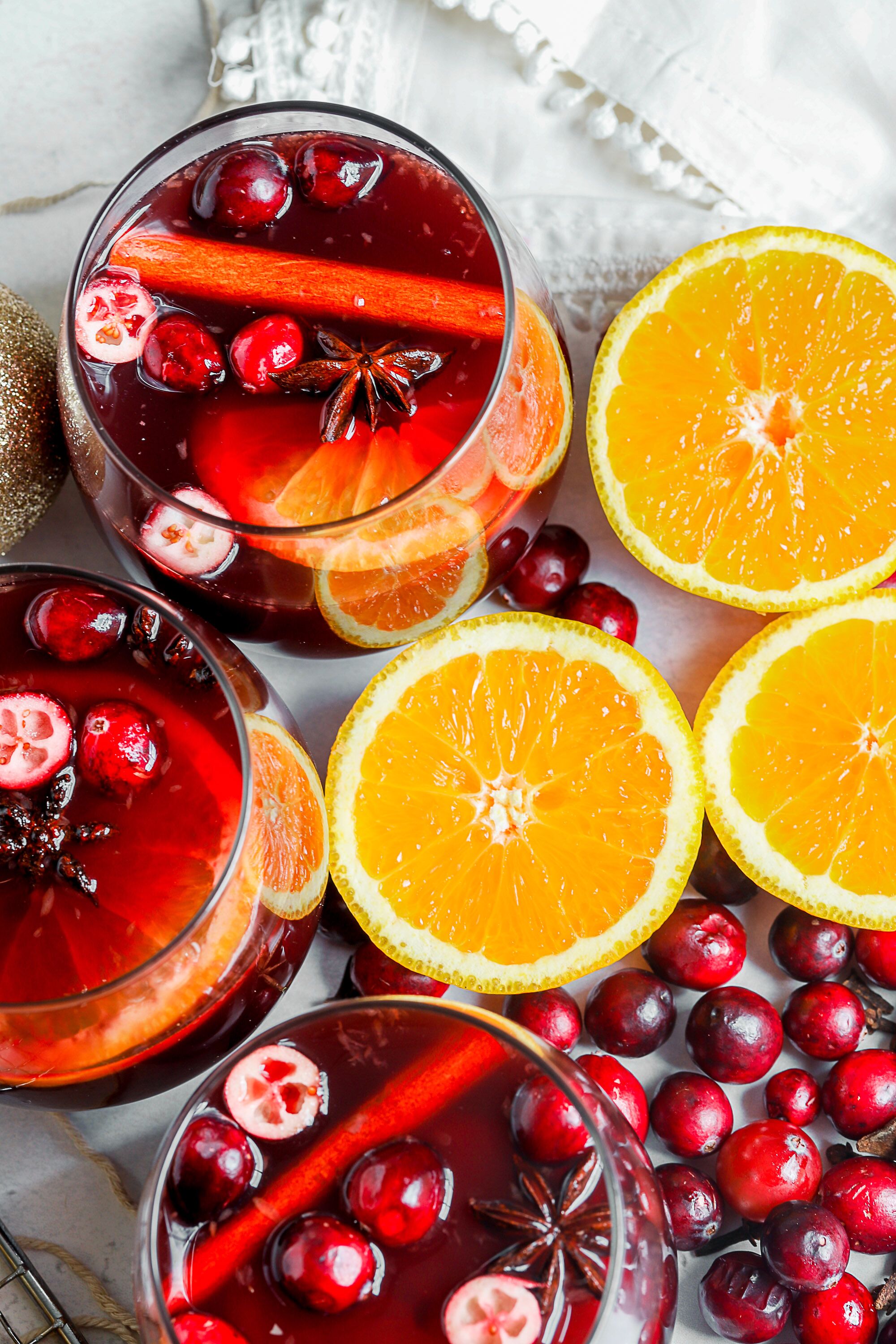 Question of the Day
What is one thing you are loving this week? 
Any holiday plans? 
What is one thing you are feeling grateful for this holiday season? 
Forever and always, I am feeling grateful for my family. Something about the holiday season only serves to emphasize the gratitude I feel for the health, safety and happiness Ryan and I have with our boys, our loved ones and each other.
The post Things I'm Loving Friday #453 appeared first on Peanut Butter Fingers.