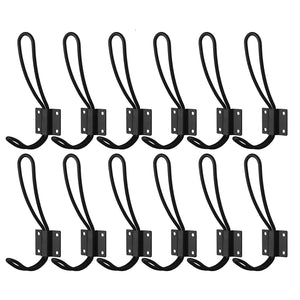 WEBI Decorative Rustic Hook, 12 Packs (Jumbo Size) Vintage Hooks Metal Wire Hook Double Prong Robe Hooks Individual Hooks Coat Hat Hooks for Farmhouse,Entryway,Foyer,Hallway,Walll Mounted,Black
Regular price $116.00 Sale
WEBI Decorative Rustic Hook, 12 Packs (Jumbo Size) Vintage Hooks Metal Wire Hook Double Prong Robe Hooks Individual Hooks Coat Hat Hooks for Farmhouse,Entryway,Foyer,Hallway,Walll Mounted,Black
Product Features
1.Jumbo Size: 5-3/8 inch in length,Loading capacity: 11 lbs (5Kg).Product Net Weight: 1.53 lbs .Please check the detailed dimensional drawing on the left.
2.Decoration: You can add some classic minimalist design and flair to complement any room by adding these rustic style wire hooks. Decorate your entryway to impress guests or use it in the bathroom to store towels and robes.
3.Solid Construction: Built in premium iron, this product is sturdy and durable enough to last for many years. But please do not use it somewhere salty or extreme humid, like near swimming pool or sea.
4. Easy to Clean: Capable of resisting daily scratches, corrosion and tarnishing. Just wipe it slightly with a wet cloth if needed.
5. Simple Wall Mount Installation: Hardware pack included, and only a few steps to fix this utility hanger onto the wall.
Liquid error (sections/product-template line 203): Could not find asset snippets/spreadr-reviews.liquid