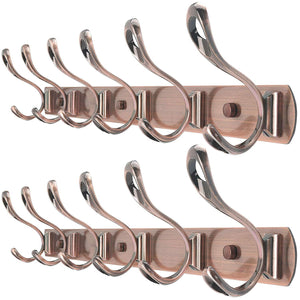 WEBI Wall Mounted Coat Rack - 21-5/8'',6 Hooks,2 Packs (Jumbo Size) Heavy Duty Coat Hat Hook Rail/Rack,Metal Double Prong Robe Hooks Wall Hooks for Closet Kitchen Office Entryway, Antique Copper
Regular price $179.00 Sale
WEBI Wall Mounted Coat Rack - 21-5/8'',6 Hooks,2 Packs (Jumbo Size) Heavy Duty Coat Hat Hook Rail/Rack,Metal Double Prong Robe Hooks Wall Hooks for Closet Kitchen Office Entryway, Antique Copper
Brand:WEBI
Name:WEBI Heavy Duty Coat Hook
Material: Constructed from premium aluminum alloy.
Dimensions: The overall size of the backplate: 21-5/8''L* 1-1/2''W.You can refer to the product images above.
Package Includes:
2 x Webi coat hooks, screws, plastic expansion anchor, washer and cap

WEBI RAIL HOOK FEATURES
Contemporary
Rust-resist
Heavy duty
Decorative
Wall Mounted / wood door mounted
Easy installed

APPLICATION
WEBI metal hook is ultility as clothes rail hook, hat hook, hand towel hook, dish towel hook, or as a wall hook to hold your purse, keys, bags, belts and stuffes. It is a great choice as a moden decor adding to your bathroom, entryway, kitchen, bedroom, closet, office or hotel.

THE COAT HOOK HAS BEEN USEED EVERYWHERE IN YOUR LIFE – HOME, GARAGE, OFFICE, AND SCHOOL.
* You can use them in children room to hang all sorts of kids' extras, jackets, sweaters, backpacks.
*Or you can line them up in a row for towels hanging in bathroom.
*Or you can put them on a wall in entryway where you could hang coats, keys and purse when come home.
*Or you can attach some to a wood door in bedroom or office cubicle as big space saver.
*Or you can use them in kitchen to hold pots, towels, mug without worrying about beautifully complement your modern stainless steel appliances.


COMPANY -
WEBI is a company specialized in research, development, manufacture, and marketing of architectural hardware for almost 10 years. Supplying not only hardware of high quality, but also professional technicial customer services, Webi has achieved a good reputation in construction industry. So do not hesitate to buy, and do not hesitate to contact our customer service if any problem. Webi will back you up.
Product Features
★ã€52 LBS WEIGHT CAPACITY】: 6 hooks version,the oversize of back plate:21-5/8''L* 1-1/2''W.Loading capacity: 52 lbs (24Kg).Hook spacing:3.5inch (8.5cm).Product Net Weight: 2 lbs.You can refer to the second picture on the left to get more detail.
★ã€GREAT MATERIAL】: Premium aluminum alloy, Chrome plating finish, WEBI coat hooks rail is more durable, and longer last in daily use.
★ã€DECORATIVE/GLOSSY】: The decorative coat hook is markedly impressed with its uniquely graceful looking, and sturdy feel in hand by its big handsome scrolled question-mark hooks, and larger and thicker sizes than the common.
★ã€EASY INSTALLATION】: Easy for wall mounted or wood door mounted. Mounting hardware included with screw, screw cap, washer, plastic expansion anchor.
★ã€WIDELY APPLICATION】: It is a convenient and stylish solution in home, office, school, or hotel storage & organization of coats, hats, jackets, scarves, towel, purse, bag, backpack, in any entryway, foyers, bathroom, hall, bedroom, cabin, closet.
Liquid error (sections/product-template line 203): Could not find asset snippets/spreadr-reviews.liquid