Grab the free printable summer bucket list for kids that is full of exciting ideas and activities to keep your kids busy and happy all summer long.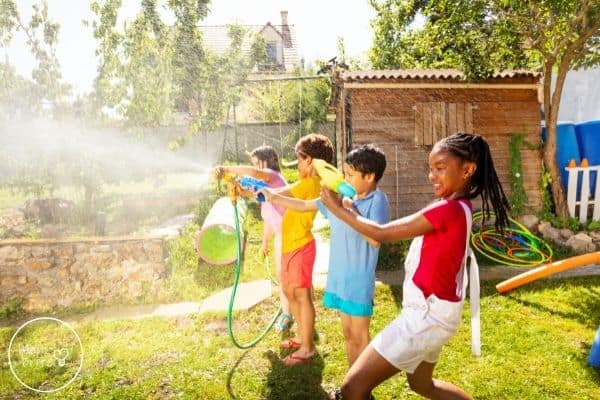 Summer is probably the most exciting time of the year for kids.  Kids don't have school, so it's the perfect time to make wonderful memories. Especially with so many devices these days, it's best to keep your kids busy and active so they can get the most out of their summer break. 
Our summer bucket list for kids is full of fun ideas to make your kids' summers more productive. Feel free to create your own list after discussing with your kids what they would like to do. In case you get stuck, here are some amazing summer bucket list ideas. 
Feel free to scroll down to the bottom of the post to download the entire summer bucket list so you can check them off throughout the summer!
Summer Bucket List Ideas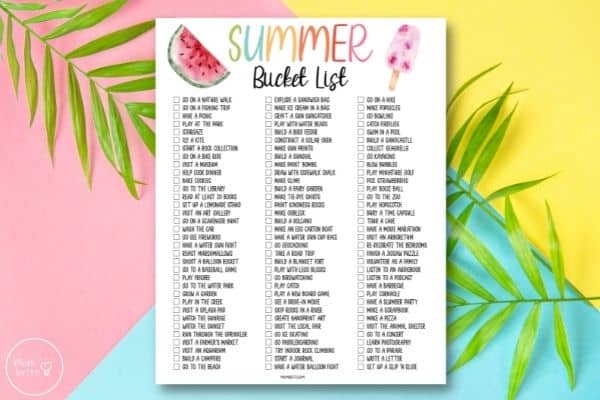 Outdoor Summer Bucket List Ideas
1. Go on a Nature Walk.
Take a stroll outside regularly and explore the natural beauty around you.
2. Take a Fishing Trip.
Go on a fishing trip with the family and explore the different species of fish in their habitat.
3. Have a Picnic.
Go to the nearest park or get the entire family together in the backyard to enjoy a nice picnic. 
4. Play at the Park.
5. Stargaze.
Take a nice and warm blanket and lie down in your backyard to look at the stars above. If you have a telescope, you can even examine the stars up close!
6. Fly a Kite.
Learn how to fly a kite at a nearby field or a sandy beach on a windy day.
7. Go on a Bike Ride
The weather is perfect to teach your kids how to ride their bicycles. After they master balancing on the bike, take it for a spin around town.
8. Wash the Car
The best part about washing the car in the summer is that the car dries so fast. Don't forget to also clean out the interior of the car.
9. Go See Fireworks
10. Have a Water Gun Fight
11. Go to a Baseball Game
Cheer on your hometown team at a baseball game.
12. Play Frisbee
13. Go to the Water Park
Water parks is a must-do for your summer bucket list! Try all the water slides and then when you are tired, grab a tube and float down the lazy river.
14. Play in the Creek
15. Visit a Splash Pad
Going to splash pads is one of our favorite things to do in the summer. Even parents run through the water to get wet and to keep cool.
16. Watch the Sunrise
17. Watch the Sunset
Sit outside in the front yard with some friends and enjoy watching the sunset with them. 
18. Run Through the Sprinkler
19. Visit a Farmer's Market
Farmer's markets always have interesting products and wonderful produce. Visit one near you and see what handmade products you can find there.
20. Build a Campfire
Go with the entire family on a camping trip for a few days to enjoy the summer weather. Work together to gather twigs and wood to build a campfire for heat at night.
21. Go to the Beach
What's summer without a visit to the beach? Take a day to enjoy the hot sand between your toes and play in the ocean waves.
22. Have a Water Gun Cup Race
Instead of shooting water at each other, aim the water guns at cups and race them across the yard!
23. Go on a Hike
24. Catch Fireflies
25. Swim in a Pool
Here in the desert climate of Arizona, we jump in the pool everyday! Believe it or not, it's hot enough to go for a swim at 6 in the morning. If your kids don't know how to swim yet, it's a great time to learn.
26. Build a Sand Castle
27. Go Kayaking
28. Blow Bubbles
Kids love blowing and popping bubbles. You can make your own bubble wands to dip in bubble solutions. If your kids are too young and have not mastered how to blow bubbles, buy a quality bubble machine and let them run around and pop the bubbles.
29. Play Miniature Golf
30. Pick Strawberries
31. Play Bocce Ball
Did you know that Bocce ball is one of the oldest games in history? It's simple to play so even young kids can learn and participate in the fun yard game.
32. Go to the Zoo
33. Play Hopscotch
Bring back the classic game of hopscotch and draw different hopscotch patterns to challenge your kid's gross motor skills.
34. Go Geocaching
If you never heard of geocaching, you are in for a treat. Using the Geocaching app, you can locate geocache boxes all over the world where other people have hidden them. It's basically a giant treasure hunt!
35. Take a Road Trip
36. Play Catch
37. See a Drive-In Movie
Instead of going to the movie theater, sit in your car and watch a movie on the big screen outdoors instead.
38. Skip Rocks in a River
39. Visit the Local Fair
Take a trip to your local summer festival and play carnival games and go on exciting rides like the Ferris wheel.
40. Tour a Cave
41. Go Paddleboarding at a Lake
42. Have a Water Balloon Fight
Have a water balloon fight in the backyard to cool off on a hot day.
43. Visit an Arboretum
Take a walk through an arboretum and discover different plant species from around the world.
44. Play Cornhole
Cornhole is a lawn game in which players take turns throwing bags in an attempt to get them in the hole in the cornhole board. It's an easy game to understand so that even kids can participate.
45. Have a Barbecue
Gather friends and family to have a backyard party and enjoy some grilled food like hamburgers and hot dogs.
46. Go to a Concert
Take your kids to a concert (with age-appropriate music, of course) where they can enjoy the music and have a dance party.
47. Go to a Parade
48. Set Up a Slip 'N Slide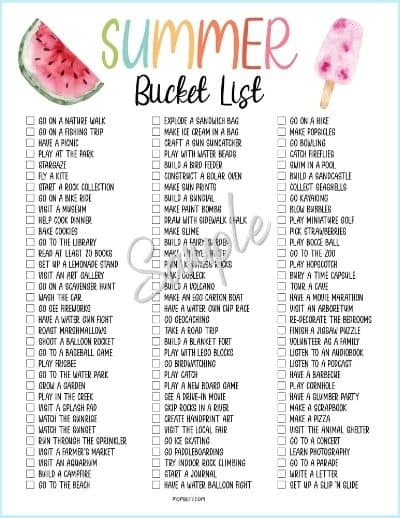 Indoor Summer Bucket List Ideas
49. Visit a Museum
Visit museums to see and experience different exhibitions with your family.
50. Help Cook Dinner
Cooking is an essential skill that one must learn. Summer break is a great time to cook in the kitchen as a family. Even toddlers and young children can be involved in the preparation of vegetables.
51. Bake Cookies
52. Go to the Library
Visit your local library to pick out some new books to read while at home. Be adventurous and try and different genre!
53. Read at Least 20 Books
It's important to keep the love of reading going even when school is out.
54. Visit an Art Gallery
55. Visit an Aquarium
56. Make a Pizza
Learn how to make pizza dough and customize your own pizza with your favorite toppings.
57. Go Bowling
58. Build a Blanket Fort
Gather some random pillows and blankets in the house and make a fort for pretend play. I remember even sleeping in my own blanket fort at night when I was young! 
59. Play with LEGO Blocks
Grab your free 30 Day LEGO STEM challenge that will get your kids to use their problem-solving and analytical thinking skills and creativity to complete the tasks on the calendar.
60. Finish a Jigsaw Puzzle
Jigsaw puzzles require a lot of patience, which is not easy for the kids. Purchase a large jigsaw puzzle like this one and aim to finish it together as a family by the end of the summer.
61. Play a New Board Game
Visit the store and pick a new board game to play together as a family.
62. Go Ice Skating
63. Try Indoor Rock Climbing
64. Have a Movie Marathon
Create a list of your favorite movies and watch them back to back with your family. Don't forget lots of food and snacks. Do take a break to stretch your limbs between the movies!
65. Re-Decorate the Bedrooms
Tired of the current themes in the bedrooms? I remember as a teenager, I realized at one point that I still had posters from when I was in elementary school. Work together to clean up all the bedrooms and re-decorate them with new and fresh decors.
66. Make Popsicles
Grab some popsicle molds, blend up some fruits, and make frozen popsicles that everyone will for sure enjoy on a hot day.
67. Have a Slumber Party
Slumber parties are one of the rare opportunities when kids get to stay up past their bedtimes and spend the night with their friends.
68. Write a Letter
Have your kid ever written a letter to a good friend who lives far away or a pen pal they never met? Kids today have less chance than us to write letters. It's so nice to learn to write a letter the proper way and receive a letter in the mail in return.
Good Summer Hobbies to Try
69. Start a Rock Collection
Try to learn to collect different kinds of rocks in the neighborhood. You can also lookup good rockhounding sites near you to find interesting rocks, gems, minerals, or fossils.
70. Set Up a Lemonade Stand
It's time to learn about entrepreneurship! Set up a lemonade stand outside the house and learn how to make money by selling refreshing drinks to your neighbors.
71. Grow a Garden
Explore the plant life cycle by planting your own seeds and growing your own fruits or vegetables.
72. Build a Fairy Garden
Spruce up your outdoor gardens or indoor terrariums with fairy garden accessories that will make your garden more magical.
73. Collect Seashells
74. Learn Photography
My kids love to take pictures of everything around them. The summer is a great time to take the time to properly learn how to use a camera and take excellent pictures.
75. Make a Scrapbook
Take pictures of your adventures throughout the summer and create a summer scrapbook at the end of the break. Do this every summer to document all the fun things you experienced.
76. Go Birdwatching
Birdwatching can be as simple or as complicated as you make it. For beginners, you can just use your naked eye to observe the birds. Your kids can learn how to use their senses to listen for bird sounds and examine the different features on the birds.
77. Start a Journal or Diary
Writing in a diary or journal can be a calming experience for kids. It's a good time to reflect on the day and set goals for the future.
Summer Science Experiments
78. Explode a Sandwich Bag
The exploding lunch bag experiment uses the baking soda and vinegar chemical reaction to break open the bag.
79. Make Ice Cream in a Bag
Ice cream is the perfect treat for the summer. Instead of using an ice cream maker or going to the store to buy a cone, your kids can make ice cream in a bag at home.
80. Construct a Solar Oven
A solar oven really works! All you need is a cardboard box and some common household items to build a DIY solar oven to melt marshmallows and chocolates for some yummy s'mores.
81. Make Sun Prints
Discover the power of the sun with an easy sun print activity.
82. Build a Sun Dial
There are so many ways to make a sun dial, and your LEGO fans will love this one that is made from LEGO blocks.
83. Make Slime
There are so many ways to make slime, and it's one of the children's favorite activities. Here is the recipe to make a blood slime model that will teach your kids about the different components of blood.
84. Make Oobleck
If slime is too messy for your liking, try making Oobleck instead! This non-Newtonian fluid is amazing for sensory play and can amuse your kids for hours.
85. Build a Volcano
You probably have seen the volcano science project that uses baking soda and vinegar for the lava eruption. If so, your kids may want to try the underwater volcano experiment where the eruption comes from the temperature difference between the water in the glass and water in the "volcano."
86. Shoot a Balloon Rocket
Make a balloon rocket that can fly over two stories high with just a balloon, straw, paper, and tape.
Creative Summer Crafts
87. Craft a Sun Suncatcher
Celebrate summer with a paper plate sun-shaped suncatcher that will cast beautiful colors into your house.
88. Build a Bird Feeder
Create a bird feeder either out of popsicle sticks or pinecones to hang on a tree in your yard. Then watch as the local birds flock to the food to have a feast!
89. Make Paint Bombs
Why paint with a paintbrush when you can explode the paint with a powerful Alka-Seltzer and water reaction? Just make sure you step back, the exploding paint bombs can shoot quite high!
90. Draw with Sidewalk Chalk
Buy some colored chalks and draw on the sidewalk in front of your house. Your neighbors will appreciate the drawings as they walk past.
91. Make Tie-Dye Shirts
Buy white shirts and learn how to tie-dye them with your favorite colors.
92. Paint Kindness Rocks
Organize a rock painting party in the backyard and invite friends over to paint kindness rocks. They are a wonderful way to put a smile on people's faces and lift up their spirits.
In fact, make it a goal to do random acts of kindness throughout the summer vacation!
93. Make an Egg Carton Boat
Upcycle egg cartons to make boats that really float. Put them in your pool and watch them sail across the water.
94. Create Handprint Art
Kids grow up so quickly. Start a tradition of making at least one handprint art every summer and see just how big your kids' hands get every year.
Other Fun Activities for the Summer Bucket List for Kids
95. Go on a Scavenger Hunt
There are opportunities for scavenger hunts everywhere. You can go on a scavenger hunt in your backyard, at a campsite, or at the beach. Wherever it is, a scavenger hunt is a great way to get your kid's energy out.
96. Volunteer as a Family
Look up places in your neighborhood where you can go with your entire family to volunteer a worthy cause.
97. Roast Marshmallows
98. Play with Water Beads
There are so many ways to play with water beads. Our favorites include the rainbow lava lamp and the water balloon stress ball.
99. Bury a Time Capsule
100. Listen to an Audiobook
Reading a book is difficult when you are in the car or on a plane. Instead, sit back and relax and listen to an audiobook.
101. Listen to a Podcast
The popularity of podcasts has been on the rise, and it's easy to see why. There are so many to choose from about different topics. My son's favorite is the Brains On podcast where he can learn so many fascinating science and history facts.
102. Visit the Animal Shelter
Go visit the local animal shelter and spend a couple of hours hanging out and taking care of the cute animals.
Final Thoughts about the Summer Bucket List for Kids
I hope the fun and interesting activities listed above have generated some ideas to add to your summer bucket list for kids. We hope that this enables you to find things that your kids are bound to love doing this summer vacation.
Use these ideas to keep them away from digital distractions and instead enjoy some amazing family time all summer long!