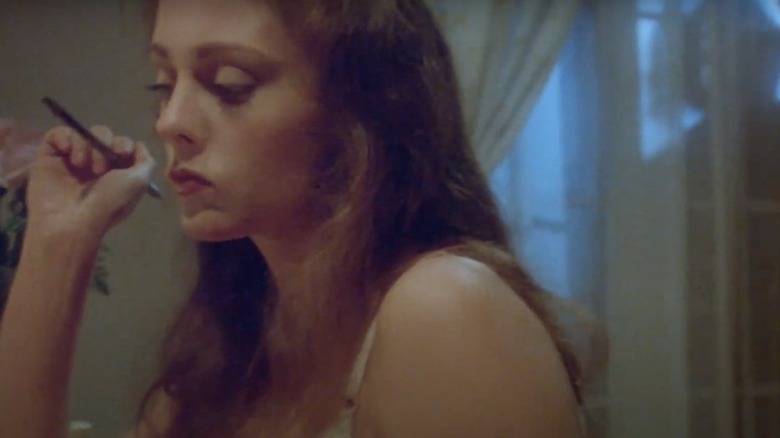 For every blockbuster slasher flick, there's an underrated, criminally-overlooked gem just waiting to be discovered. While such films as "Psycho," "Halloween," and "Friday the 13th" defined the genre as we've come to know and love it, many more have reached the same level of excellence in hack 'n' slash storytelling. Our list for Best Slasher Movies of All Time is only scraping the surface of what the horror subgenre has to offer. If it's buckets of blood and guts you're looking for, there's something to quench your thirst. If you're perhaps seeking something a bit off the beaten path, though, you just have to do a little digging.
Fortunately, we've done just that for a watch-list containing underrated slashers that veer from downright bonkers to more subdued character studies. Each selection offers something unexpected for the slasher addicted. So, grab some popcorn, turn off the lights, and don't forget to lock your door.
Hellbent (2004)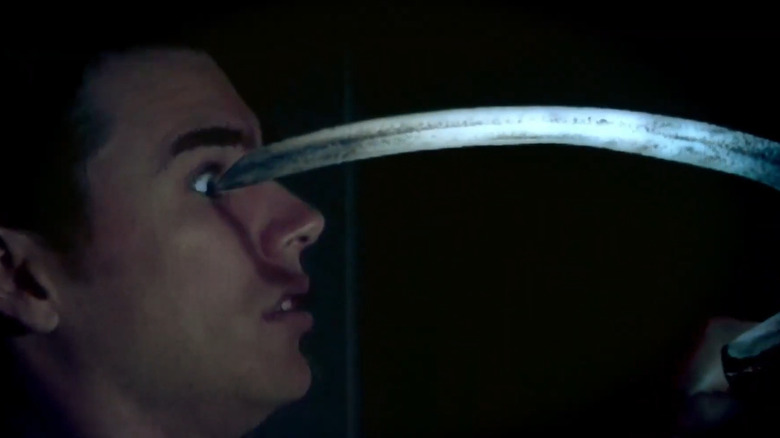 LGBTQ+ representation in slashers has been a rarity, historically speaking. If there's even a queer character at all, they usually die first or are refused a happy ending (thus the "bury the gays" trope). In the last decade, films like Christopher Landon's "Freaky," Yann Gonzalez's "Knife+Heart," and Julia Ducournau's "Raw," among a handful of others, have brought queer voices to the forefront of the genre. However, things really changed with the criminally-overlooked "Hellbent" from 2004. Written and directed by Paul Etheredge-Ouzts, the low-budget slasher flick features a core cast of gay characters. Eddie (Dylan Fergus) once had ambitions of becoming a police officer, but an accident left him without the use of his right eye, permanently crushing that dream. On Halloween night, Eddie and his friends head out to a carnival in west Hollywood, and what they encounter is far more tricks than treats.
Even though Etheredge-Ouzts had neither written a script nor directed a film before, "Hellbent" is drenched in bright neon hues (worthy of a Gialli) and stylized kill sequences, from a particularly grisly bathroom stall sequence to a dance-floor slaughter. The characters simply exist as human beings and navigate through the world unapologetically as themselves. Trauma never factors into the story, a refreshing creative decision. Much like most other entries in the subgenre, "Hellbent" is just as horny, bloody, and relentless as anyone's favorite '80s slashers. It's a surefire good time 一 and it certainly helps to have a killer unafraid to show off their well-toned abs.
Death Screams (1982)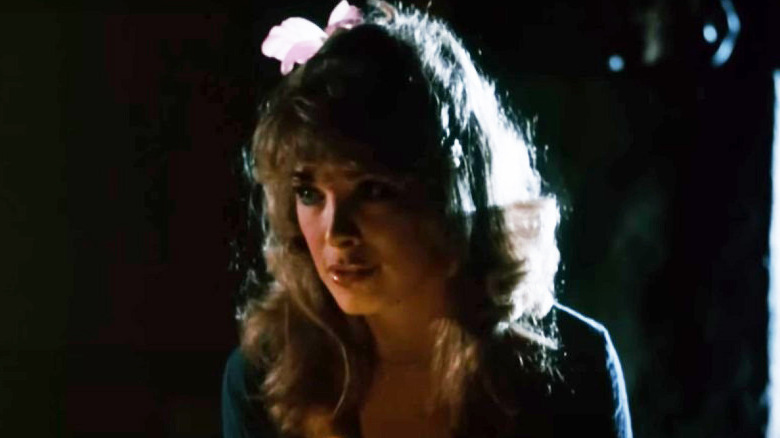 Released during the height of slashers, it's no wonder "Death Screams" has largely been lost in the mix. Director David Nelson brings plenty of frights through mood lighting, creepy locations, and kills to literally die for. When a traveling carnival makes its way to town, an unknown killer seizes the opportunity to wreak a little havoc. He's the playful type, often toying with his victims or murdering them in the most unlikely of places, including in broad daylight while someone rides a carousel.
A group of 20-somethings never know what hit them. On the night of the carnival, Lily (Susan Kiger), who cares for her invalid grandmother, is invited out to a bonfire on the outskirts of town. Working a day job as a waitress, she is unsure if she could leave her grandmother unattended for the evening but decides she's long-overdue for some fun. True to slasher conventions, members of the group are slowly picked off one by one in gruesome decapitations and limb-severing. It's a real gorefest. As the night wears on, the remaining group members are in the mood for a change of scenery and decide to tell scary stories in a nearby cemetery. A quickly-approaching storm forces them inside an abandoned home, however, setting them up as easier targets in a confined space. "Death Screams" kicks into overdrive in its third act and contains some of the best murder sequences in any slasher ever.
Frightmare (1974)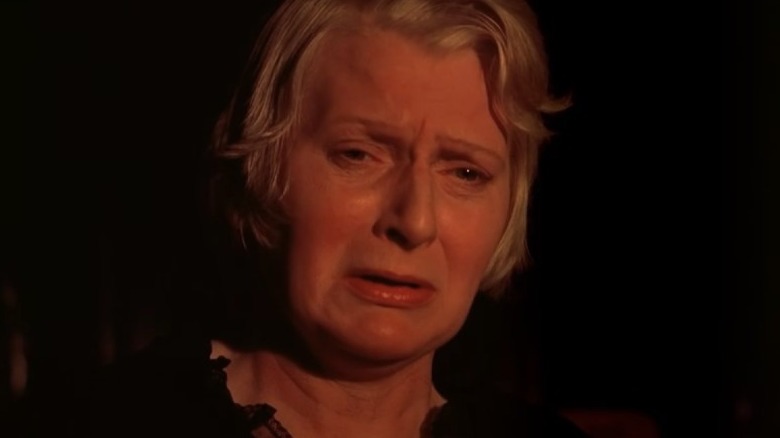 Pete Walker's "Frightmare" is a gloriously unhinged slasher out of the UK. A grimy bit of exploitation, the 1974 film carries a resemblance to 1980s "Motel Hell," namely with its use of elderly serial killers in a secluded setting. In Walker's story, Dorothy (Sheila Keith) and her husband Edmund (Rupert Davies) have recently been released from a mental hospital and returned to their abandoned homestead. The couple had been committed after it was learned Dorothy murdered and ate at least six people around their property. They were considered cured and now attempt to reacclimatize to everyday life. 
Edmund's daughter from a previous marriage, Jackie (Deborah Fairfax), makes frequent late-night visits with mysteriously wrapped gifts. It's unclear what (or who) she is bringing to her father and stepmother, but the revelation later in the film is blood-curdling. "Frightmare" is grainy low-budget at its prime, but polished set pieces make it a ride worth taking over and over again. All the mechanics we've come to appreciate in slashers (violence, gore, a banquet of victims) pump on all cylinders, and it's a real tragedy "Frightmare" isn't discussed far more for its accomplishment. It puts "Friday the 13th" to shame.
Star Time (1992)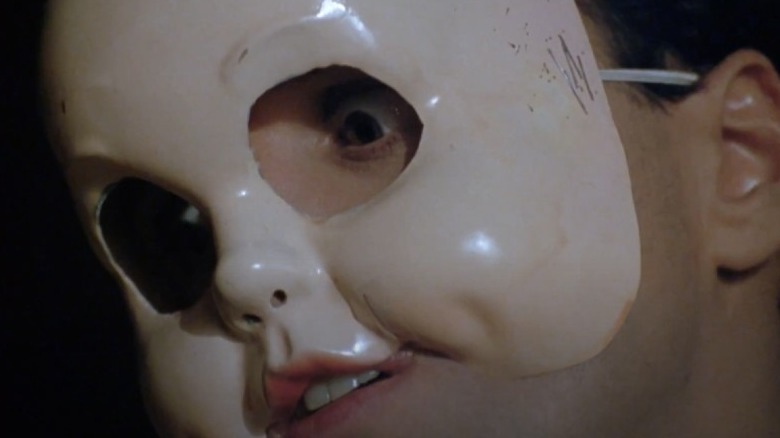 "Star Time" is unlike most slashers. With Alexander Cassini directing, the 1992 direct-to-video film is as though "Jacob's Ladder" (1990) and "Maniac" (1980) had a love child. It presents the story of mayhem and murder through the eyes of Henry Pinkle (Michael St. Gerard), a TV-obsessive oddball who dreams of becoming a big star one day. However, when his favorite sitcom "The Robertson Family" is canceled, he climbs up to a building rooftop to leap to his death. A mysterious man, known as Sam Bones (John P. Ryan), appears out of the shadows and coaxes him away from the ledge. He promises that he can make Henry a big ole television star. He only needs to follow every direction and never question his motives. Sam convinces him that the only way to fame and fortune is to murder the unsuspecting, as though he's leading his very own real-life thriller.
Henry is an unfortunate result of a disastrous healthcare system. His social worker, Wendy (Maureen Teefy), does her best to assist him in stabilizing his life but ultimately fails. "Star Time" keeps explicit violence as an afterthought, only exposing what Henry's done through the discovery of the murder scenes. He wears a mask and wields an ax, certainly keeping in line with a slasher killer's aesthetic, but the focus relies solely on the complexity of his psychological downfall. The final shot is a devastating reminder of the true frailty of human nature.
The Boogey Man (1980)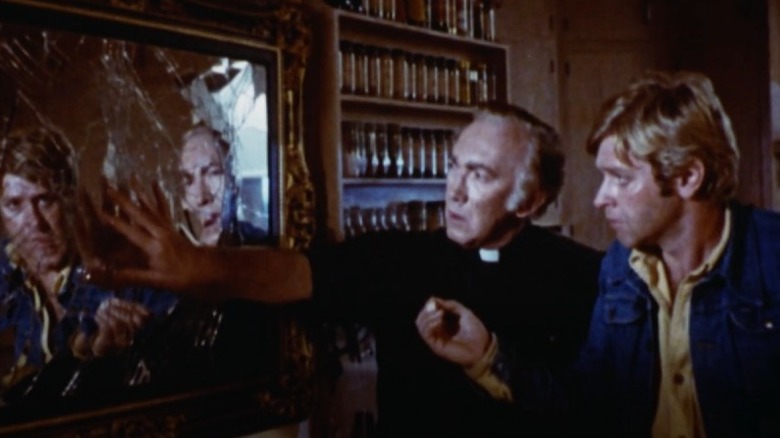 Slashers rarely dabble in other genres. Writer/director Ulli Lommel's 1980 film "The Boogey Man" brings a fresh lens to the hack 'n' slash model with the addition of a supernatural component. Bearing the weight of a traumatic childhood, siblings Willy (Nicholas Love) and Lacey (Suzanna Love) are still recovering from an ill-fated night in which Willy murdered their mother's abusive boyfriend. Willy has never uttered a single word since. On the other hand, Lacey has managed to reclaim her life and start a family, living on an isolated farm with her husband Jake (Ron James) and young son. Willy lives with them as well, working as a farmhand. 
It's been 20 years, but the tragedy still haunts them both. Lacey suffers from excruciatingly vivid and brutal nightmares, exacerbated when she receives a letter from her bedridden mother who wants to see her children one last time before she dies. Willy instead burns the letter, putting her memory to rest once and for all. Following one especially wicked dream, Jake encourages Lacey to see a psychiatrist, Dr. Warren (John Carradine), about her dreams. Warren then suggests revisiting her childhood would do her good. They arrive to discover a haunted mirror seemingly harboring the dead boyfriend's tortured ghost. It's an outrageous premise, but it just works. "The Boogey Man" intertwines themes about abuse and healing, while being a riotous good time with wild and weird death scenes. There's even a pinch of "The Amityville Horror" thrown in for good measure.
If you or someone you know may be the victim of child abuse, please contact the Childhelp National Child Abuse Hotline at 1-800-4-A-Child (1-800-422-4453) or contact their live chat services.
Deadly Games (1982)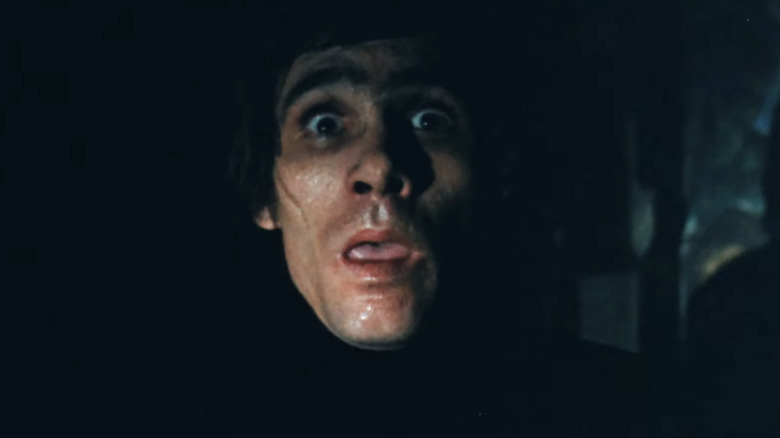 "Deadly Games" is as tangled as any Giallo film. The killer wears black gloves and brandishes a thin, sharp blade. The plot is piled up with suspect misdirects, setting up for a surprising third-act reveal. Director Scott Mansfield has a clear affinity for Italian filmmaking, and the film's mystery is equal parts convoluted and compelling. The film opens with the killer playing a horror-themed board game. It's an on-the-nose set-up that makes sense once you dive further into their cat-and-mouse style of stalking and killing. 
When a young woman named Linda (Alexandra Morgan) falls out of a second-story window, her sister and journalist Keegan (Jo Ann Harris) comes to town to get to the bottom of her sister's strange death. Detective Roger Lane (Sam Groom) is tasked with investigating the case and strikes up a flirtatious relationship with Keegan. Throughout "Deadly Games," Mansfield toys with the audience. The killer could be any number of characters, and he holds the cards incredibly close to the vest. If you're a ride-or-die Gialli fan, there's plenty to feast upon in the film. It's got style and energy and a real shimmery theatrical edge.
Too Scared To Scream (1984)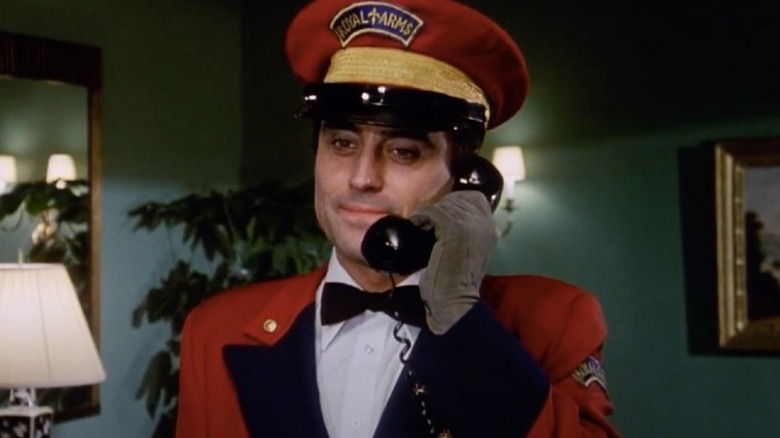 For a film called "Too Scared to Scream," there sure is a whole lot of screaming in this underseen 1984 picture. On a script co-written by Neal Barbera and Glenn Leopold, director Tony Lo Bianco brings a smart sense of tension and mood to this NYC-set slasher. When tenants of an upscale apartment building begin being bumped off by an unknown killer, there is absolutely nowhere to hide.
All eyes are upon nighttime doorman Vincent Hardwick (Ian McShane), as the numerous midnight murders implicate him as the killer. There's something clearly off about him, in a very Norman Bates sort of way. He takes care of his wheelchair-bound mother, who doesn't speak and hasn't in a number of years. His relationship with the building's many tenants is almost too friendly for comfort. With a casting that also includes John Heard, Maureen O'Sullivan, Mike Connors, and Murray Hamilton, "Too Scared to Scream" contains a surprisingly gay undertone. While that component may not work for everyone, it is an unexpected element, especially for the time period. At the end of the day, the film is a delightful, gory romp and compelling addition to the slasher genre.
He Knows You're Alone (1980)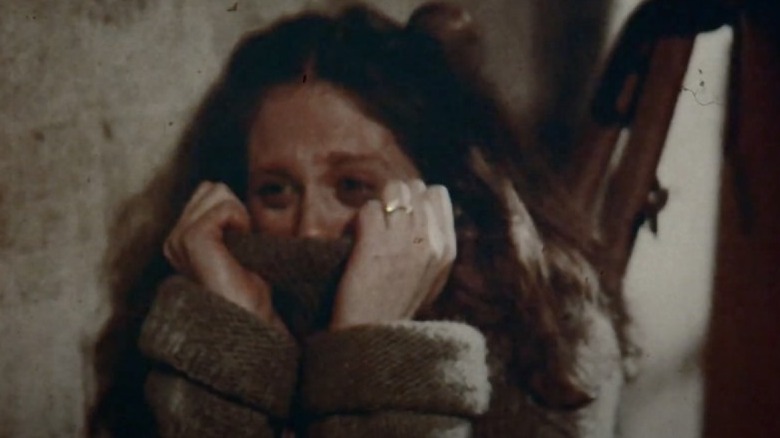 John Carpenter's "Halloween" casts a very long shadow. Armand Mastroianni's "He Knows You're Alone" draws considerable influence from its predecessor. Everything from eerie stalking sequences right down to the iconic dun-dun-dun theme has been ripped and reapplied to the 1980 film. Yet, there's a remarkably special feeling oozing from each of its own unique frames. With a script written by Scott Parker, the slasher boasts its share of stunning thrills and chills. Set in Staten Island, the movie follows a young, bride-to-be named Amy Jensen (Caitlin O'Heaney). Currently a university student, she greatly anticipates her upcoming nuptials to Phil (James Carroll), but the return of her ex-boyfriend Marvin (Don Scardino) casts severe doubts over her decision. Meanwhile, killer Ray Carlton (Tom Rolfing) stalks her after peering into the bridal shop where she'd visited for a wedding dress fitting.
Ray slowly closes in around her, eventually trailing her home. Amy even glimpses him standing in her backyard, another clear "Halloween" nod. Unlike most killers in slasher movies, Ray doesn't wear a mask; he's more akin to Russ Thorn in "The Slumber Party Massacre" in that way. "He Knows You're Alone" veers away from the Michael Myers formula to include plenty of blood on-screen. While borrowing strong story and thematic elements, it more than holds its place as something exceptional in the ocean of slasher films. Also, see if you can recognize Tom Hanks in his very first film role. That's always a treat.
Silent Night, Bloody Night (1972)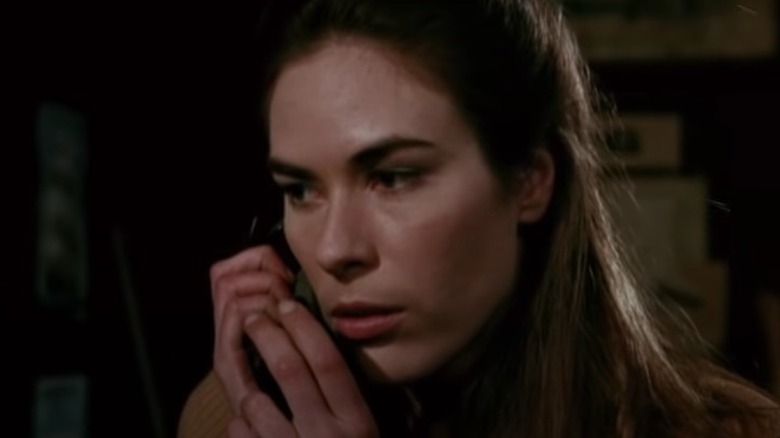 Creepy phone calls from a deranged killer? Check. Unsettling first-person POV? Double check. A slow-burn set around the holidays? Triple check. And no, it's not "Black Christmas" we're talking about. Theodore Gershuny's "Silent Night, Bloody Night" (not to be confused with "Silent Night, Deadly Night") reads as a chilling precursor to the Bob Clark-directed slasher. Here, the story involves a former mental asylum turned into a mansion estate, the return of a long-lost relative, and a town harboring its own dark secrets. When Jeffrey Butler (James Patterson) decides to sell his late grandfather's house, he enlists lawyer John Carter (Patrick O'Neal) and assistant Ingrid (Astrid Heeren) to scope out the property and open it up for prospective buyers. Well, the local townsfolk don't take too kindly to outsiders and make their concerns known, loud and clear. 
The mayor's daughter, Diane Adams (Mary Woronov), soon begins receiving disturbing phone calls from a killer who says their name is "Marianne." Throughout the film, "Marianne" only hints at their true identity and lures members of the town, including switchboard operator Tess (Fran Stevens), to a grim fate inside the Butler residence. What is most charming about "Silent Night, Bloody Night" is its gritty, almost washed-out feel. Shadows permeate the corners of the screen, a spooky element even if an unintentional one. It's this darkness that is almost suffocating and further heightens the mystery around the killer's devious and deadly plot.
Kristy (2014)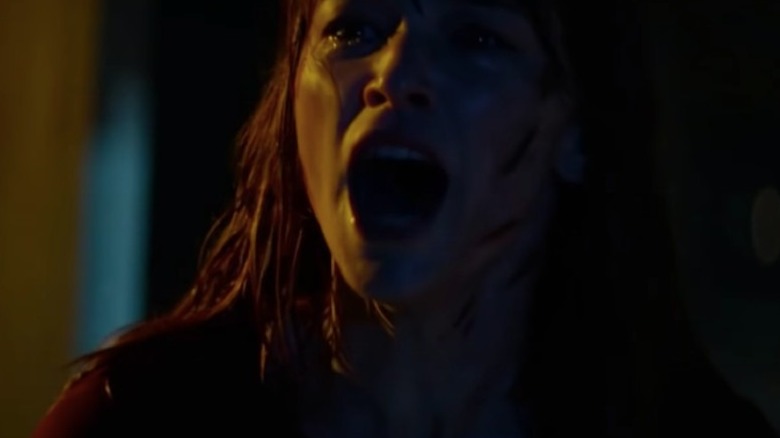 "Kristy" (directed by Oliver Blackburn) is one of the biggest slasher surprises of the modern era. Tonally, it's akin to "I Know What You Did Last Summer," and even includes a few chase scenes that rival the iconic Helen Shivers (Sarah Michelle Gellar) chase sequence through the department store. With a script written by Anthony Jaswinski, "Kristy" taps into the dark underbelly of internet culture and blind fanaticism. Justine (Haley Bennett) attends a private school on financial aid and can't afford to fly home over Thanksgiving break. Her boyfriend and close friend both have holiday plans, leaving Justine on campus alone. 
During a late-evening trip to a local gas station, Justine crosses paths with a mysterious emo girl named Violet (Ashley Greene), who calls her "Kristy" instead of her real name. Violet proceeds to stalk Justine to her dorm room and wield a sharp, glistening box cutter. But Violet isn't alone. She is joined by a group of similarly-hooded cult members whose sole mission is to track down privileged young women they perceive as followers of God. Bennett naturally bolsters the film with raw, vulnerable emotion and magnetic charm. Her performance is met with Greene's colder turn as the deluded ringleader. Even if the killers' motivations are questionable, "Kristy" packs in heart-pounding tension worthy of a midnight crowd.
Silent Scream (1979)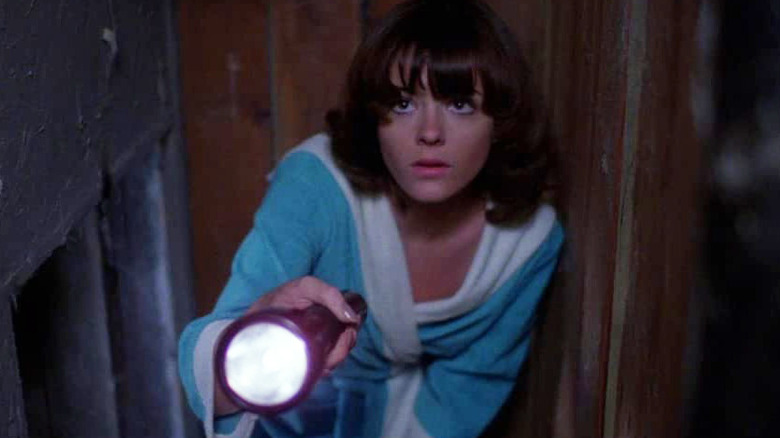 A secret network of doors and corridors lies at the heart of "Silent Scream," ala "The People Under the Stairs." In director Denny Harris' 1979 slasher, an austere woman Mrs. Engles (played by "The Munsters" star Yvonne De Carlo) and her son Mason (Brad Rearden) open their home to boarders, mostly college students. It's a simple enough premise and the draw largely focuses on what, or who, might be slipping through the house's echoing walls. Scotty Parker (Rebecca Balding) arrives at the cliffside estate at the knick of time for the fall semester, desperately in need of a room for rent. Several other college students soon turn up with the hope of taking up residence on the idyllic coastline. 
The world is at their fingertips, yet they have no inkling that something dark, dangerous, and sinister lurks in the shadows. Instead of academics, what transpires is a murderous rampage, a real carnage buffet. The characters are sparsely-written, except for Scotty, but there's enough dread hanging thick on the camera lens to keep you hooked. "Silent Scream" unfolds in typical slasher fashion, leaving the third-act revelation to knock you off your feet. Chock-full of brutal kills and a sticky web of intrigue, it has a real bite to make it a truly under-appreciated delight.
Don't Go In The House (1979)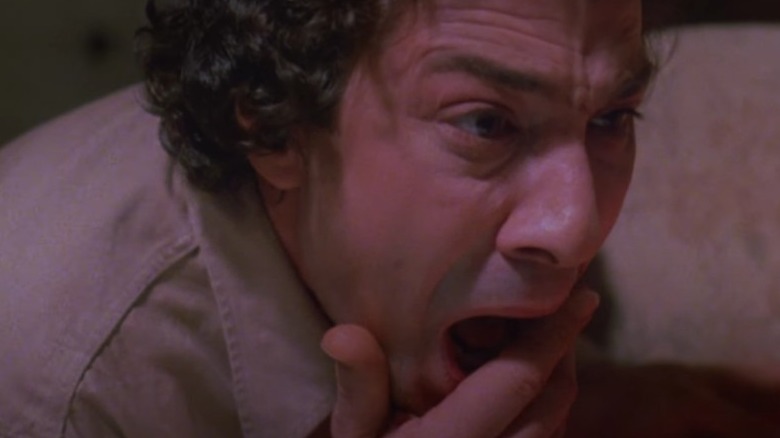 Joseph Ellison's "Don't Go in the House" is as disturbing as slashers come. Donny Kohler (Dan Grimaldi) is a pyromaniac. In his youth, his abusive mother punished him through a series of violent burns all over his body, but the psychological scars run even deeper. In adulthood, he struggles with relationships and making connections with other people. He works a local factory job and appears to have, at least, attempted to live a normal, quiet life.
When he returns home late one night, he finds his mother has died in her upstairs bedroom. Her death becomes a great trigger for him, sending him careening down a dark, emotionally-twisted path. He can't seem to appropriately process what has happened. He then turns to mutilating and murdering women who bare a striking resemblance to his mother. It's both a symbolic gesture to cleanse himself of what his mother did to him, but an uncomfortable descent into inescapable madness. "Don't Go in the House" peppers in a wonderfully weird psychological element, as well. It's unexpected but adds an even deeper emotional layer to Donny's character. It's a spooky little campfire tale that you won't soon forget.
If you or someone you know may be the victim of child abuse, please contact the Childhelp National Child Abuse Hotline at 1-800-4-A-Child (1-800-422-4453) or contact their live chat services.
Read this next: The Saddest Character Deaths In Horror History
The post 12 Underrated Slasher Movies You Need To Check Out appeared first on /Film.