Want to start loving your home again or for the first time? These 8 ideas will have your heart fluttering over your home in no time!
Do you really love your home?
It's easy to get swept away by all of the ideas for beautifully organized spaces, gorgeous furniture, artwork, accessories, and decor items that are shared on HGTV, Instagram, and home magazines, but sometimes our love affair with the idea of a dream home can leave us unsatisfied with our current home.
This post contains affiliate links.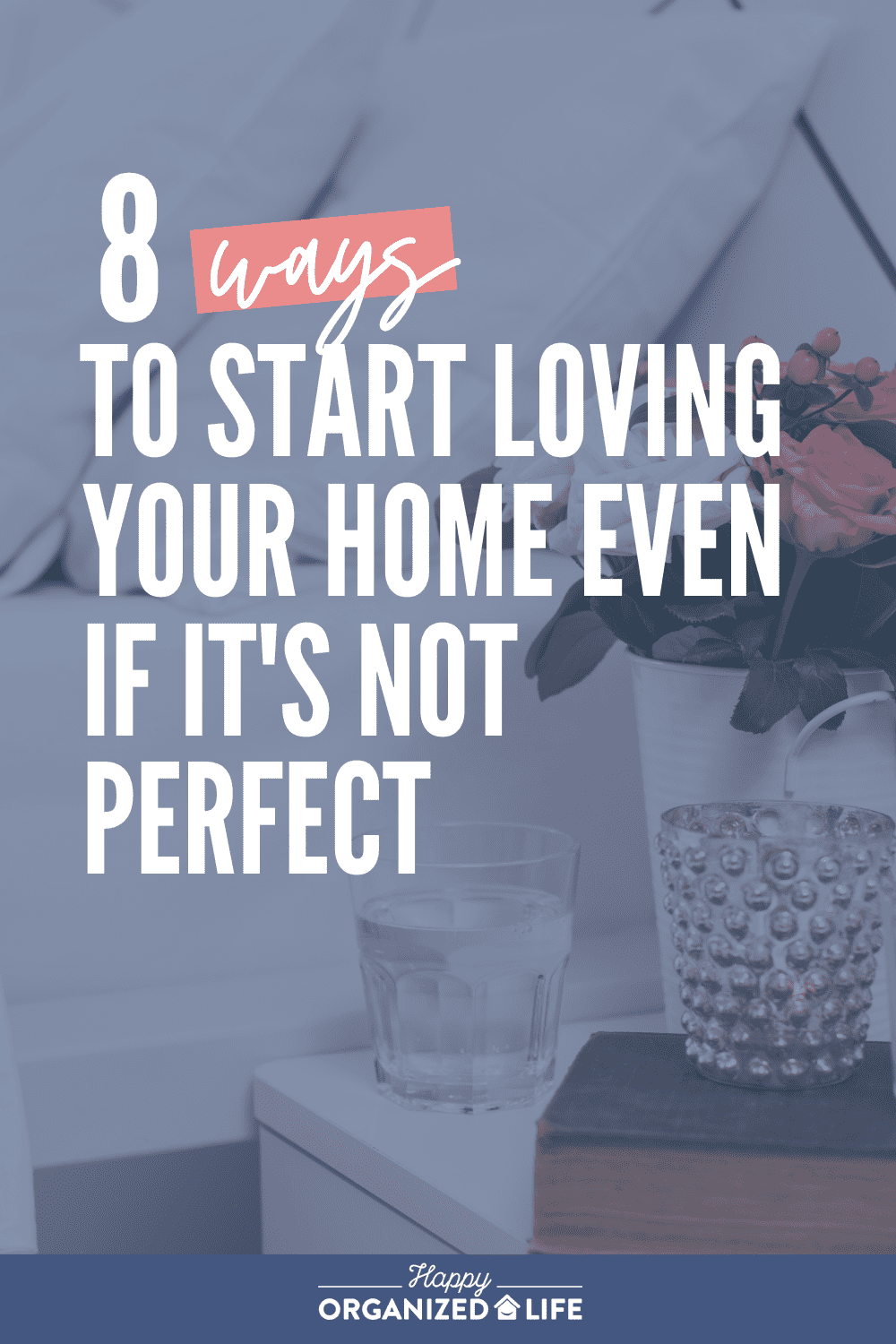 In reality, many of us live in homes that fall short of dream home status, but it's possible to start loving your home just as it is, even if it's not perfect.
Wondering how to start loving your home? Check out these tips!
The truth is that no matter what your home looks like, you can absolutely learn to love it. It all begins with changing the way you think about your space.
Here's a list of 8 simple actions that can help you start seeing your home in a new light and loving it more every day!
Be sure to read until the end where I've answered some of the most burning questions about loving your home.
1. Don't Play the Comparison Game
Comparison is an easy trap to fall into, especially now that we have social media.
"Grass is greener at other people's feet because they watered it. You need not to let your environment control you; you have what it takes to make it look beautiful!"

Israelmore Ayivor
Once upon a time, visiting someone's house was the only way to see what their home was like. 
Today, we can see inside millions of homes thanks to social media, tv, and other forms of entertainment.
Seeing example after example of what may appear to be perfect homes can leave us feeling disappointed in our own if we aren't careful, but it's important to remember things are rarely what they seem.
People share the highlight reels of their lives on social media. While we're looking at endless pictures of their new kitchen or their latest splurge on home purchases, we don't know:
What the other areas in their home look like
What that kitchen or new belongings really cost them
Their financial situation
The current state of their relationships… and so on.
Ultimately, our real life probably doesn't stand a chance when compared to someone else's highlight reel, but that's like comparing our lives to a mirage. It's not real.
If Pinterest, Instagram, or home improvement shows leave you feeling bad about your own home, try taking a break from them and see how you feel. You might be surprised by how quickly you start feeling better about your living space.
2. Look for Reasons to be Grateful
When you're wishing for a different situation or a different home, it's easy to get lost in negative feelings. You can start to blame yourself and let those feelings of failure or disappointment grow until they become the central focus of your life. Don't let not loving your home take over your entire life!
Look for reasons to be grateful. One of the best ways to start loving your home, no matter what is to focus on gratitude. Think about the blessings in your life and how lucky you are to have a roof over your head. Scientists actually proved that you can't feel negative emotions while feeling grateful.
How do you start feeling more grateful and loving your home more? Begin with questions like:
What are the best things about your home?

What benefits do you get from living in your home?

What makes your home special?
Add as many questions to the list as you need to until you start to feel your internal state shift from discontent, anger, or frustration to genuine thankfulness. You might be just one question away from feeling better about your house!
3. Loving Your Home Starts With Decluttering It
A cluttered home feels:
Messy
Disorganized
Overwhelming
Stressful
The reality is that a cluttered home can make you feel bad. Truly! Clutter hs been proven to cause an increased amount of cortisol in women (aka a higher level of stress), and it's hard to feel at peace in your home when the condition of it is stressing you out.
Women who live in a cluttered house frequently report feeling anxious, overwhelmed and even depressed by their homes. Excess clutter can even make you feel unworthy and ashamed of where you live because your home isn't tidy and organized.
Looking at cortisol (aka the body's main stress hormone), a 2010 study focusing on dual-income married couples in the L.A. area with at least one school-aged child found that women who thought their homes were cluttered had increased levels of cortisol throughout the day.
In comparison, most of the men in the study both did not perceive their homes as cluttered in the first place, and their cortisol levels tended to drop over the course of the day.
While women who were responsible for more of the housework continued to feel stressed even once they got home, men were able to relax at home and their stress levels dipped accordingly.
Although these couples shared the same homes, they had very different perceptions of when their homes were 'cluttered.' Predictably, women who took on more of the burden of decluttering were also more critical of the state of their homes.

via RealSimple.com
Going through your home, room-by-room, and cleaning clutter is an essential step in creating a home you can truly love.
Getting rid of clutter and letting go when you have too much stuff does wonders for your life in general too. It not only helps to reduce stress, but it also gives you breathing space and eliminates, or at least shortens, what can feel like a neverending list of things to do.
If you're not sure how to declutter or where to start, you're in the right place. I've created a bunch of posts all about home organization, getting organized, how to reduce clutter, and tidying up. These posts, in particular, are a great place to start for helpful decluttering tips:
Quick Decluttering Tasks
If you want to declutter your house but feel overwhelmed because you see chaos everywhere you look, please rest assured that's totally normal.
Organizing your home will take time. I like to remind people that their homes probably didn't become cluttered overnight so the process of becoming uncluttered will take some time.
The good news is a lot of decluttering tasks can be fit into the nooks and crannies of every day life. We don't have to have a huge block time to make progress.
Here are some quick decluttering jobs you can do in ten minutes or less so let's set a timer and get started!
Empty a drawer
Take care of a pile
Empty the garbage
Recycle junk mail
Purge your fridge of any old or expired foods and condiments
Clear the top of your dresser
Discard expired cosmetics and personal hygiene products
Organize food storage lids
Clean out your purse
Shred paper clutter
If you don't want to declutter your home alone, you don't have to! I have a great community on Facebook called the Declutterathon. It's filled with people who are clearing clutter and learning how to let go. It's an amazingly supportive and kind community, and I've had multiple people tell me it's their favorite group on Facebook, which I take as very high praise. We'd love to have you join us!
4. Have an Easy to Manage Cleaning Routine
Another benefit of decluttering your home is that chores and cleaning up becomes easier. Keeping everything organized and tidy can actually eliminate 40% of housework!
A clutter-free, organized home is a lot easier to clean because you don't have to spend time moving piles of stuff out of your way before the cleaning can begin.
This doesn't necessarily mean you need follow a strict, regimented cleaning schedule. In fact, it's important to remember that life happens (especially with kids at home) and have realistic expectations. You can't always complete everything on your to-do-list 100%, and that's okay! Getting something done is always better than nothing.
Ultimately, you want to create a cleaning routine that works for your life and will help you stay on top of your most important tasks.
I have a bunch of ideas for cleaning trackers and schedules in this minimalist bullet journal ideas post. I am pretty certain you'll find what you need to plan your routine at a glance!
5. Create a Plan of Action for Making Changes
There are probably things about your home that you wish were different, and that's okay! We can love our homes and still want to change things.
Maybe certain pieces of furniture are too large for your space, or you wish you had more privacy or as much natural light as possible. Maybe you no longer like your current color scheme or you've outgrown your decor.
Whether the changes you want to make are big or small, you can address them while still appreciating and loving your home as it is. Here's how:
Step 1: Make a List
Think about creating a plan of action with the different changes you want to see. Begin by making a list of the things you would like to change in your home.
Think about (with absolutely no limits):
How do you feel in the space?
Does the area function well?
What do you love most about your home?
What are the things you've always wanted to change?
How much time and money do you have to invest in your home or project?
How long do you plan on being in this home?
Step 2: Prioritize the List
After you've made a list of the changes you'd like to make in your home, you'll want to sort the list into three categories. What can you change immediately, eventually, and never?
Immediate Changes
Things you might be able to change immediately are paint, decor, and furniture. Usually, the smaller and less expensive the change, the faster it can take place.
Eventual Changes
Changes that might fall into the "eventually change" category could include tasks like remodeling rooms, jobs that need to be done during a different season (for example, yard work), or jobs that are very time-consuming or expensive.
Never Changes
Things that may fall into the "never" category would be things like the location of your home or anything that's too difficult, large, or expensive to undertake.
If the home you're currently in isn't the home you anticipate being in forever, be sure to write down the things you don't like and can't change about your current home so you can avoid them in the future.
Sort the Changes
Take your big list of things you don't like about your home, and sort them into one of the three change categories above: immediate, eventual, or never. 
Make Peace With The Things You Can't Change
While there are a lot of things we can change about our homes, some things are just too big, difficult, or impossible to tackle.
There's no point in being frustrated or angry about things we can't change so if you find that your "never" list is looking a little long, you really only have two choices: love your home for what it is or start looking for a new one. 
There's no point in being frustrated or angry about things we can't change. If you don't like and can't change something in your home, but it's only a minor inconvenience, try looking at it as an opportunity to get creative.
An awkward corner could become a really cool reading nook or storage space, and that small cabinet under the stairs could be a cool hideaway for kids.
Step 3: Schedule the Changes to Start Loving Your Home More Today
Now that you've daydreamed about the changes you'd like, it's time to make them happen.
The best way to make your dreams come to life is to schedule when these changes can take place.
Step 4: Act Now!
Once you schedule the changes, it's time to get to work!
Even if your list feels long now, each task you tackle will bring you one step closer to really falling in love with your home.
6. Loving Your Home More: Make it Pretty
One of the best ways to start loving your home, no matter what the situation, is to make it pretty, and no, you don't need a home decorator to do a great job.
When it comes to decorating, it's so important to decorate according to your own taste.
It really doesn't matter what's trendy, if you like, go for it. That doesn't necessarily mean you have to go out and buy a bunch of new stuff though. In fact, I highly recommend you don't do that.
It's best to shop your home first. Try moving décor, furniture, and other items you already like pictures or plants to new spaces and see how they feel. Sometimes a simple change in location or room can make an old familiar piece feel brand new again.
There are a lot of easy and quick changes you can make to transform a space. Many are even appropriate for a rental unit or apartment, but be sure to check with your lease or landlord if you're unsure.
Quick changes to refresh a space:
Fresh flowers

Hanging art

Rugs

Peel and stick wallpaper

New throw pillows or pillow covers

New curtains, blinds, or window treatments

Furniture covers
Throw blankets
Scented candles
Lamps
Shelves with cute decor
Different lightbulbs
DIY projects
7. Personalize Your Home 
One of the best ways to start loving your home, no matter the situation, is to personalize it. Breathe your own personality into your space in a way that feels genuine to you.
You can start by hanging some family photos. I absolutely love these two options you can order today from Amazon:
10 Piece Black Gallery Wall Picture Frame Set
Picture Collage Photo Display With Blackboard and Rustic Feel
These are great ways to get your favorite pictures off of your phone and out where you can actually enjoy them!
You can also personalize your home with your own paintings, hobbies, awards, and family heirlooms. These special and unique touches turn what might otherwise feel like a cold, impersonal showroom into a well-loved home. A beautiful home is one that tells the story of the people who live there.
8. Make Memories and Have Fun
If you really want to love your home, start creating fun and important memories there. After all, it's hard to hate a place that is the backdrop to your most special memories like your child's first steps or gathering for the holidays.
Here are some fun and creative ways to make memories in your home:
Have friends over for a board game night
Throw a small dinner party
Host an extended family gathering on special occasions or holidays like Thanksgiving or Christmas
Have at-home date nights with your partner
Plant a garden in the backyard
Here's a "how to make a memory" hack, if you're spending time with people you love and enjoy being around, you're probably going to create a great memory.
FAQs about Loving Your Home
These are some of the most frequently asked questions I get when it comes to loving your home:
How Do You Make Your Home a Place You Want to Be?
Start by asking yourself:
How do you want to feel in your home?
What kind of mood are you trying to create?
What kinds of things do you want to do there?
Make those visions and dreams come to life, and you'll create a place you never want to leave, imperfections and all.
How Do You Make Your House Feel Special?
Making your home a special place doesn't have to be complicated. Here are a few things you can do:
Eliminate Clutter
When you clear the clutter from your home you're finally able to see and enjoy the things that are truly important to you.
Organize Everything
When every item in your home has a place to go life gets a lot easier. You'll no longer be wasting time looking for items or having to tidy before cleaning, which makes living in your home a more enjoyable experience.
Make It Yours
Whether you're in a short term rental or your forever home, you'll be happier in your space if you actually make it yours. Fill it with things that you like and mean something to you.
Hang family photos
Display items that are important to you
Display your hobbies and interests in your home
What Do You Like to Do at Home?
We all have our favorite at-home activities. Staying at home during quarantine and lockdowns over the past few years brought many of us a new appreciation for our living spaces.
There are so many things to do at home for fun, as a hobby, or even to upgrade your skillset, and bring some additional cash.
Here are some ideas:
Puzzles
Coloring
Reading
Writing
Blogging
Organizing
Listening to Podcasts
Crafting
Yoga
Watching Movies and TV Shows
Cooking and Baking
Painting
There are, of course, many more things you can do at home. It all comes down to what you personally enjoy and can do at home.
Do You Love Your Home? Why or Why Not?
To love your home better, here are 8 things you can do:
Keep it clutter-free
Clean
Make time for your home
Find your decor style
Create daily and weekly routines
Make it pretty
Personalize your home
Make memories and have fun
If you do these 8 things, you'll find yourself loving your home more and more.
Loving your home matters, and if you're not 100% happy with your home and you're looking for things you can change, even as a renter, this post is for you. Implement these 8 tips into your daily schedule, and you'll find your home a cozier, happier place in no time.
These 8 tips will help you make your home feel more like home, regardless of whether or not it's perfect! Remember, you don't need a huge budget or a ton of free time to make your home feel more like you. All it takes is a little bit of creativity, initiative, and willingness to experiment with new ideas and try new things!
Remember, your home doesn't have to be perfect to be loved. It just has to be yours. The more your home is a reflection of you, the more it will feel like a sanctuary and the happier you'll feel there.
Which of the tips above did you like the most? Which is the first one you'll try out? I'd love to read about it in the comments below!
If you've started loving your home more already, you'll want to check out these other posts from the blog:
The post 8 Ways to Start Loving Your Home Even If It's Not Perfect appeared first on Happy Organized Life.