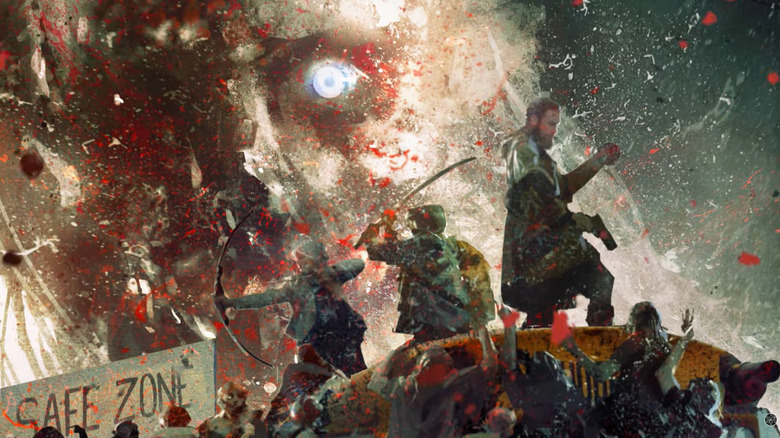 Here's an important question: can you Kickstart a tabletop campaign as a holiday gift? With so many board games getting the crowdfunding treatment these days, there's something bittersweet about pledging a game to someone and having them wait 12-18 months for delivery. Sure, they may get a fancy title, but who knows if they'll even live nearby when the gift hits fulfillment?
The whole point is gifting games you want to play, right? Right.
Still. In this month's installment of Cardboard Cinema, we're breaking down some pretty big news in the world of tabletop. From popular television shows and video games going cardboard to a classic board game getting the Hollywood option, a lot happened this past November. It's the kind of thing that makes you want to go gifting — if you know that your friend group won't be breaking their lease anytime soon. You're not a saint, after all.
The Walking Dead Gets Dice-Y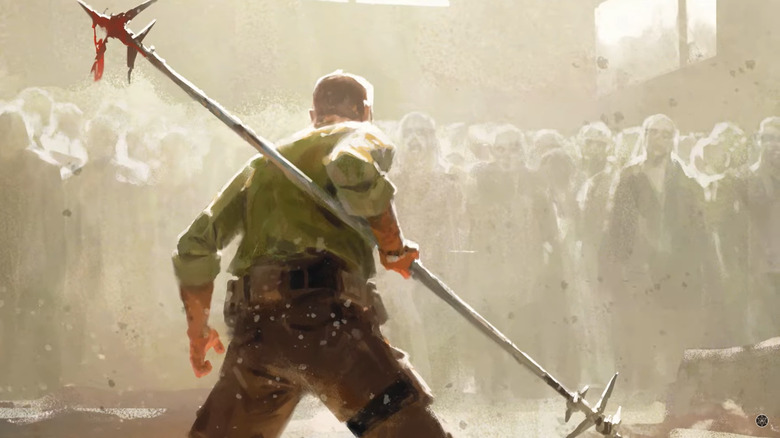 Like many erstwhile zombie fans, I parted ways with "The Walking Dead" long ago. But if anything could set the hook for more zombie mayhem, it would not be another spinoff series. No, the most exciting thing to happen to "The Walking Dead" is the recent announcement that AMC is producing a high-quality TTRPG set in their universe. That means these survivors are mine to kill as I please.
Even those skeptical of more "The Walking Dead" adaptations may find a reason to get excited about this game. Produced by the award-winning publisher Free League Publishing – whose catalog of highly-regarded TTRPGs includes the "Alien" and "Blade Runner" series — this version of "The Walking Dead" promises to be the kind of roleplaying system that rewards players first, fans of the show second.
But perhaps the most exciting part of the announcement was the promise of a produced actual play series overseen by former "The Walking Dead" and "Fear the Walking Dead" executive producer Scott M. Gimple. According to Polygon, the series will be produced by AMC Digital Studios and "event find its way" onto streaming platforms. Given that the actual play shows little more than Zoom and cosplay, it is easy to wonder what an actual play series could look like with an entire studio budget behind it. You know that actual plays are reaching maturity when even they have a Blockbuster and an independent studio system to call their own.
The Dimension 20 Horror Season Is Here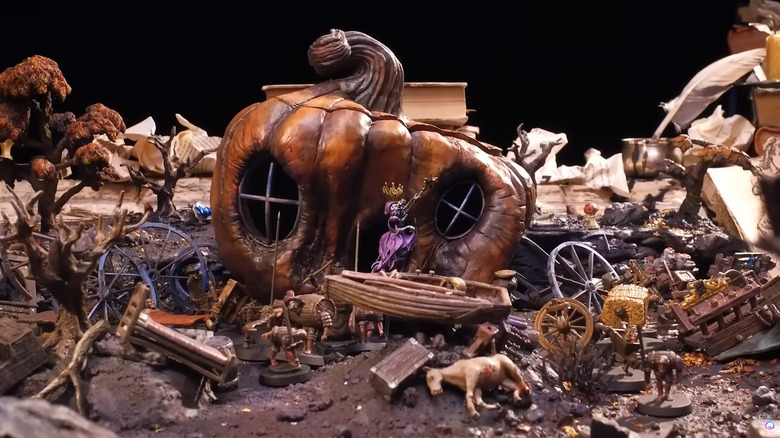 Like many people, my obsession with tabletop roleplaying games started with a popular web series. For some, that infection vector is "Critical Role," but for me, it was the band of intrepid heroes that comprise DROPOUT's "Dimension 20" roleplaying series. The show quickly became my pandemic safety net — if I had a complaint, it was that the show tended to veer away from horror, the genre that drives the majority of both my film and tabletop criticism.
Until now. Earlier this year, DROPOUT announced "Never After," the new season of "Dimension 20" that is explicitly designed as a horror campaign. Drawing on the characters from popular fairy tales, this season brings together the core cast from previous seasons to play characters like Pinocchio, Puss in Boots, Little Red Riding Hood, and the malformed Frog Prince.
The first episode dropped earlier this week, and while the first hour may not precisely be confused with a Tobe Hooper film, this new season represents a marked departure from the storytelling of yesterday. And if you have not taken the opportunity to check out the DROPOUT streaming service — if game show clips or Josh Ruben shenanigans have yet to grace your timeline — then now is the perfect time to delve into their wealth of content. There's no better way to whet your appetite for TTRPG campaigns than watching a group of talented improvisers find the humor — and the horror — in classic literature.
Terraforming Mars Goes Hollywood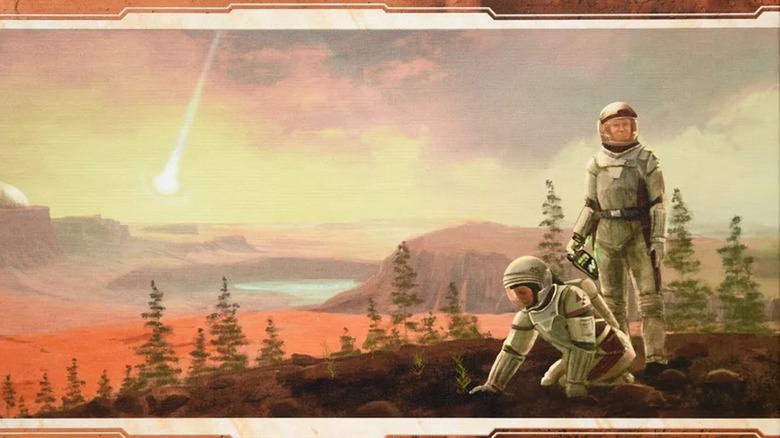 In movies, Mars is where people go to die. From "Red Planet" to "Ghosts of Mars" to "Total Recall," very few good things happen when humanity sets its sights on our sister planet. So one can only wonder what the vision for life on Mars is for production company Cobalt Knight. The newly formed studio recently acquired the high-concept board game "Terraforming Mars" for a seemingly bloodless series adaptation.
According to Deadline, studio co-founder Christopher Knox sees direct parallels between "Terraforming Mars" and historical dramas steeped in political intrigue. "The game exhibits strong parallels to the Age of Discovery," Knox said," when European superpowers were sailing around the globe trying to lay claim to everything they touched." Given this, it's not hard to see potential opportunities in the critical success of shows like Apple's "For All Mankind." Like "The Martian" before it, that show turned interstellar exploration into a tense battle for resources and human ingenuity.
Regardless of how "Terraforming Mars" ends up, this is the latest Hollywood trend toward tabletop adaptations. Earlier this year, Paramount optioned the rights to "Alice Is Missing," a silent roleplaying game from director Becca Gleason. Given the abstract nature of video games — all the name recognition without the burden of established canons — it will be interesting to see if studios continue to look to board game shelves for inspiration. But with both titles already on mine, it seems like I remain one step ahead of the Hollywood curve. Go me.
The Last Of Us Adds A Board Game To Its Big 2023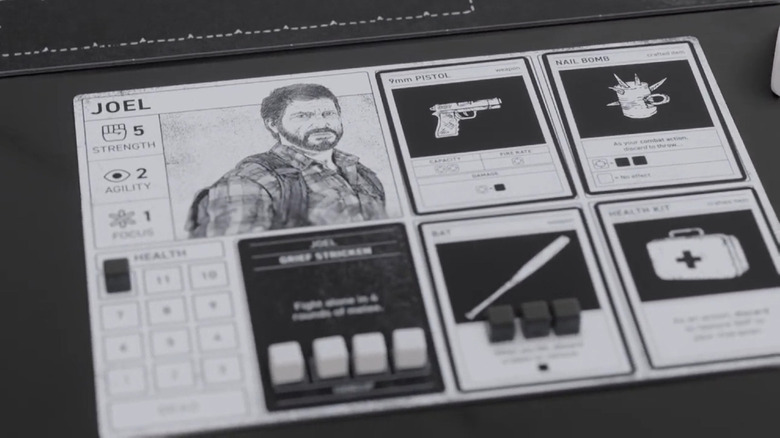 Behold, the year of Joel and Ellie. With the "The Last of Us" franchise headed to HBO in a little over a month, 2023 was already shaping up to be an exciting year for fans of the popular video game. But the latest addition to the "Last of Us" universe comes in the form of plastic and cardboard. This past month, UK design studio Themeborne launched a Kickstarter for "The Last of Us: Escape the Dark," a modular tabletop game based on the studio's popular Escape the Dark system.
In the game, players will use RPG-like mechanics to protect their band of survivors. Players can also engage in combat with Clickers and other survivors, rolling dice to match outcomes to different threats. Like the other games in the Escape the Dark universe, the "Last of Us" adaptation will feature a black-and-white color scheme, making this a beautiful piece of counter-programming to all the lavishly illustrated titles on a player shelf.
And while the Collector's Edition of the game is only available during the campaign, the Standard Edition promises to be available at game stores. That means, unlike some Kickstarter titles, "The Last of Us: Escape the Dark" is a game that can continue to grow its audience throughout 2023 as new people discover its source material. That might make "The Last of Us" the biggest crossover success for the video game industry yet.
Read this next: 17 '80s Action Movies You Definitely Need To See
The post Cardboard Cinema: 2023 Promises Big Adaptations of The Walking Dead, The Last of Us appeared first on /Film.