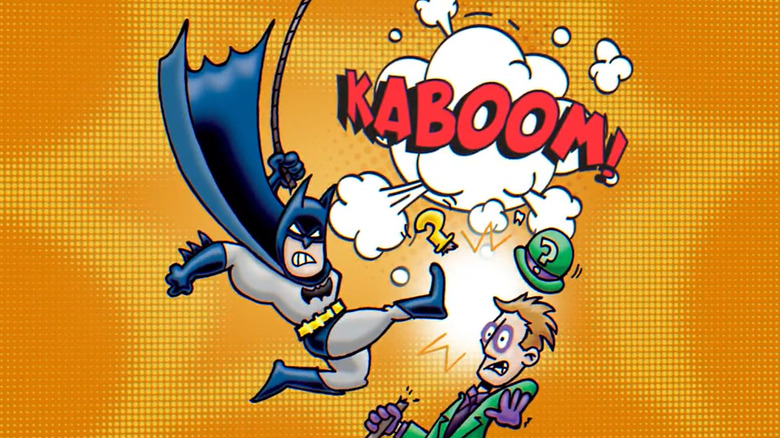 (Welcome to Cardboard Cinema, an ongoing series where we look at board games inspired by or connected to our favorite media. In this edition of our monthly round-up, we take a trip to SXSW, celebrate a little Marvel Knights, and find our fear in "Dead By Daylight.")
Over the years, tabletop publishers have encouraged a healthy skepticism around licensed properties. Too many game adaptions feature fantastical elements and mediocre design, leading to yet-another box doomed to sit on your shelf. But games -- like movies -- are about stories, and the ones we create at the table are often just as important as the narrative we find in the rulebook.
That's why, once a month, we'll take a deeper dive into the connections between media and tabletop. That might mean licensed properties, video games that wear their inspirations on their sleeve, or even the ties between tabletop and current events. Call this an exercise in optimism -- as long as there are stories to be told, we will continue to look to the world of film, television, and video games for inspiration.
Turn Back The Clock With Steve Jackson's Munchkin Presents Batman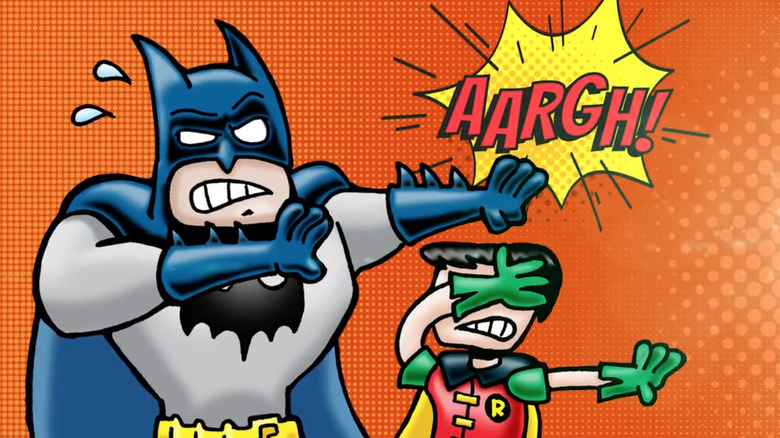 Before the golden age of board games, there were dog-eared stacks of "Munchkin" cards. The popular series from Steve Jackson Games combines a few simple actions -- explore dungeons, equip items, collect loot -- with the unique fun of creating temporary alliances to screw over your friends. Yes, each game of "Munchkin" ends with the same angry kingmaking, but when you're a broke college sophomore without a car, this was the very pinnacle of board game prowess.
And although "The Batman" is receiving great reviews for its "Se7en"-inspired narrative, one might argue that the franchise could use a little bit of throwback goofiness for our tables. With John Kovalic's signature artwork a perfect match for the '60s-era comedy of the franchise -- the announcement video highlights items like the Flaming Marshmallow Flinger -- this might be a perfect complement to the "grown-up" adaptations of "Batman" that already exist. So if this sounds like your jam, head over to Kickstarter and add a little bit of Bat-backstabbing to your table.
Restoration Games Teases Moon Knight In Unmatched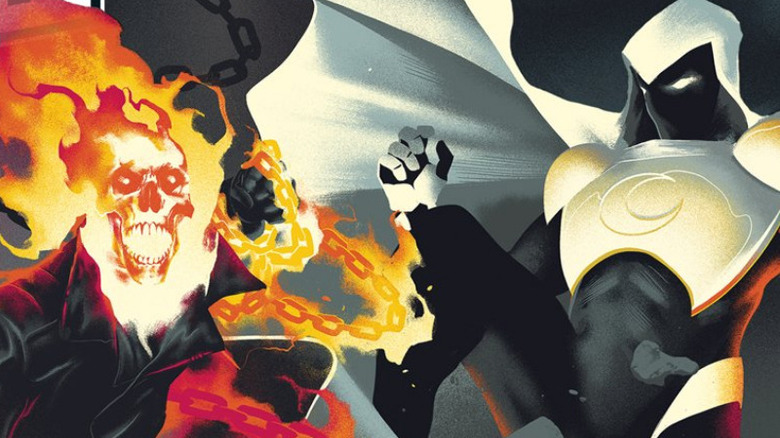 In December 2020, we offered an exciting first look at the new "Unmatched" sets from Restoration Games. Leaning into the Marvel license managed by the team at Mondo, these new "Unmatched" collections would feature iconic characters like Daredevil, Black Panther, and Moon Knight. And since the latter is about to make his small-screen debut on Disney+, what better time for the publisher to share a teaser of how Moon Knight and his varied personalities will play out?
For those new to the series, "Unmatched" is a miniatures dueling game that draws on literature and film to create unique, asynchronous battles. The game even has a small but fiercely dedicated player base with a regular calendar of new releases. The player-operated UM League hosts and authenticates tournaments between professional "Unmatched" players. Throw in 12 unique characters from the four new Marvel sets, and the game promises countless replays in the months to come. We recently had a chance to test out the first set, Unmatched: Redemption Row, and you can read our extended thoughts here.
Time To Get "Hooked" On Dead By Daylight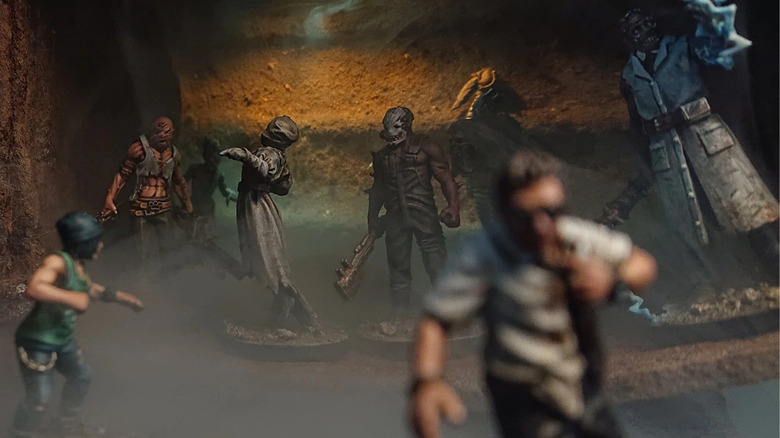 With all due respect to "Friday the 13th: The Game," "Dead by Daylight" remains the asymmetrical horror game to beat. Develop Behaviour Interactive's four-vs-one slasher is a riotous good time with friends and strangers alike. Over the past few years, "Dead by Daylight" has also unpacked some complicated legalese to bring horror movie icons -- like Pinhead and Pyramid Head of "Hellraiser" and "Silent Hill" fame -- into the game. That makes it the cooperative-competitive video game of choice for horror fans everywhere.
And with the tabletop slasher still something of an untapped genre, fans of board games and videos games alike are excited to see publisher Level 99 Games bringing the popular video game to life. Outside of a few product photos, not much is known about the board game version of "Dead by Daylight," but a Kickstarter campaign has been announced for some time soon. We'll soon know more about how Level 99 Games translates some of the game's signature mechanics -- including the delightful and horrifying meat hook impalement -- once the project goes live.
Tabletop At SXSW
For a festival born of music and bred of technology, Austin's SXSW festival has come to represent every corner of the entertainment industry. And with the festival returning to its in-person roots this week, there is no better time to acknowledge one of the things that makes the festival unique: its inclusion of a Tabletop Game of the Year category in its annual list of Gaming Awards.
While SXSW does not precisely exclude tabletop coverage -- last year's hybrid festival featured the above panel on the popularity of board games during the pandemic -- its status as a technology festival means that there is always more coverage of virtual and augmented reality over cardboard games. Despite this, SXSW includes a special Tabletop Game of the Year category in their Gaming Awards section. Publishers do not shy away from mobilizing their audiences to try and earn this designation.
And while voting has long since closed, this year's nominees are "Cascadia," "Dune: Imperium," "Oath: Chronicles of Empire & Exile," "Roll Camera! The Filmmaking Board Game," and "That Time You Killed Me." Several of these titles even made our own recommended Best Board Games of 2021 list. If there was such a thing as a board game award season, one might be tempted to regard this as a preview of the Spiel des Jahres shortlist.
Read this next: 14 Sequels That Truly Didn't Need To Happen
The post Cardboard Cinema: Batman and Marvel Heroes Take Flight in the Tabletop Space appeared first on /Film.