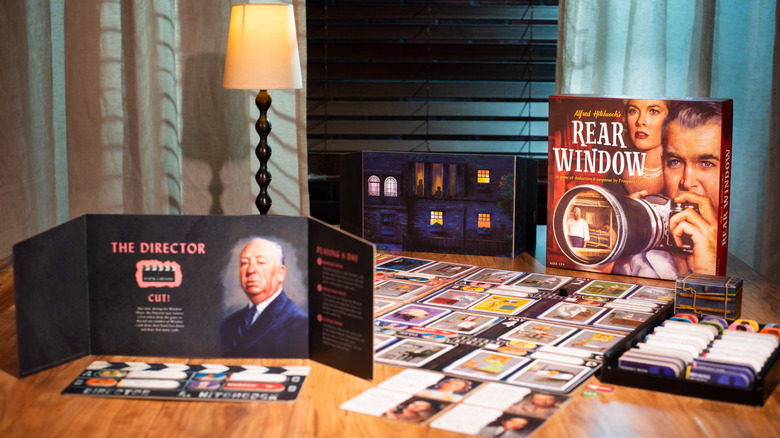 (Welcome to Cardboard Cinema, an ongoing series where we look at board games inspired by or connected to our favorite media. In this edition of our monthly round-up, we take a look at some high-profile board game adaptations, including a surprising interpretation of one of Alfred Hitchcock's most beloved films. Oh, and dinosaurs.)
If April showers bring May flowers, then what do mayflowers bring? Why, several high-profile licensed board game adaptations for fans of movies and tabletop culture alike! In this month's Cardboard Cinema roundup, we're looking at an embarrassment of riches, including -- but not limited to -- an official adaptation of "Escape From New York" and the "Jurassic World" board game adaptation you didn't know you always wanted.
Let's Have A Toast For The Star Wars Villains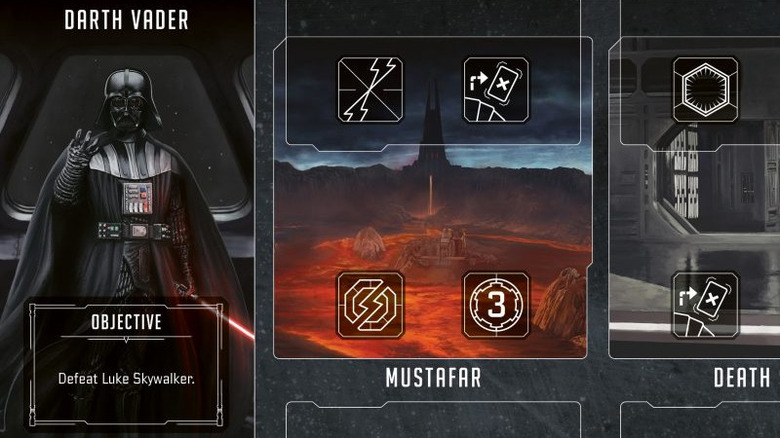 Let's be honest: the best thing about Disney movies is the villains. From Prince John to Syndrome, villains have carved out a beloved niche in the Disney universe. And with Disney currently holding the reins of the "Star Wars" universe -- yes, that means Princess Leia is a Disney Princess -- it was only a matter of time before some of the iconic Sith lords got their moment in the tabletop spotlight. Enter "Star Wars Villainous."
Last month, fans were thrilled to learn that game publisher Ravensburger will bring its popular family game "Villainous" to the "Star Wars" universe. In "Villainous," a family-style board game, players take on the role of iconic Disney villains as they amass power tokens and compete to complete their unique objectives. With just the right balance of theme and resource management, "Villainous" remains an excellent entry point for a new generation of players.
We were lucky enough to connect with Ravensburger for a sneak peek at some of the game details and a few key movers (the primary tokens for each character). During the presentation, the team highlighted the unique design elements that went into each mover, with each model incorporating the lightsaber design of their corresponding villain. The standout, unsurprisingly, was the mover for General Grievous, which, in profile, manages to incorporate the unique slump of the character in the final design. No word yet on whether the piece will provide the General's signature cough.
And while the "Villainous" universe continues to expand rapidly, families will have to wait a little bit to add the "Star Wars" set to their collection. This version of "Villainous" is set to hit stores sometime in August 2022.
There's No Escaping Escape From New York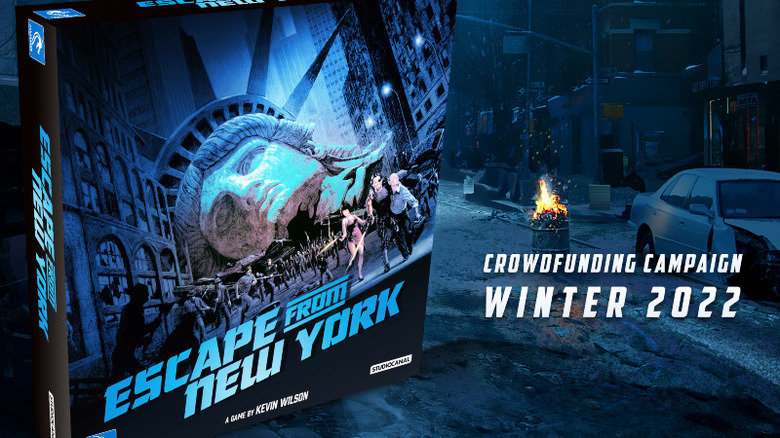 Whoever said you could have too much of a good thing must not have been a fan of filmmaker John Carpenter. While Carpenter's influence looms large for movie and music lovers alike, the director's work has also become a source of inspiration for board game developers. But while fans of "The Thing" and "Big Trouble in Little China" have had their fill of cardboard, we diehard "Escape From New York" fans have gone far too long without a tabletop adaptation.
Thankfully, the industry seems to agree. Last week, it was announced that "Escape From New York" was getting its own cooperative board game adaptation. Fans were especially excited to learn that the game would be designed by Kevin Wilson, the mind behind wildly popular games like "Descent: Journeys in the Dark" and "Arkham Horror." The news was announced by Italian game publisher Pendragon Game Studio, who also shared that a crowdfunding campaign is already set for Q4 of 2022 (so budget accordingly).
This is the second bite at the John Carpenter (big) apple for Pendragon. In 2020, the studio launched a crowdfunding campaign for "The Thing - The Board Game" – not to be confused with "The Thing: Infection at Outpost 31," the 2017 title from Mondo Games – that is just now hitting mailboxes across North America. And while not much is known about the game, the studio hinted that all four characters from the original film will be playable in the game: Snake Plissken (played by Kurt Russell), Brain (Harry Dean Stanton), Maggie (Adrienne Barbeau), and Cabbie (Ernest Borgnine). Again, it's early, but if Wilson and company can pull this off, they'll have earned the title of A-Number One.
You May Want To Endorse This Park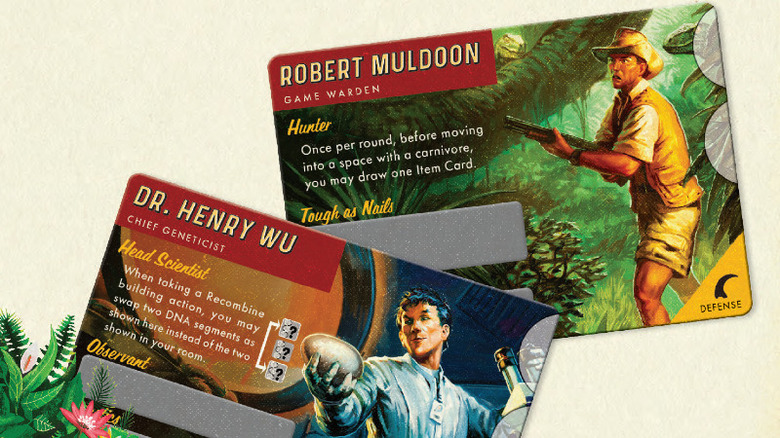 It is a well-known fact that board games should not be judged by their pieces; after all, some of the best titles ("Terraforming Mars") are notorious for their simplistic or even underwhelming artwork and component design. But if you're looking to make a great first impression, you can't do much better than "Jurassic World: The Legacy of Isla Nubar," the new game from developer Prospero Hall. From the retro art design to the frequent appearance of Mr. DNA in the rulebook, "Jurassic World" is one of those games that leans heavily into its theme – and looks all the better for it.
As a cooperative legacy game, "Jurassic World" will allow players to recreate their favorite experiences across the film franchise. And in keeping with the tradition of classic legacy games such as "Pandemic: Legacy," players will manage an evolving board throughout the game's 12 scenarios. If the thought of putting down stickers or ripping up cards makes your heart beat just as much as Mr. Arnold's severed arm, then "Jurassic World" is probably already on your preorder list.
Unlike many games that appear on platforms like Kickstarter and Gamefound, "Jurassic World: The Legacy of Isla Nubar" is not a now-or-never proposition. The game promises to be readily available at retailers soon. However, backers can still be treated to various Kickstarter exclusives, including deluxe tokens, amber miniatures, and an art sleeve that will help the game pop on your shelf. But completionists will need to act fast: "Jurassic World" is down to its final hours on the platform and will officially wrap on April 11.
Parade Your Crime In Front Of Rear Window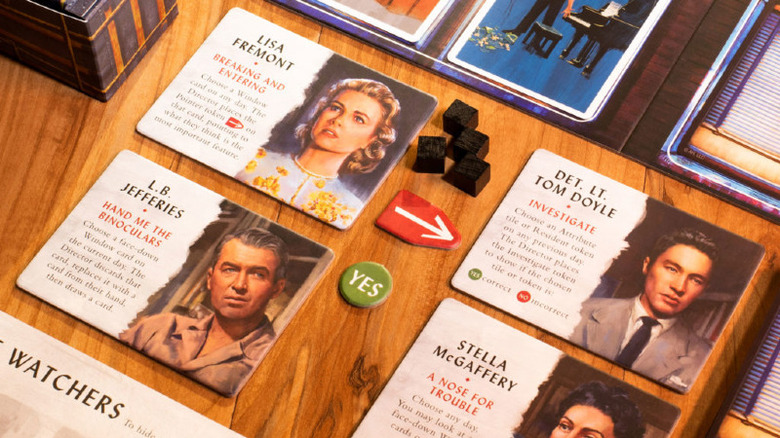 And speaking of Prospero Hall, "Jurassic World" is not the only high-profile movie adaptation coming down the pipeline. Last month, Funko Games announced that their latest collaboration with the studio would be for an adaptation of "Rear Window," Alfred Hitchcock's classic of urban paranoia. Pitched as a game of "social deduction and suspense," the game draws heavily on both the original film and its morbid inspirations, offering a game that looks much farther back than the '80s and '90s for its inspiration.
According to the press release, "Rear Window" puts one player in the role of the Director -- the Master of Suspense himself -- as they attempt to pass along clues to the other players. Tabletop critics have pointed out the comparisons to "Mysterium," another game where players try to puzzle out opaque clues from an omniscient entity. Even if "Rear Window" is little more than a "Mysterium" variant with a Hitchcockian theme, that should be enough to attract mystery fans not used to seeing their favorite titles get the tabletop treatment.
Read this next: Single-Season '80s Sci-Fi And Fantasy Shows That Deserve A Second Shot
The post Cardboard Cinema: Escape From New York, Jurassic World, and Alfred Hitchcock Get New Board Games appeared first on /Film.