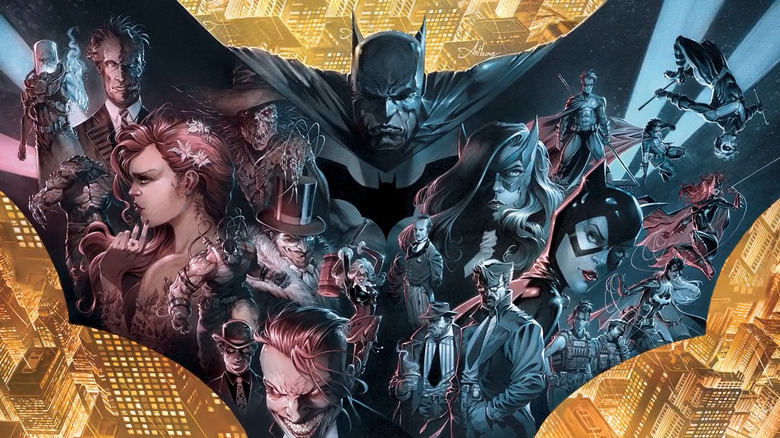 (Welcome to Cardboard Cinema, an ongoing series where we look at board games inspired by or connected to our favorite media. In this edition of our monthly round-up, it's all about "Dune," Batman and ... quaint reality shows about baked goods?)
The IP gods giveth, and the IP gods taketh away. It's been a quiet month for tabletop adaptations. Unlike last month -- where suddenly every '80s movie ever released was getting a TTRPG adaptation -- this month is just a smattering of different titles that pop culture-savvy gamers might like. This includes major award recognition for "Dune: Imperium," a literal mountain of Batman miniatures, and the friendliest reality television adaptation you'll ever find on your table.
Dune: Imperium Is Nominated For The Kennerspiel Des Jahres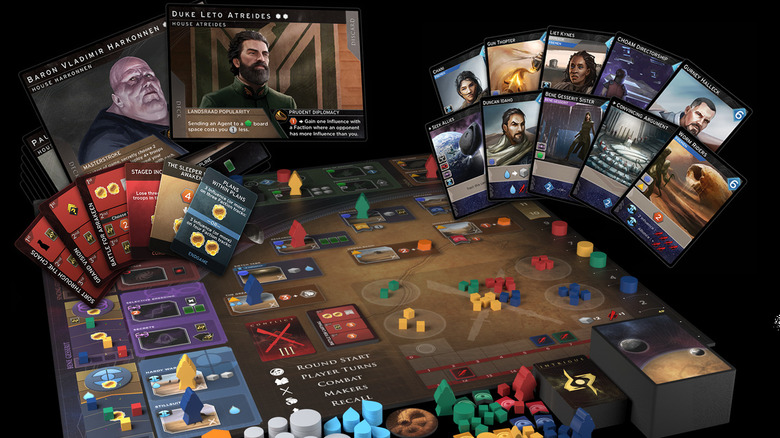 When it comes to board games, no recognition is more prestigious than the Spiel de Jahres awards. The German "Game of the Year" awards are the pinnacle of the industry, with the winning game routinely going from hundreds of units sold to thousands or even millions of copies in circulation. And with the 2022 nominees just announced, fans of movie adaptations have to be thrilled to see "Dune: Imperium" on the shortlist.
As a reminder, the Spiel de Jahres awards fall into three categories. The main category is often reserved for family-friendly games, while the other categories -- Kennerspiel des Jahres and Kinderspiel des Jahres -- are dedicated to complex and children's games, respectively. "Dune: Imperium" is joined by two other nominees in the Kennerspiel des Jahres category: "Cryptid" and "Living Forest," both of whom appeared regularly on Best of 2021 lists from board game journalists everywhere.
So let this be your motivation to pick up a copy of "Dune: Imperium." Paul Dennen's game -- which draws its inspiration from the 2021 film adaptation -- is a delightful exercise in worker placement and one that utilizes faction scarcity even better than the now-classic second edition of "A Game of Thrones: The Board Game." Even better, "Dune: Imperium" is widely available through big box retailers like Target. Excellent and accessible -- it does not get much better than that.
It's The Final Hours For Batman: Gotham City Chronicles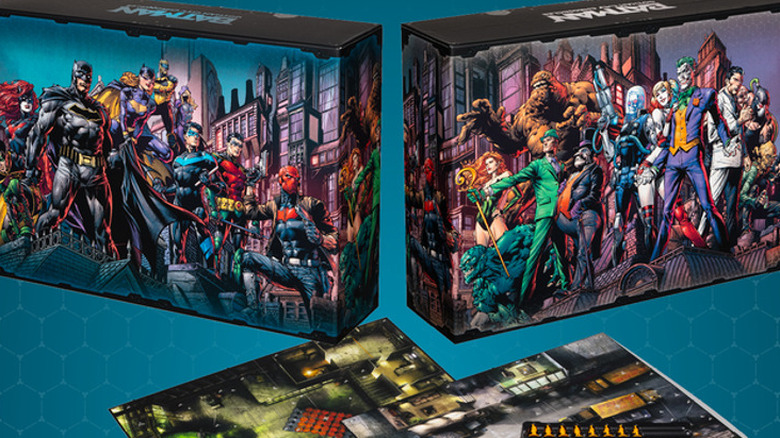 This is shaping up to be a pretty good year for Batman fans. First there's the upcoming "Gotham Knights," an open-world game designed for next generation video game consoles, and now we're in the final hours of "Batman: Gotham City Chronicles," an ambitious crowdfunding campaign for publisher Monolith's host of Batman-related properties. If your favorite Batman stories are the ones you create yourself, then you're gonna love this.
In a neat twist on the normal Kickstarter formula, Monolith has combined two games into one Kickstarter. Fans can choose to back either the miniatures game or the roleplaying game, with the publisher providing full descriptions and stretch goals for each product. It's surprising -- at least to me -- to see a major publisher bundle their products together like this, but considering how long board games and TTRPGs have been treated as twin sons of different mothers, it's nice to see someone attempt to find some common ground between the two fandoms.
For those who cannot get enough Batman in their lives, "Batman: Gotham City Chronicles" packs a legendary punch. And for a whopping $280-plus dollars, you can take home everything: the RPGs, the core boxes, the expansions, every piece of plastic and cardboard needed to turn your kitchen table into the violent streets of Gotham City. That kind of commitment ain't cheap, but plenty of people will pay the price and never look back -- no shame if this ends up being your one big Kickstarter splurge of the year.
Become Star Baker With The Great British Baking Show Game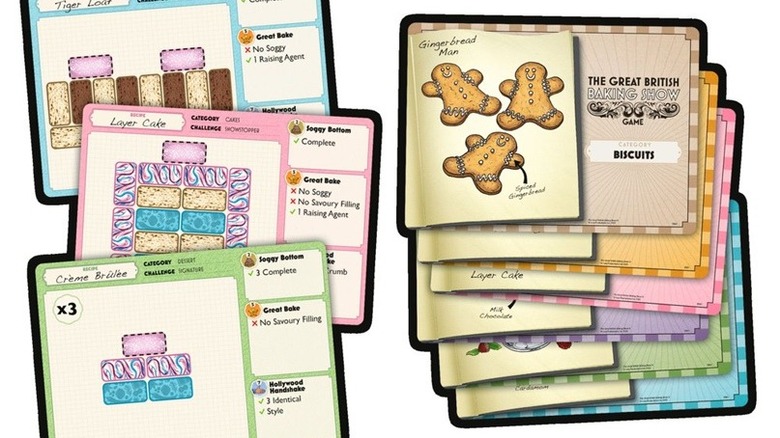 If your plan to become a skilled amateur baker during the pandemic has collapsed in the oven, maybe it's time to set your sights on something a bit more manageable. Why bake when you can pretend to bake in "The Great British Baking Show Game," a new board game from Ravensburger? Play your cards right, and you can enjoy all of the prestige with significantly less cleanup.
For those (somehow) unfamiliar, "The Great British Baking Show" is a reality show centered on an annual baking competition. Amateur contestants from across the UK gather to flash their baking skills and be crowned the best baker in the land. Ravensburger's game will recreate the three-pronged challenges of the show -- the signature bake, the technical bake, and the showstopper -- while also introducing fan favorite moments like soggy bottoms and Paul Hollywood handshakes. The game also includes original artwork from Tom Hovey, the artist whose illustrations are synonymous with the show.
There is one catch -- as reported by Dicebreaker last month, "The Great British Baking Show Game" will not be releasing in the United Kingdom due to "licensing issues." In a way, this is kind of appropriate; the show was renamed "The Great British Baking Show" for American audiences (it's known as "The Great British Bake Off" overseas). Then again, board games do not come with region codes -- I'll bet the American board game plays just as well on the other side of the pond.
Read this next: 95 Best Sci-Fi Movies Ever
The post Cardboard Cinema: Fans of Batman, Dune, and The Great British Baking Show, Rejoice appeared first on /Film.