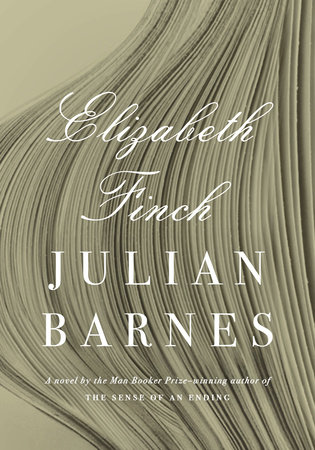 Elizabeth Finch was not in any way a public figure. You will google her with little result. If asked to characterise her professionally, I would say that she was an independent scholar. That may sound like a euphemism, even a truism. But before knowledge became officially housed in academe, there used to be men and women of the highest intelligence who privately pursued their own interests. Mostly, of course, they had money; some were eccentric, a few certifiably mad. But money allowed them to travel and research what and where they needed, with no pressure to publish, colleagues to out-perform or heads of department to satisfy.
I never knew Elizabeth Finch's financial position. I imagined she had family money, or an inheritance. She had a West London flat in which I never set foot; she appeared to live frugally; I assume she arranged her teaching to allow her time for private, independent scholarship. She had published two books: Explosive Women, about female anarchists in London between 1890 and 1910; and Our Necessary Myths, about nationalism, religion and family. Both were short, and both out of print. To some an independent scholar whose books are unavailable might seem a laughable figure. As opposed to the scores of tenured dolts and bores who would have done better to keep silent.
Several of her students subsequently made their names. She is acknowledged in some books of medieval history and female thought. But she was not known to those who did not know her. Which may sound self-evident. Except that nowadays, in the digital landscape, friends and followers have come to mean different, watered-down things. Many people know one another without knowing them at all. And are happy with that superficiality.
You might think me old-fashioned (but my case is not relevant). You might think Elizabeth Finch equally, if not more, old-fashioned. But if she was, it was not in the normal way, that of embodying a previous generation whose truths had now proved wan and withered. How can I put it? She dealt in truths not from previous generations but from previous eras, truths she kept alive but which others had abandoned. And I don't mean anything like "she was an old-fashioned Tory/liberal/socialist." She was outside of her age in many ways. "Do not be taken in by time," she once said, "and imagine that history—and especially intellectual history—is linear." She was high-minded, self-sufficient, European. And as I write those words, I stop, because I hear in my head something she once taught us in class: "And remember, whenever you see a character in a novel, let alone a biography or history book, reduced and neatened into three adjectives, always distrust that description." It is a rule of thumb I have tried to obey.
The class soon shook down into groups and cliques, by the usual method of hazard and intent. Some of it was based on the choice of drink after class: beer, wine, beer and/or wine and/or anything else in a bottle, fruit juice, nothing at all. My group, which shifted easily between beer and wine, consisted of Neil (i.e., me), Anna (Dutch, so occasionally outraged by English frivolity), Geoff (provocateur), Linda (emotionally labile, whether it came to study or life itself ) and Stevie (town planner looking for more). One of our bonds was, paradoxically, that we rarely agreed about anything, except that whatever government was in power was useless, God almost certainly did not exist, life was for the living, and you could never have too many bar snacks in noisy packets. This was a time before laptops in class and social media out of it; when news came from newspapers and knowledge came from books. Was it a simpler time, or a duller one? Both or neither?
*
"Monotheism," said Elizabeth Finch. "Monomania. Monogamy. Monotony. Nothing good begins this way." She paused. "Monogram—a sign of vanity. Monocle ditto. Monoculture—a precursor to the death of rural Europe. I am prepared to acknowledge the usefulness of a monorail. There are many neutral scientific terms which I am also prepared to admit. But where the prefix applies to human business . . . Monoglot, the sign of an enclosed and self-deluding country. The monokini, as facetious an etymology as it is a garment. Monopoly—and I do not refer to the board game—always a disaster if you give it time. Monorchid: a condition to be pitied but not aspired to. Any questions?"
Linda, who often seemed to be suffering from what she quaintly called "heart trouble," asked anxiously, "What have you got against monogamy? Isn't it how most people want to live? Isn't it what most people dream of?"
"Beware of dreams," Elizabeth Finch replied. "Also, as a general rule, beware of what most people aspire to." She paused, half-smiled at Linda and addressed the class through her. "Enforced monogamy is as much to say enforced happiness, which we know is not possible. Unenforced monogamy might seem possible. Romantic monogamy might seem to be desirable. But the first normally collapses back into a version of enforced monogamy, while the second is liable to become obsessive and hysterical. And thereby lies close to monomania. We should always distinguish between mutual passion and shared monomania."
We were all silenced, taking this in. Most of us had had the average sexual and amatory experience of our generation: that's to say, far too much in the opinion of the preceding generation, and pathetically little in the view of the next, pressing generation. We were also wondering how much of what she said was based on personal experience, but none of us dared ask.
Linda, to her credit, pursued the matter. "So are you saying it's all hopeless?"
"How does the witty Mr. Sondheim put it?" And Elizabeth Finch actually half-sang: "'One's impossible, two is dreary, / Three is company, safe and cheery.' Which is one way of looking at the matter, to be sure."
"But do you agree with that, or are you just avoiding the question?"
"No, I am merely offering you the alternatives."
"So are you saying that Etherius was wrong to go to Cologne?" Linda, as we were learning, took classes very personally, even those on medieval religion.
"No, not wrong. We all pursue what we think is best for us, even if it means our extinction. Sometimes, especially if it means that. By the time we attain it, or don't, it is usually too late anyway."
"That's not much help," said Linda, with a kind of whiney fierceness.
"I am not employed to help you," replied Elizabeth Finch, firmly and yet not rebukingly. "I am here to assist you to think and argue and develop minds of your own." She paused. "But since you ask about Etherius, let us consider his case. As Ursula's betrothed, he accepted her conditions: that while she undertook her pilgrimage to Rome, he would study the Christian texts, be convinced of their truths, and be baptised into her religion. How much this must have enraged his father, the King of Anglia and a most notorious pagan, we are not told. But in any case, an angel of the Lord appeared to Etherius, instructing him to meet Ursula in Cologne, where they would suffer glorious martyrdom together.
"What are we to make of this? On the emotional level, we might regard it as an extreme, indeed fanatical example of romantic love. In other hands, it might have a Wagnerian aspect to it. On the theological level, his behaviour might be regarded as a gross form of queue-jumping. Also, we must consider the effect of enforced chastity on the young human male—and, for that matter, on the young human female. It can manifest itself in all forms of morbid behaviour. Were Ursula and Etherius, betrothed now for three years, allowed a nuptial night in advance of bending their necks before Teutonic swords and offering their breasts to lances and arrows? We must rather doubt this, for indeed, the conjugal thrill might have changed their minds."
Afterwards, at the student bar, some of us started straight in on the hard stuff.
__________________________________
From Elizabeth Finch by Julian Barnes. Used with permission of the publisher, Knopf. Copyright 2022 by Julian Barnes.