These camping trailer rentals and rental tips make it easy to get out for the weekend.
---
Sometimes, pitching a tent feels like a hassle. The stakes won't drive into the ground, you can't find an even spot, or you somehow forgot the rainfly and there's a 90% chance of showers. Not ideal. Sometimes, you just want camping to be a little easier. That's when a camping trailer rental can be the perfect solution.
The range of camping trailer rentals is vast—whatever you're looking for, you can probably rent. Some are camper trails are lightweight enough to be pulled behind your car while others will provide the luxury RV experience and require some extra effort in maneuvering.
If you're considering buying a used camper, or even springing for a new one, a rental is a great option to get a feel for the RV lifestyle first. Buying your own camping trailer is a huge investment, so why not spend a weekend in one first?
Elevate Your Vacation with a Camping Trailer Rental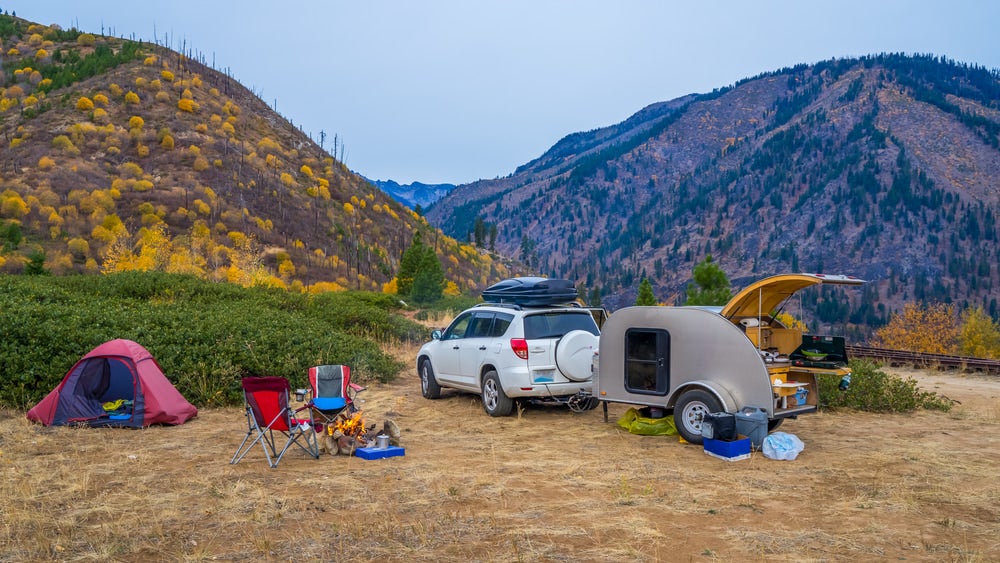 Renting a camping trailer levels up your comfort and privacy. You can travel from one site to another with ease and avoid the peskier aspects of camping, like dirt all over the tent floor or rain dripping through a broken zipper.
Even if the whole family stays in the camping trailer, there's usually enough room to watch a movie and play a board game. Some even come with kitchens on the back for a covered cooking experience that might rival your chef space at home.
Once you've made the exciting decision to rent a camping tailer, it's time to decide where you want to adventure. Download The Dyrt Pro so you can download maps, campgrounds and photos for offline use. No service? No problem.
What Does it Cost to Rent a Camping Trailer?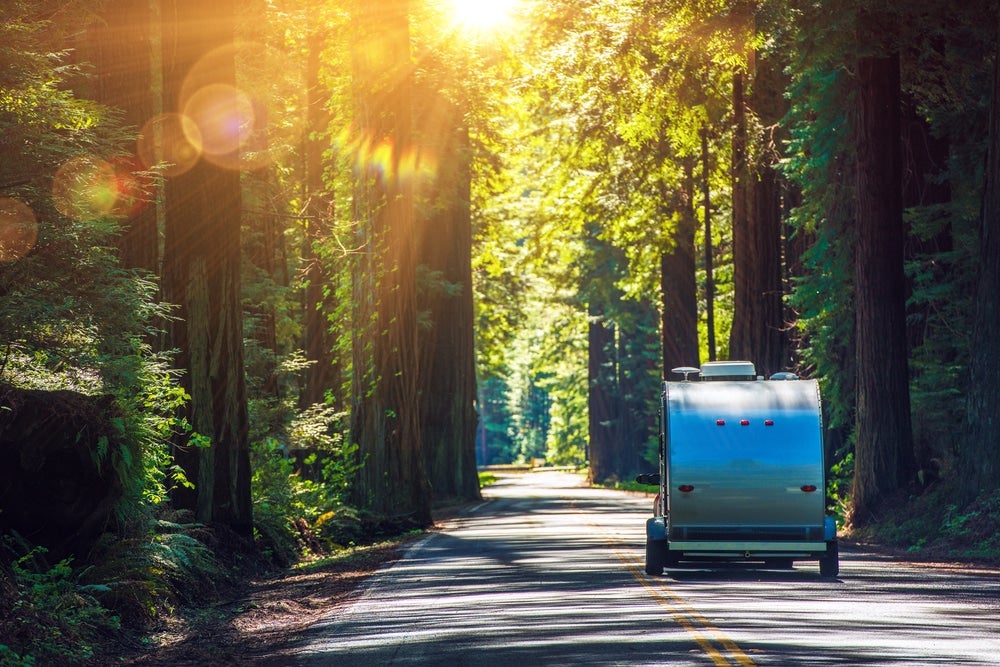 At the time of writing, gas prices are super low, which makes traveling by car easier and more affordable. Your MPG will inevitably be lower while hauling a trailer, but you can save money in other ways like packing what you need for meals and entertainment, rather than buying them on the road.
Depending on who you rent from, camping trailers will cost anywhere from $60/night to $200+/night. With the rising popularity of trailer sharing websites like Outdoorsy and RVshare, you can rent from a local in your area for a weekend, week, or a month at a time.
Anywhere you rent will likely charge a per-mile fee if you go over the daily allotment. Generally, daily allotments range from 150 miles per day to 400 miles per day, with a few offering unlimited distance. If you go over their restrictions, you'll pay a fee of roughly $0.35 per mile.
---
Prepare for your next adventure in your off-road trailer by downloading maps. The Dyrt Pro lets you download maps and campgrounds without cell service. "My alternative to using pro would be to drive back out to cell service".
---
Check Out These Camping Trailer Rental Companies
Chances are there's a camping trailer rental company near you.
Outdoorsy bills itself as "the largest and most trusted RV rental marketplace on the planet." That should give you an idea of scope, as RV and camping trailer owners offer up their rigs across the country. Outdoorsy functions much like Airbnb, with private owners renting out their trailers when they're not in use. This can be a range of quality, but Outdoorsy's 24/7 roadside support should ease your concerns about potential breakdowns or trouble on the road.
2. RVShare – Nationwide
RVShare is another nationwide rental platform through private owners. Use the filters to find the right camping trailer for you, and read reviews from users who have rented the rig in the past.
In Salt Lake City is the host of Utah Camper Rentals, which offers rentals that can sleep up to 10 people for roughly $700/week.
4. RVs to Go – Portland, Oregon
In Portland, Oregon, you can rent from RVs to Go, which offers travel trailer rentals for roughly $800-$1000/week depending on the length of trailer.
5. Nature Dens – Fort Collins, Colorado
If you're looking for a camping trailer rental with all the bells and whistles without dragging a big rig, Nature Dens fits a kitchen with a microwave into the back of their micro-travel trailers. Currently based out of Fort Collins, Colorado, they'll soon be expanding to L.A. and Chicago.
Explore the Golden State in a Class C RV from Camper Rentals USA. Their rigs range from 21′-31′ Class Cs. Their pickup locations are in Los Angeles, Ventura, Las Vegas, and San Francisco.
How to Rent a Camping Trailer and What to Bring Along
Deciding to rent a camping trailer is the easy part—picking out which trailer you want is harder. What can your vehicle pull and what are you comfortable with towing behind you on windy mountain roads? What kinds of amenities are you looking for? Would you like to keep things simple, or indulge in some finer accommodations?
You'll also need to decide who's coming along. This will automatically rule out trailers that are too big or too small.
Much of what you need for camping is included with many camping trailer rentals, though some will require you to bring your own sheets. Check with the rental company ahead of time. Common needs include:
Clothes
Sheets
Pillows
Food
Water supply
Bikes
Surfboards, and whatever other toys you enjoy while camping!
Some camping trailer rentals have the option of delivery, while others will require you to pick them up. Either way, the owner or rental company can help you out with hooking it up to your vehicle. And then, you're ready to go camping!
---
Related Articles:
The post How to Rent a Camping Trailer For Your Next Vacation appeared first on The Dyrt Magazine.