Candy Land Birthday Party with decorations, food and game ideas.
The girls had their hearts set in a colorful candy party inspired by the Candy Land board game. This party was such a blast to put together. A rainbow of colors, candy bar, and candy games!
Candy Land Birthday Party Food and Drink
Our party was in the afternoon, so for food we served light snacks. Veggies with dip, fruit platter, sandwich pinwheels, cheese sticks and chex mix. Just enough to munch on and keep the kids happy. Drinks were mini bottles of water and juice boxes.
Candy Land Birthday Party Desserts
The cake was a big hit at the party. I worked with Sarah from Sarah's Kitchen to come up with an amazing cake. After discussing our theme in general, I gave her free reign to get creative. She sure did wow us! Two layers of cake with candy buttons, lollipops, and ice cream all edible and delicious! I'm pretty sure it was the cutest cake I've ever seen!
Her matching cupcakes were sweet, too! I love the candy toppings she made for them.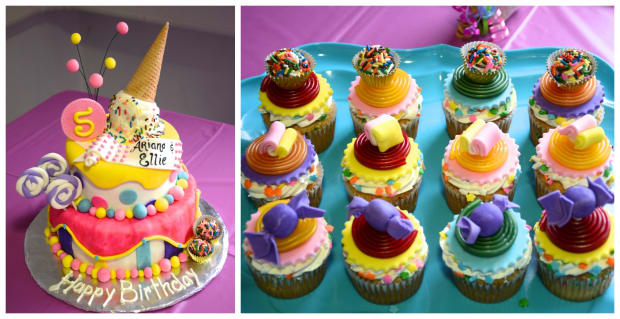 Candy Inspired Games & Fun
We had a table set up with 2 Candy Land games so that kids could play. We got the girls the newest version of the game with a spinner and new characters. They were excited that they each got to take one of the Candy Land games home after the party.
We had music playing and the kids were full of energy and loved playing freeze dance and musical chairs.
Candy Button Punch Game
I got a little crafty with this game for the kids: I used this tutorial for making a giant candy button punch game. Basically I cut holes in poster board and covered them with colorful tissue paper and place prizes in bags taped on the back. When each kids punched through the tissue paper they grabbed a prize. I included bubbles, bracelets, candy and other small prizes. The kids loved this game and it added to our candy themed decor!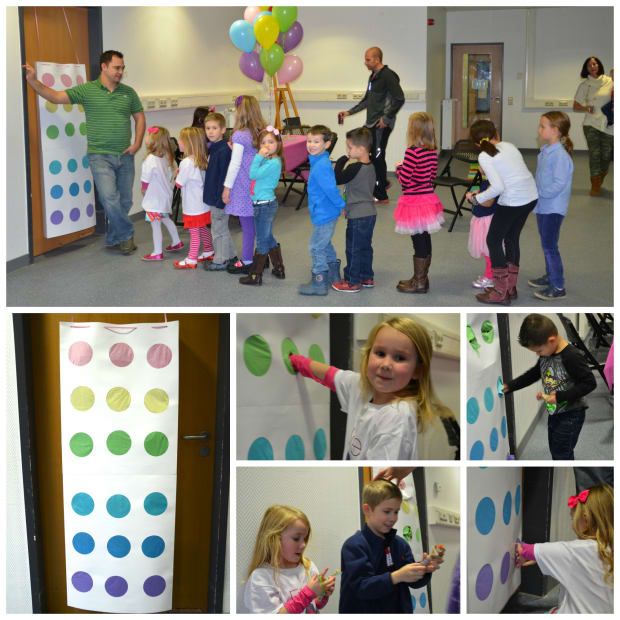 Candy Bar
The candy bar was a must have for me. How could we have a Candy Land party and not having a candy bar? We knew a candy bar would be great for the kids to fill goodie bags at the end of the party. We sprung for a variety of different kinds of candy in a rainbow of colors. Lollipops, skittles, sixlets, marshmallows, rock candy, licorice, salt water taffy and gummy bears made a pretty colorful display.

Kate and I made a trip to Ikea to stock up on different size containers. We also got bright green tongs and a cute pink ice cream scoop to use for scooping up candy. 
Candy Land Birthday Party Decorations
We stuck with simple bright colors that matched our theme. Pink tablecloths, rainbow dot tablecloths, colorful polka dot plates, and pink napkins.
We had a very big space to fill so we decorated with lots of balloons to bring some of the party decor up into a big bare white room. We ended up with 4 dozen balloons total! Several bunches on the tables, some by the games, and some by the cake/food table. It definitely added to the birthday party feel. I love balloons for birthdays, don't you?
Crafting Candy Decor
I also got crafty and made oversized gum balls for the tables (styrofoam balls wrapped in tissue paper) and also giant lollipops to decorate the walls and food table. Those were super fun to put together. I took styrofoam discs and wrapped them in colorful tissue paper and then placed them in a cellophane gift bag. Then I stuck a wooden dowel in them and tied them with pretty ribbons.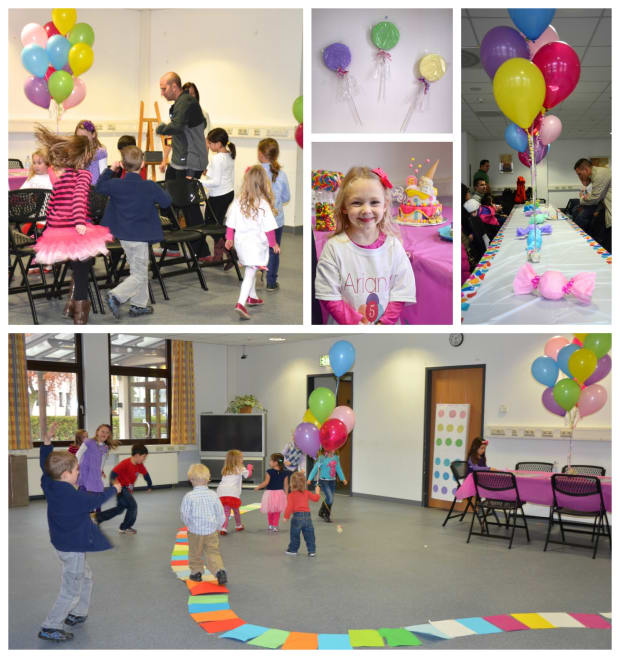 We let the kids tape down colorful paper on the floor leading from one door to the other and around the game area to look like the Candy Land path on the board game. With only an hour to set everything up, were starting to run out of time and paper but this would have been fun to run around the food table as well. The kids loved dancing around it. With all the kids we had there it didn't last the whole time though but it was a fun touch.
Double the giggles, double the smiles, double the awesomeness! This party was a lot of work but it was worth it in the end when we heard the girls say in unison "We LOVED our party!" That was great to hear!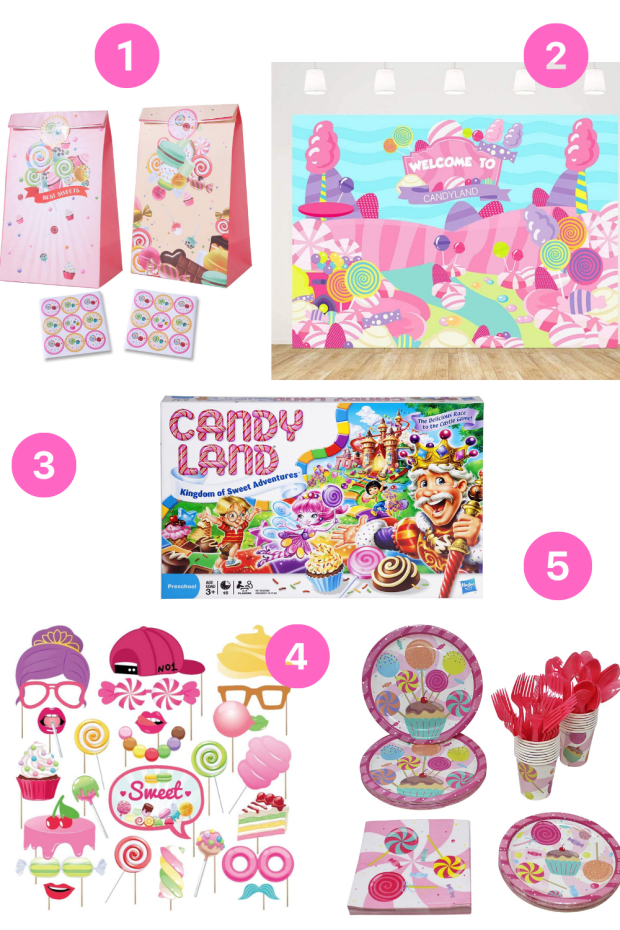 Candy Land Birthday Party Shopping List
MORE BIRTHDAY PARTIES FROM MOMTRENDS
PIN IT!
Be sure to follow our Kids Birthday Party board on Pinterest for more party inspiration.