Whiteface Mountain is located inside the six-million-acre Adirondak Park in New York State and is a great family ski destination.
With Olympic fever hitting me hard (can't wait for the 2022 Games to kick off in February), I was excited to visit a US Olympic venue for a recent ski trip. Whiteface is a terrific mountain for all abilities AND it's located in the charming town of Lake Placid. The combination of great skiing and a perfect little mountain town make this a terrific destination for families who ski and ride. I've got the details to help families plan the perfect ski trip to Whiteface.
Related: 13 Ways to recycle and resell old ski gear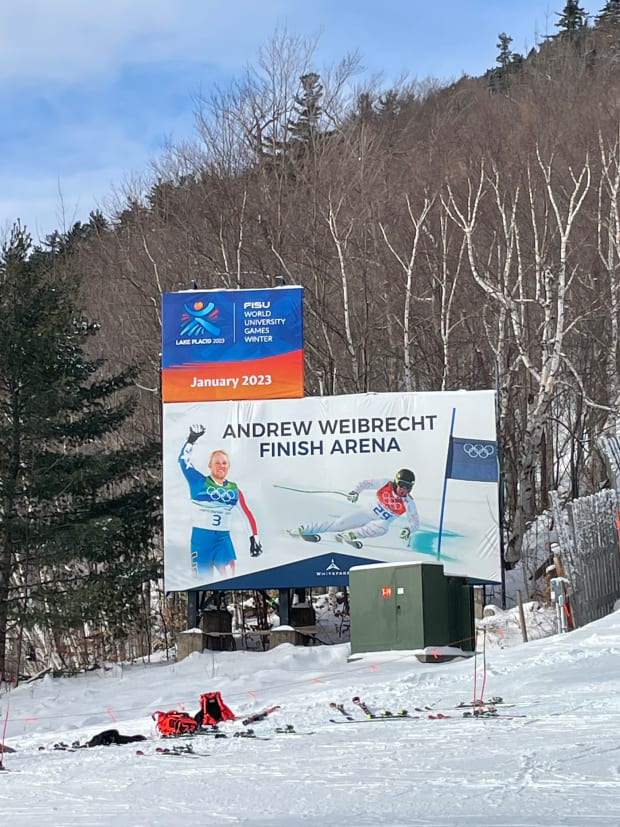 Olympic History
Lake Placid is known as America's first winter resort. The iconic New York State ski town hosted two Olympic Winter Games in 1932 and 1980. If you are old enough, you probabyl remember the 1980 "Miracle on Ice" when the U.S. ice hockey team defeated the powerful Soviets, the dominant team in international hockey over the previous decade and Olympic champions since 1964, en route to winning the gold medal.
After the 1980 Olympics, New York state announced its decision to place the responsibility for maintaining, managing, and promoting all of the Olympic venues under one organization, the New York Olympic Regional Development Authority (ORDA). ORDA's key initiatives have been instrumental in nurturing Lake Placid's status as a world class winter sports center. Over the last 23 years, initiatives have included continued bidding on international winter sports events, construction of the Olympic Training Center in 1995, construction of the new combined bobsled, luge and skeleton run in 2000, improvements at Whiteface Mountain including the addition of a gondola, and most recently, the construction of the new Conference Center at Lake Placid. Visitors can benefit from the big investment in infrastructure. Visitors can experience everything from bobsled rides to skating in the speed skating oval.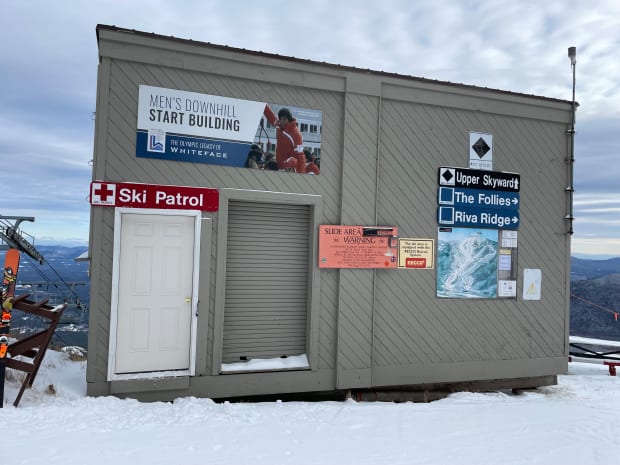 Mountain Statistics
Whiteface has the greatest vertical east of the Rockies--3,430'. Wide groomers abound on 22 miles of trails and powder stashes in 53 acres of glades.
Base Elevation: 1,220′
Little Whiteface Elevation: 3,676′
Lookout Mountain Elevation: 4,000′
Highest Lift Terminus: 4,386′
Highest Skiable Terrain: the Slides at 4,650′
Peak Elevation: 4,867′
Total number of trails: 90
Total distance of skiing and riding: over 22 miles
Longest run on Whiteface: Wilmington Trail at 2.1 mile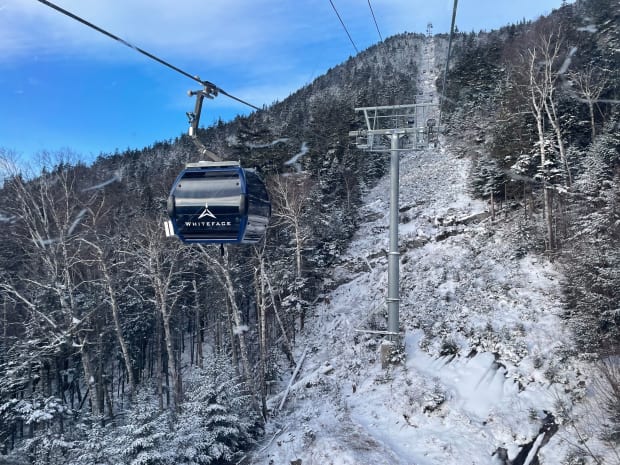 Skiing Whiteface
Whiteface Mountain is located inside the six-million-acre Adirondak Park. It is located about 15 minutes from Lake Placid. I like to get there early for a day at Whiteface. I start by pulling into thew drop off area to drop off skis and poles, I let my kiddos get our here too. Then I head to the convenient parking lot (FREE) to nab a space close to the base (a big benefit of getting up early!). There are shuttles to the lots that a beyond parking distance and a few of the local hotels offer free shuttles too.
Once in the base lodge, there are plenty of spaces to boot up and stash gear. The roomy lodge is warm and inviting. There are lockers for rent, plenty of clean bathrooms and loads of seating. The guests are all pretty tidy and keep the gear off the floor and stowed in lockers or bins.
The base lodge has larger retail store and a cafeteria. It's all well-staffed and easy to navigate.
Skiers can start the ski day with an uphill climb to the four-seater Face Lift or head up to the top on the Cloudsplitter Gondola. I love a gondola ride, especially at Whiteface (aka Ice Face) where temps can be a challenge. The gondola allows you to warm up without having to sacrifice precious ski time.
Once up on the gondola, you'll be treated to a lookout station at 3676' with viewing platforms. And good news, beginners can enjoy the views without having to ski down. Just take the Cloudsplitter Gondola back down when you are done enjoying the views.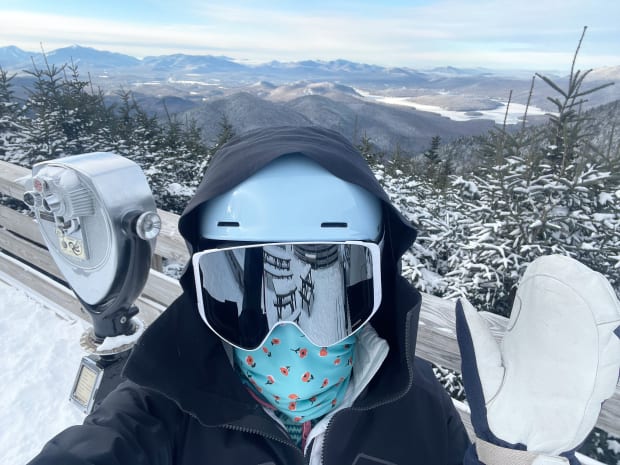 Take in the Adirondack Mountains and snap a few selfies up here. Then it's time to ski! I loved the long sweeping runs from top to bottom. It's easy to get in loads of vertical in a day thanks to the speedy gondola.
The Summit Lift takes you up to the very top of Whiteface Summit (another 1,000+ feet of vertical)—and you'll see the start house for the men's downhill race at 4,386.'  This lift is slow, but don't worry, they offer entertainment. Along the ride, the lift poles are documented with humble brags about Whiteface's vertical dominance. Poles will call out the inferior height of Vermont's mountains along the way.
If advanced skiing isn't your thing, don't worry, Whiteface has plenty of beginner and intermediate trails too. I love that beginners are sheltered to a side of the mountain—making it safe and fun to learn. Home base will be the Bear Den Lodge with access to beginner terrain.
Whiteface is home to many ski racers and they can come careening down the slopes at tops speeds, fortunately the mountain is laid out to maximize the happiness of all types of skiers.
Take a break at the mid-mountain Legacy Lodge and warm up with some tea and a treat. The newly renovated lodge has terrific views and is my pick for a place to refuel between runs.
On my next visit, I'm going to stop into the J.Lohr Vineyards & Wine Café & Wine bar in the base lodge for a farm to table menu and a glass of award-winning J.Lohr wine.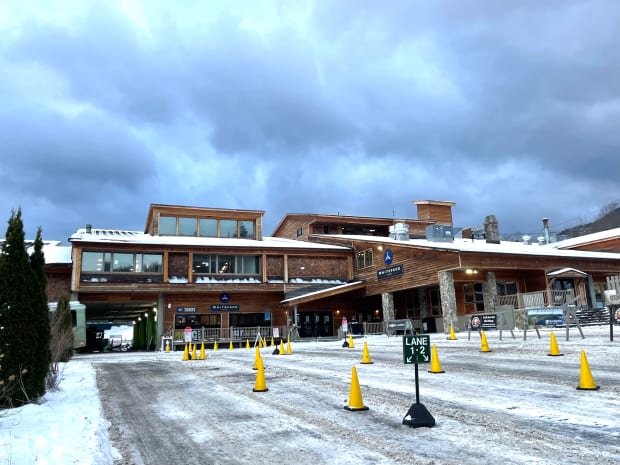 Lessons and Rentals
Whiteface has two Experience Centers located on the ground level of the main Base Lodge and Bear Den Lodge. The shops are in partnership with  Rossignol and hold more than 1,200 pairs of skis and 200 Burton snowboards. They also have 150+ pairs of high-performance rental and demo skis. Book your rentals and lessons online -- they do sell out!
Whiteface has TONS of options for lessons and guides. From privates to guides, there is something for everyone. Head to the https://whiteface.com/lessons-programs/ to find out more.
Adaptive skiers and riders have a place at Whiteface. The adaptive snowsport program at Whiteface is geared towards individuals of all ages with cognitive and physical disabilities that want to participate in outdoor opportunities in snowsports. Get more details here https://whiteface.com/lesson/adaptive/
Lift Tickets
There are a variety of passes available. Locals can opt for a season pass at three awesome New York State resorts for $1,069.00. This is a great pick for NY families who will ski a LOT. The SKI3 Full Season Pass is valid for daily access (no blackout dates) to Whiteface, Gore and Belleayre through the 2021/22 ski season.
For visitors, a one-day lift ticket starts around $92 and goes up depending on the day time of year. Discounts are given for kids, seniors and college students.
Looking ahead to next year, consider the Frequent Skier Card where you get a FREE 1-Day Lift Ticket valid at Whiteface, Gore or Belleayre that's included with your card purchase.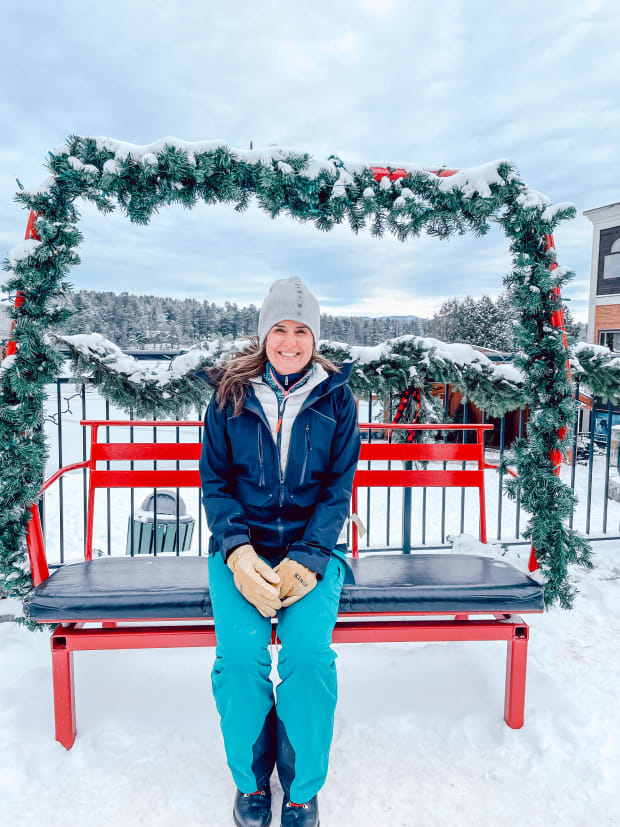 Where to Stay
The Mirror Lake Inn is an excellent choice for families. The inn dates back to 1924 and is about 15 minutes from Whiteface mountain and offers a comfortable and luxurious place to stay. Rooms range from simple setups to spacious suites. The inn has loads to offer like a spa, indoor pool and plenty of cozy spaces to curl up by a fire and read or play a board game.
There are 131 rooms and most have a view of Mirror Lake and the Adirondack Mountains. Mirror Lake is just adjacent to the MUCH larger Lake Placid. This tiny little lake has and awesome 2.75 miles pedestrian path that I loved to run.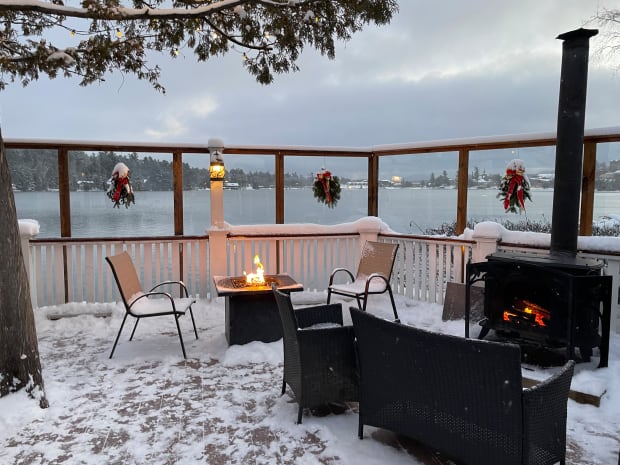 Each room is cozier than the next and they have two restaurants on property, and I loved my meal at The Cottage where I dined on a tasty veggie bean burger and roasted Brussels sprouts. It's very family-friendly while also being upscale and posh. Making it a perfect fit for our ski family.
The Weibrecht family owns and operates the inn. They have deep ties to the ski community and U.S. Skiing Hall of Famer and two-time Olympic Medalist, Andrew Weibrecht can be spotted running special ski excursions for guest. He helps with the Women's Ski weekend and offers one-of-a-kind ski lessons.
This experience can be added to any reservation by contacting Andrew directly at andrew@mirrorlakeinn.com. Trips are priced on a per-hour basis and can be scheduled from 2 to 7 hours in length. This experience is available exclusively to hotel guests.
Find out more here https://mirrorlakeinn.com/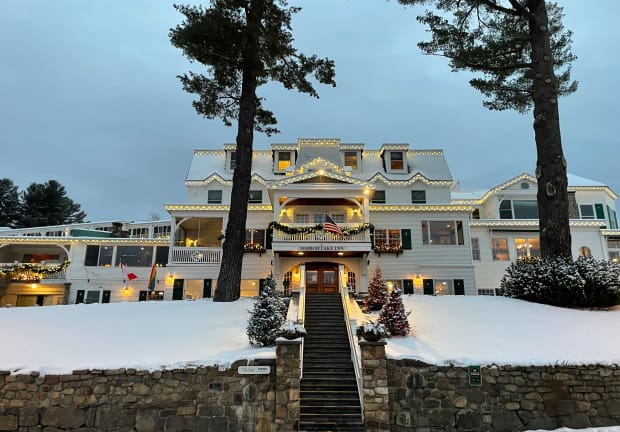 MORE SKI FEATURES FROM MOMTRENDS
PIN IT!
Use Pinterest to save your favorite family travel features. Be sure to follow our Ski Moms Pinterest Board.