Get 97% off hundreds of excellent titles, with all proceeds supporting Covid-19 emergency relief efforts!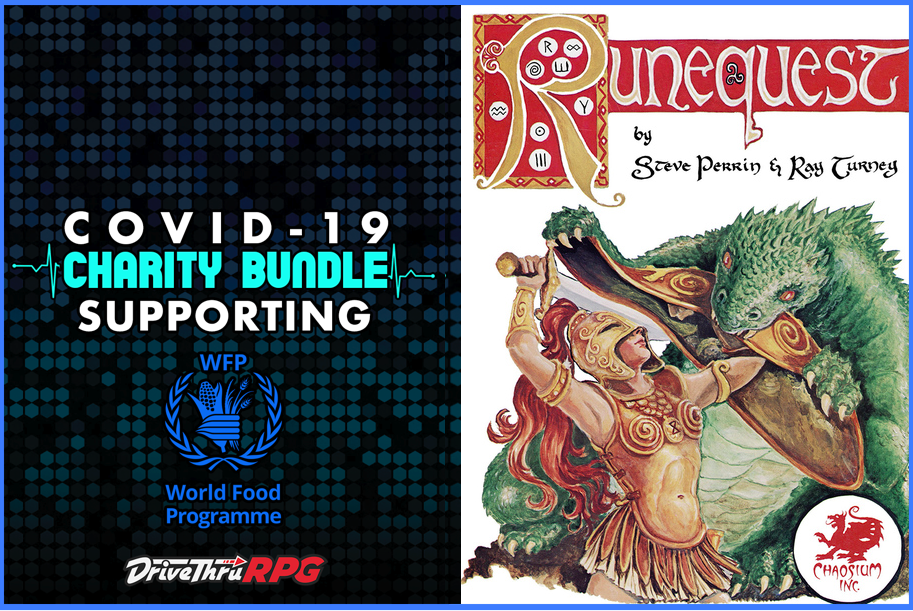 RuneQuest Classic is part of DriveThruRPG's Cov-19 World Food Programme Bundle. This charity bundle contains titles worth a total of $625.51, but is available for $19.95 – a saving of 97%! 
Assisting 100 million people in 83 countries each year, the World Food Programme (WFP) is the leading humanitarian organization delivering emergency food assistance. All proceeds from this bundle will go towards the WFP's efforts to prevent hunger during the COVID-19 pandemic.
Other ways Chaosium is supporting COVID-19 Relief Efforts
Until May 30, all proceeds of the print-and-play Gloranthan board game Last Faction Hero will be donated to the World Health Organisation's COVID-19 Solidarity Response Fund. The game is available as 'Pay-What-You-Want' at Chaosium's new page at itch.io. 
Our merchandising partner Redbubble is donating a mask to Heart-to-Heart International for every face mask sold – check our our 'Mask of Nyarlathotep' and dozens of other face-covering designs at our Redbubble store.