This might be my favorite blog post to write every year.
There is almost nothing in the entire world that I love more than our DIY activity advent calendar and it's the holiday tradition I look forward to the most.
Corey and I have always done an activity advent calendar of some sort. We've done a lot of different of versions over the years, but when we first moved into this house we started doing an advent Christmas tree. It's the perfect easy DIY advent calendar and today I'm showing you our 2021 activity advent calendar!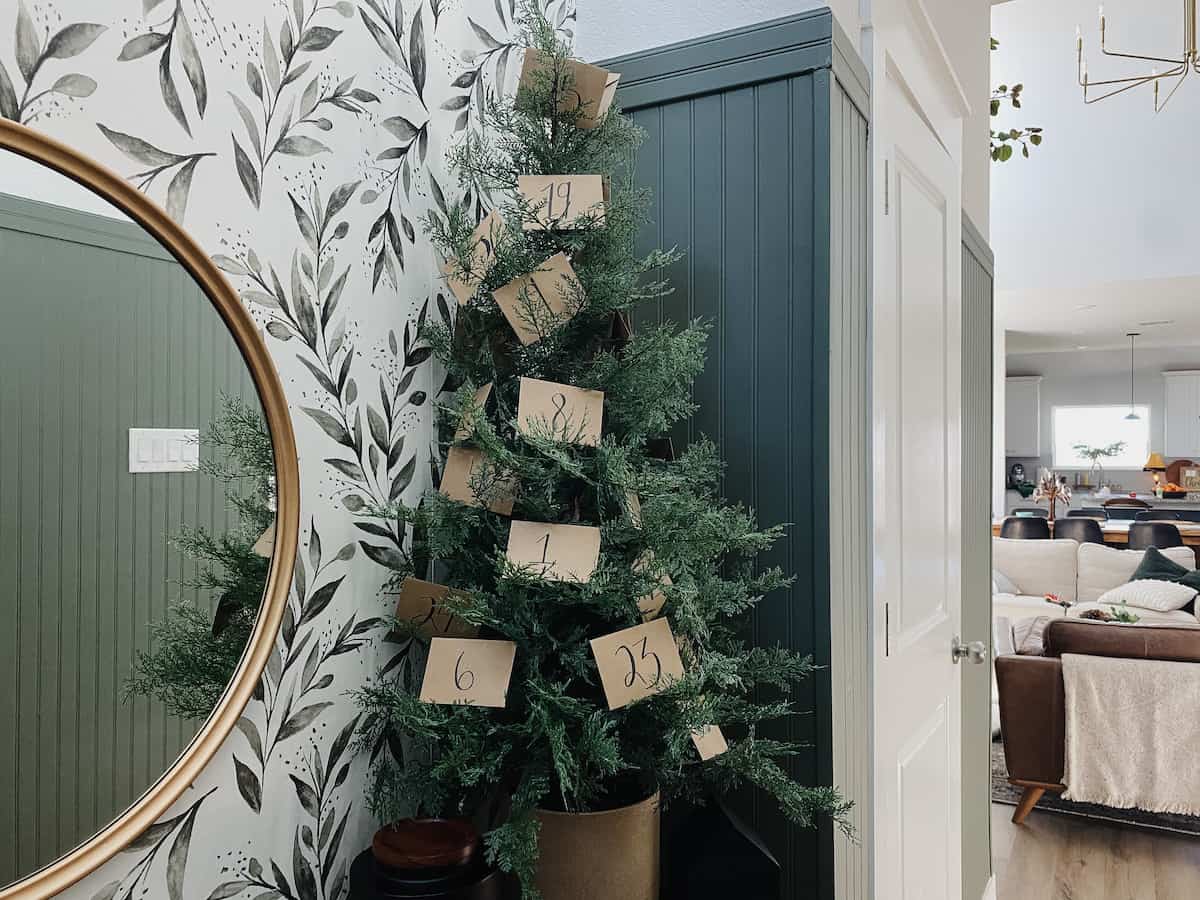 How does it work?
This is a super simple approach to an activity calendar and the reason I love it is that it's a perfect way to make sure we're able to squeeze in all of the holiday traditions we love without feeling overwhelmed or like we missed out.
By being intentional about how we plan our holiday celebrations and traditions, we're able to leave some breathing room between all of the fun while still making the entire month of December feel magical!
What we do is, every morning when the kids come downstairs for breakfast we grab an envelope off the tree that corresponds to the date. Inside the envelope is a small card with an activity to do for the day. Some activities are small – like watching a Christmas movie or drinking hot cocoa. Others are large – like going to see a drive-in movie or going to a Christmas parade!
For the most part, the majority of the cards are the same year after year, just in a different order depending on our needs for the year. Sometimes we add in new traditions and ideas, but the kids love the familiarity of having the same little traditions every year, and I do too!
DIY Activity Advent TIps
I've been doing this for a loooong time, and I've learned a few things the hard way. Here are my tips for making this the most successful it can possibly be:
Keep a calendar on your computer or in your planner where you write out the entire month's activities. Each Sunday evening, sit down and review the upcoming week and make changes as necessary. Every year I have to swap around a card or two because we'll get invited to a last-minute party or have a change of schedule. It's much easier to keep things organized if you double-check everything weekly!
Monday through Thursday when the kids are in school, keep the activities really simple. I try to avoid anything that requires us leaving the house during the week, because those are the activities most likely to end up getting skipped. Especially if this is your first year doing something like this, I'd recommend keeping it as simple as possible for the weekdays, so you can get into the swing of doing something daily before you commit to anything that takes more time and effort.
Don't be afraid to repeat activities. We always make cookies and watch a Christmas movie once a week throughout the season, and there are several other activities that repeat themselves too (like going to look at Christmas lights – we just go to different spots). Every day doesn't have to be some big, new activity!
Consider the things you're going to be doing anyways and make them advent activities! I always have a card for things like writing a letter to Santa, taking a photo with Santa, and baking Christmas cookies. We'd be doing these things no matter what, but they feel more special when they're on an advent card!
Start planning now! The key to success here is to plan early! Even if you only plan one week at a time, you'll feel much more on top of things if you start planning it as soon as you can. I book things like movies and Trail of Lights tickets as early as I possibly can so it's done and I don't have to think about it again until the night of the activity.
DIY Advent calendar materials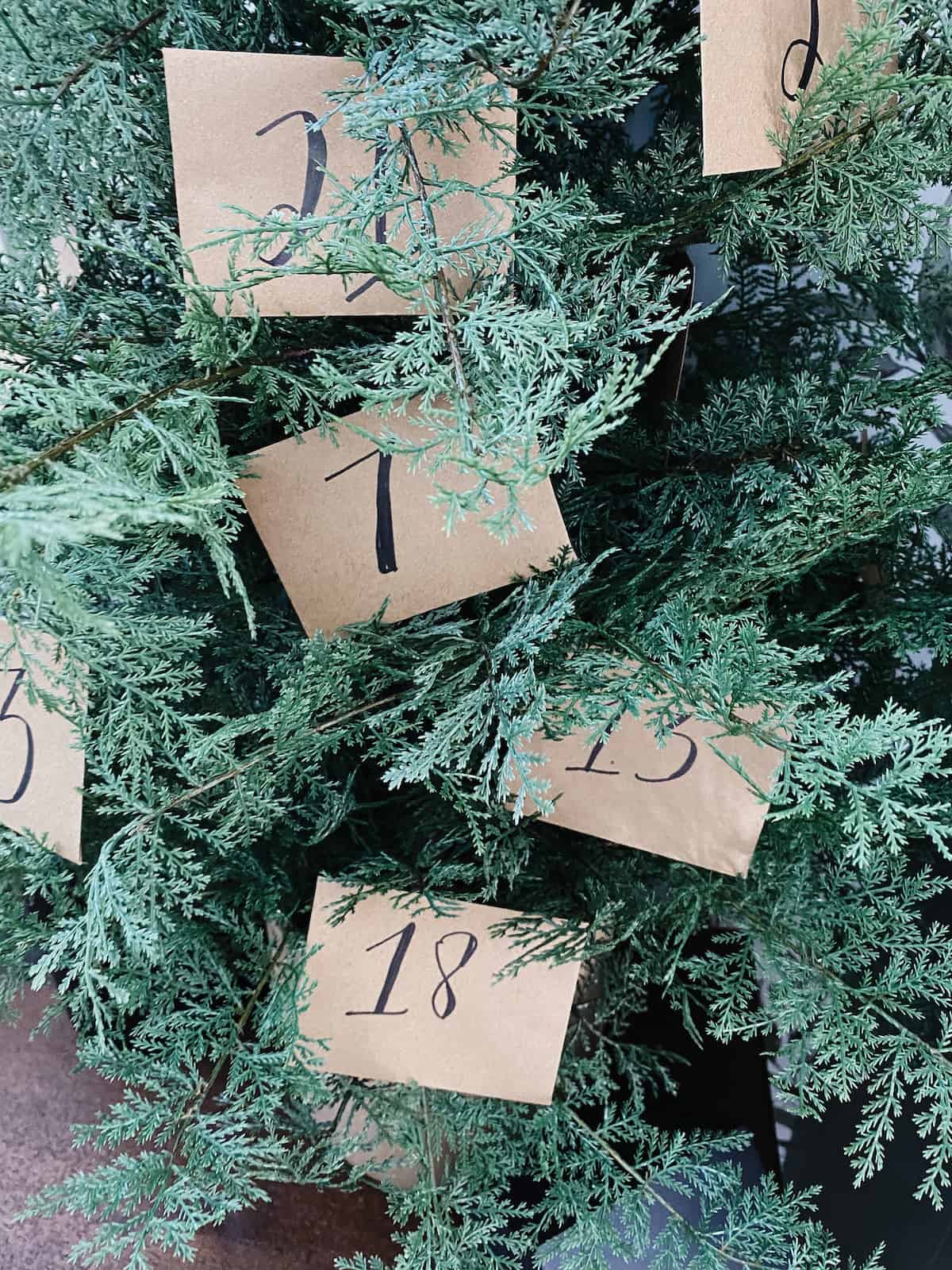 Our little calendar couldn't possibly be simpler – there's no real tutorial involved here. It's a little tabletop tree (I swapped it out for this one this year because it's a little larger than the one we used last year and is a lot more realistic looking), with some small envelopes tucked into it. Boom! Done! My favorite part is that it blends right into the decor and looks like just another holiday decoration, even as it starts to get emptied out!
Sources
For the notecards, I just cut up some random paper to stuff in there!
To put it together, I just wrote the numbers 1-25 on the outside of the envelopes, then wrote activities on each of the cards and placed them into the corresponding envelope. Then, I tuck them into the branches of the tree and it's done! I save the envelopes year after year and re-use them, just adding in different cards when I need to.
I've always placed them on the tree in numerical order in years past, but this year I put them in a random order. That way, as the cards get pulled out the tree doesn't start looking bare on just half of it. Plus, it makes it a little more fun to search for the number each day!
our Advent Calendar Activities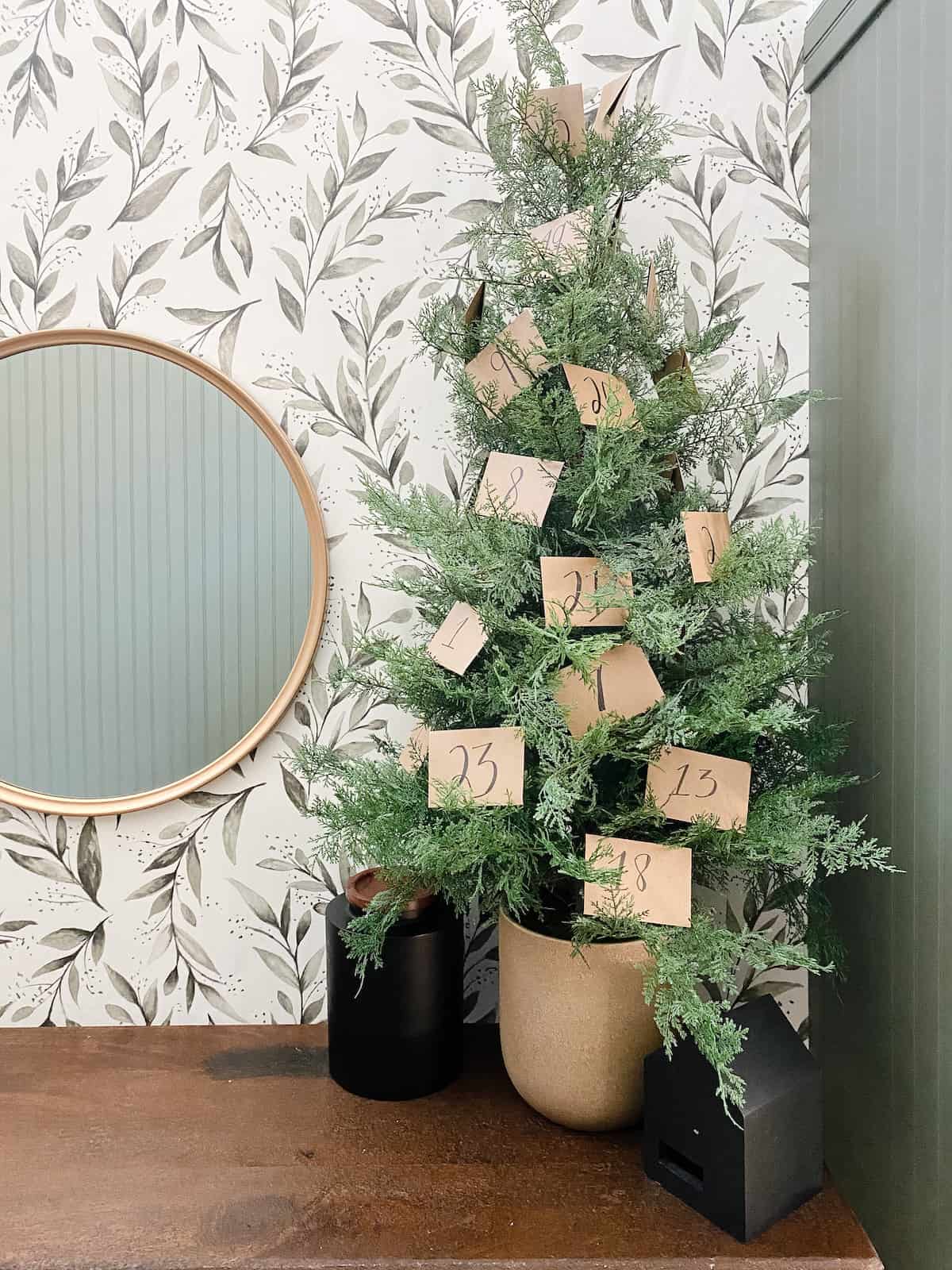 Here's a quick rundown of everything on our list this year. Of course, some activities are specific to our area and what's happening around us. But keep reading afterwards for more ideas!
Also, if you want any more details on any of our specific traditions listed below, click here and watch my Christmas Traditions highlight. In it, I talked about all of the specific things we do year after year in more detail there!
2021 activities
Toy advent calendar scavenger hunt
Write a letter to Santa
Bake cookies and watch a Christmas movie (this one is repeated weekly!)
Christmas festival and parade
Watch Elf at the drive-in theater
Go see Christmas lights (we'll do this one a couple of times in different areas!)
Austin Trail of Lights
Breakfast for dinner under the tree, plus a movie
Go take a photo with Santa
Christmas on the Square (another local festival!)
Go shopping for Christmas gifts (for grandparents, friends, etc.)
Attend a cookie decorating class
Have a family date night
Decorate gingerbread houses
Have a family board game night
Cookie day
On Christmas Eve, we always go out to my parents' house, so that's what goes on the card. And Christmas Day is a whole celebration to itself, of course, so the card always just says "Merry Christmas!"
And that's how we do our little DIY advent calendar every year! I think it's the best tradition because it makes us slow down and really focus on all of the other traditions this time of year holds. Plus, it makes the whole month of December feel so special.
This post from a couple of years back also has a really long list of ideas if you need some inspiration!
More DIY Advent Ideas
If you don't want to do an activity advent like ours, but you still love the idea of Christmas advent calendars in general, here are a few other DIY advent calendar ideas to get you started!
Make a "craft advent" with 12 (or 25 if you're ambitious) days of little crafts for the kids
Create a garland of paper bags tied to some twine and stuff some candy and mini treats inside
Daily chocolates are always a good idea (we stuff a Hershey's Kiss into our Santa ornaments each day!)
Come up with a list of random acts of kindness for your family to do each day of the month
Create a simple Christmas countdown with paper rings or other printables
Stuff muslin bags with small gifts – think tiny toys and other little trinkets you can find at the dollar store. Then, string it up across your mantel!
Fill a tabletop tree with candy canes!
No matter what you do, advent calendars are always a really fun way to celebrate the holiday season. Now I'll just be over here counting down the minutes to December 1 so we can get started!
The post The Simplest DIY Advent Calendar appeared first on Love & Renovations.