by Kilirai
Hi all!
I'm Kilirai, professional Concept Artist and Illustrator open for some new projects!
I'm very flexible with subjects, fast and dedicated artist. I really enjoy creating creatures, environments, architectural concepts and more.
You're welcome to visit my portfolio with more works:
qirai.artstation.com
Here's a rough breakdown of my rates: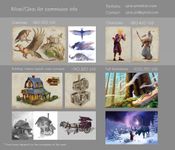 For further inquiries please contact me via email:
qirai.art@gmail.com
Thank you!