I'm designing a game that has photos and a few fun facts about trees. One set of cards that will contain the tree name, latin name, 1-2 sentences of tree trivia and tree characteristics. See example below. I have three designs with different aspects of each I like but can't decide.
-Design 1 has all information in an earthy box at the bottom third.
-Design 2 has the tree name in a vertical bar on the upper right and other information in the box in the lower third. I like the element of the tree name in the upper third. I think it looks more professional and helps redirect the player's eye across the entire card. The black background of the tree name box blends nicely with and doesn't detract from the background image. However, there's something about the box at the bottom that doesn't seem right.
-Design 3 contains elements I like in both.
I'm open to suggestions to improve the aesthetics of the card (layout, colors, fonts, sizes, etc.)!
Current fonts
-Common name, upper left: Abadi MT Condensed
-Tree name, main box: Calisto MT
-Description, main box: Avenir Next Condensed
-Characteristics, main box: Calisto MT
Design 1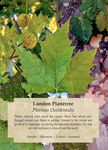 Design 2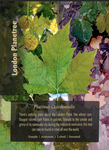 Design 3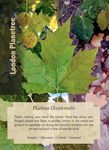 [poll=518443]