by anjovi154
Hi all,
While prototyping my game, i used art assets from
games-icons.net
as placeholder art and had come to like the readability of them and their potential for mixing with my board icons.
That said, I'd like icons that where more specialized to my game and was wondering what price i should expect to offer that would be worth one's time to create them.
I'm under the impression that they're relatively quick and easy to bang out, but i would like a more artistic touch than my own.
examples here (i particularly like the unveil and meditate icons mind you):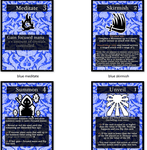 I want something that suits the general aesthetic of the wall paper.
Many thanks!